The British Royals are Launching Their Own Gin
With botanicals from Queen Elizabeth's garden.
---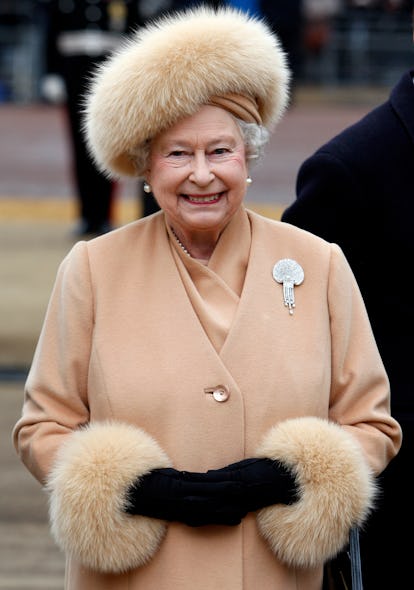 WPA Pool/Getty Images
Never think you're too good to start a booze brand as a side hustle. Bethenny Frankel turned her Real Housewives notoriety into real cash with her Skinny Girl margarita brand. George Clooney recently inflated his bank account by several hundred million dollars, reportedly, not by signing onto an action franchise, but rather by selling his stake in Casamigos. Now Queen Elizabeth II is getting into the game.
She's launching a gin line. Sort of.
While some may feel its high time the Windsors get off the public dole and start their own honest business, strict royalists will be pleased to know that the latest endeavor is only for charity.
Officially labeled "Buckingham Palace Gin," the 42% ABV spirit is a small batch concoction flavored with "12 botanicals hand-picked … in the Gardens at Buckingham Palace."
The gin even comes with its own take on a classic G&T: "For the perfect summer thirst-quencher, the recommended serving method is to pour a measure of the gin into an ice-filled short tumbler before topping up with tonic and garnishing with a slice of lemon." (Although, Queen Lizzie's favorite cocktail is reportedly gin and Dubonnet.)
The liquor will be both sold through and in benefit of the Royal Trust Collection, a charity meant to upkeep the art collection kept in the Royal Family's name, most of which is regularly displayed to the public. Though, because of pandemic-related closures, it's estimated the Trust could lose as much as £30 million this year.
Gin isn't the only sundry in the Royal line: You might be surprised to find that the Trust has it's own veritable super market of branded items, including an entire range of royal tea pots, Windsor Castle chocolate chip biscuits, soaps for your guest bathroom, various jams, and even plush corgis. They might not make up for all the coronavirus-related downturns, but clearly the royals know how to merchandise.
Sadly, while some items in the Royal Trust Collection gift shop can be shipped internationally, the gin is reserved for addresses in the UK only.