Quentin Tarantino Has Talked to Tom Cruise, Leonardo DiCaprio and Brad Pitt About His Next Movie
The biggest casting coup in Hollywood history?
---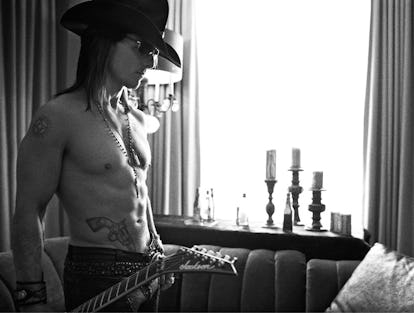 Photographer: Mario Sorrenti Stylist: Arianne Phillips
Most directors would be lucky to get either Tom Cruise, Leonardo DiCaprio or Brad Pitt to even so much as look at their script, but Quentin Tarantino? Well, he wants them all. The ace director is putting together his next film, which will touch on the Manson Family murders but, according to his most recent comments, be more about the years of 1969, and he has big hopes for the cast. According to Deadline, Tarantino has separately reached out to the trio of actors, who practically represent the peak of a-list fame.
Details of upcoming Tarantino projects are always a bit sparse when the films are coming together, but the director has made it clear that he really wants Margot Robbie to play the part of Sharon Tate. There's also two male leads, and Pitt, Cruise and DiCaprio are all reportedly on the short list. Though Deadline adds, "it is entirely unclear if all three will be in the movie, or two of them, or any of them."
Tarantino, of course, has made each and every one of his movies with either The Weinstein Company or the Weinstein brothers' former studio Miramax. So, at the same time that he's on the hunt for a cast, he's also on the hunt for a new studio home (or, it might be correct that almost every major studio in Hollywood is hunting him). This also means that the films budget and filming schedule are also up in the air, and booking even one of Hollywood's biggest stars can be a hassle. Getting an all-star cast of that caliber to find time in their schedule would basically be a miracle.
Both Pitt and DiCaprio have worked with Tarantino before–DiCaprio played a villainous slave owner in Django Unchained while Pitt played the Nazi hunting Lt. Aldo Raine in Inglorious Bastards–which means the possibility of Cruise in a Tarantino picture may be the most intriguing. While both Pitt and DiCaprio have prioritized the kind of roles one might call challenging, in the sort of films might find important, with the sort of directors one could call visionary at this point in their careers, Cruise has continued to pursuit traditional blockbuster filmmaking for the most part. Though, his results there lately have been mixed. Neither this year's The Mummy or American Made were notable box office successes, and Cruise could use something of a career jolt outside of his reliable Mission: Impossible franchise. Tarantino, of course, is something of a master at doing just that. (Cruise can just ask his friend John Travolta if he needs reassurance.)
The other exciting thread in all of this: any combination of Pitt, DiCaprio and Cruise sharing the screen. Pitt and Cruise famously co-starred in 1994's Interview with the Vampire, and Pitt and DiCaprio both appeared in a Martin Scorsese-helmed short film commissioned to celebrate the opening of a resort and casino in China. Other than that, the trio hasn't shared much.
In case you're wondering, it doesn't seem likely that Tarantino will necessarily be asking either Cruise, Pitt or DiCaprio to play Charles Manson. Despite earlier reports that the movie would be all about the Manson murders, Tarantino has since confirmed it will have a much wider scope. Deadline adds that calling it a film about Manson would be like calling Inglorious Bastards a film about Hitler.
Oh, and there's reportedly a role open for Samuel L. Jackson, too. Not even some combo of the aforementioned Hollywood heavyweight trio could makeup for the lack of Jackson in a Tarantino movie.
Related: Tom Cruise Is Maybe a Little Too Excited About Top Gun 2
Tom Cruise Takes W's Screen Test: