A Beautiful Nightmare
Director Ra di Martino talks about the short film she created for Piazza Sempione.
---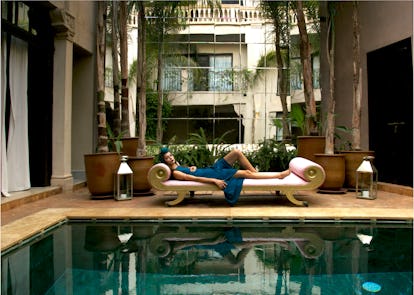 In "A Day of Wonder," a short film directed by Ra di Martino for the Italian fashion house Piazza Sempione, a beautiful woman walks into a stately Moroccan house. Clad in a silk dress and dramatic black hat, she glides through the rooms into a courtyard with a pool. It couldn't be dreamier. But then—a twist. She closes her eyes for a moment and awakens to total darkness, not to mention some terrifying sounds. Watch the full video here:
Here, Ra di Martino, the film's director, talks about the project:
What was the inspiration for this film? The first is the location. I am always attracted to Morocco. I've done some projects there already and hope to do more. The other is the pool scene from the 1942 cult film "Cat People." It's so full of suspense, achieved only through the setting and sound.
Where was the film set? It's a beautiful private Riad in Marrakech, right in the center of the Medina. This particular Riad was perfect because most of them have swimming pools inside the courtyard but I needed an indoor pool to do my remake scene from "Cat People." This Riad had a wall of mirrors on one side and another covered by very tall plants and palms, making the location particularly interesting. It had an enclosed feeling and with all of the water reflections and the amazing plants it felt like a tiny jungle.
Who inspired the film's protagonist? We really just wanted to find someone who represented the Piazza Sempione woman of today. Mariana embodies the classic Milanese woman in a very modern light.
How did you capture the Piazza Sempione ethos in the film? I tried to capture is a woman full of elegance and grace in both her public and intimate spaces, dressed for others as well as herself. She is someone who likes to live her life and enjoy every moment of her day while remaining mysterious. I really wanted to have both a moment of lightness while she's relaxing on a calm day that contrasts the oneiric scene that has a dark and mysterious atmosphere.
What was the most challenging moment on set? Apart from the heat and the August Moroccan sun we had a tricky diving scene to shoot. We shot the scene from the water so and only had one chance to get it right. Surprisingly she did it perfectly the first (and only) shot!