Rachel Bloom Politely Shuts Down Neil Patrick Harris's Tonys Subtweet About Her
The Crazy Ex-Girlfriend star and creator had the perfect response to Neil Patrick Harris's tweet about not recognizing her at the Tony Awards.
---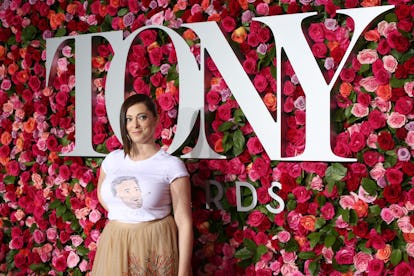 Walter McBride/Getty Images
The 2018 Tony Awards almost went off without a hitch—unless you count the drama club drama that unfolded offscreen between Rachel Bloom and Neil Patrick Harris, when the backstage host and Crazy Ex-Girlfriend creator and at-home awards ceremony viewer got into an awkward exchange via Twitter.
If there's one thing Bloom knows how to do during an awards show (besides win), it's mixing fun with decorum while hamming it up on camera, so Bloom—in all of her earnest, grown-up theater kid glory—was backstage at the Tonys, interviewing presenters and award recipients while wearing a custom-made costume consisting of a top hat and a T-shirt complete with a cartoonish rendition of a very chill Stephen Sondheim smoking a joint.
While Harris live-tweeted the ceremony, he dismissively stated his confusion surrounding the supposedly unrecognizable top-hat-wearing woman backstage at the Tonys, and that his son Gideon "remarked that she says 'like' and 'oh my god' a lot."
Bloom handled the subtweet like a champion, by quickly replying directly to Harris and reminding him that not only is she "a big fan" of his, but that they have actually met before on multiple occasions, as her husband Dan Gregor was a writer for How I Met Your Mother (the series that brought Harris back into the cultural consciousness, after years of being recognized as Doogie Howser) for half a decade. Bloom herself once even had a guest role on the show and shared a scene with Harris. After realizing his mistake, Harris responded to Bloom, thanking her for the "reminder" and inquiring about her backstage experience. Bloom did not respond, but she and her writers' room tend to mine from personal histories for episodic drama, so we're looking forward to a subtweet subplot on the next season of Crazy Ex-Girlfriend, perhaps in an episode that ultimately preaches the merits of having a private Twitter, or at least a Finsta.
Harris's Tonys takedown did not stop at Bloom, either—he also took a jab at Bruce Springsteen, who won a Special Tony Award for Springsteen on Broadway, insisting that he did not understand the "logic" behind The Boss's big Broadway win.
It remains unclear whether or not Harris was joking about not recognizing Bloom (and really, how could the creator and star of one of the few musical comedies on network television not be recognized by a fellow thespian), but one thing is for sure—this sort of spectacle is way more exciting than anything that would have gone down between these two at a high school drama club cast party.
Related: A Brief Visual History of Broadway's Biggest Stars Hamming It Up at the Tony Awards
The Best Broadway Backstage Photos by Beyoncé, Harry Styles, and More Celebrities
Beyoncé visiting Ben Platt backstage at Dear Evan Hansen in September 2017.

Photo by @bensplatt.
Andy Cohen and Amy Sedaris pose outside the August Wilson Theatre in honor of Mean Girls in April 2018.

Photo by @bravoandy.
Olivia Wilde backstage at her own play, 1984, in July 2017.

Photo by @oliviawilde.
Lupita Nyong'o and Angela Bassett went backstage at Children of a Lesser God in April 2018.

Photo by @vancityjax.
Harry Styles saw Ben Platt perform in Dear Evan Hansen at the Music Box Theater in September 2017.

Photo by @bensplatt.
Amy Schumer and Bridgett Everett took a selfie backstage at the Schubert Theatre after a performance of Hello, Dolly! in March 2018.

Photo by @amyschumer.
Tina Fey and her family visit Joshua Groben after a performance of The Great Comet of 1812 at the Imperial Theatre in May 2017.

Photo by @joshgroban.
Sarah Jessica Parker snapped a photo of Nathan Lane's copy of Tony Kushner's Angels in America while in his dressing room at the Neil Simon Theatre in May 2018.

Photo by @sarahjessicaparker.
Busy Philipps and Joshua Jackson had an impromptu Dawson's Creek reunion backstage at Studio 54 in May 2018.

Photo by @busyphilipps.
Katie Couric posed with Chris Evans (and his mustache) at the Second Stage Theater in between performances of Lobby Hero in March 2018.

Photo by @katiecouric.
Hilary Duff brought her son to see SpongeBob SquarePants: The Broadway Musical at the Palace Theatre in May 2018.

Photo by @hilaryduff.
Gayle King and Oprah proudly showed off their playbills at the Schubert Theatre during Bette Midler's performance in Hello, Dolly! in May 2017.

Photo by @gayleking.
Sarah Paulson shared a photo of her A Doll's House, Part 2 playbills and a couple cocktails at the John Golden Theatre.

Photo by @mssarahcatharinepaulson.
Josh Groban and Mandy Patinkin posed together backstage in June 2017.

Photo by @joshgroban.
Billy Eichner posed in the audience before a performance of Hello, Dolly! at the Schubert Theater in February 2018.

Photo by @billyeichner.
Darren Criss visited Matt Bomer backstage at Booth's Theatre after a performance of The Boys in the Band in June 2018.

Photo by @mattbomer.