Rachel Weisz and Daniel Craig Announce They Are Expecting First Child Together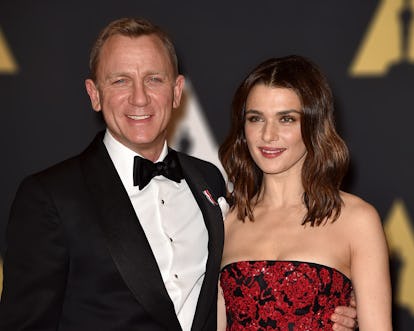 Kevin Winter/Getty Images
Rachel Weisz just announced that she and husband Daniel Craig are expecting their first child together. On Friday, Weisz revealed the pregnancy news by way of a New York Times profile.
"I'll be showing soon," she told the Times's Maureen Dowd. "Daniel and I are so happy. We're going to have a little human. We can't wait to meet him or her. It's all such a mystery."
While this will be the couple's first child together, Weisz also has an 11-year-old son with director Darren Aronofsky named Henry, and Craig has a 25-year-old daughter with actress Fiona Loudon named Ella, according to the Times.
The couple married in 2011 after dating for about six months. Like many celebrity couples, they chose to keep their big day private, saying their vows during a very intimate ceremony in New York in front of four people.
Seven years later, they're "very happy being married," but not really into becoming the sort of movie star couple who "seem to know how to make their 'coupledom' part of the brand," the Times reported. "I really take my hat off to them," Weisz said. "But Daniel and I are really similar. We just literally don't know how to do that. We're just really crap at talking about our private lives."
Elsewhere in the interview, the actress talked about not wanting to ever play "Jane Bond," and gave readers some insight into her husband's decision to play 007 once again after swearing off the franchise in 2015. "He just meant 'I can't think about this today,' having just done one," Weisz said. "He was just tired. He needed a really long nap and a glass of wine. It would be like if you asked someone who just had a baby, 'Do you want another one that day?' They'd just go, 'NO!'"
Rachel Weisz's Style Evolution, from '90s Minimalist to Eclectic Risk-Taker
Rachel Weisz channeling the ultimate '90s girl in a black slip dress at the premiere of "Swept from the Sea" in 1997.

Getty
Weisz at the Versace Club gala in London 1999 wearing a sparkly, sheer black mini-dress

Getty
The actress wore a satin sheath and strappy sandals at the 2001 BAFTA awards.

Getty
Weisz at the 2002 Vanity Fair Oscars party in a ruched, Grecian-inspired gown

Getty
Continuing with her sparse color palette, Weisz was a vision of Edwardian glamour in 2003.

Getty
Weisz wore a black coat over a tea-length, plum-colored frock in 2005.

Getty
Weisz backstage at the Narciso Rodriguez fashion show in a dress by the designer in 2005.

Getty
The actress looked prim and pretty in a blue dress and metallic heels at Tribeca Film Festival.

Getty
At the 2006 Met Gala 'Chanel' exhibition, Weisz wore a demure, pale gold gown.

Getty
At the 63rd Venice Film Festival, the actress looked stunning in a long, romantic gown.

Getty
While 7 months pregnant, the actress posed with Reese Witherspoon and her Academy Award at the Oscars.

Getty
In a black-and-white ensemble, Weisz was a foil to Donatella Versace's glitzy glamour in 2006.

Getty
Weisz wore a nostalgic blue gown with gibson girl neckline at the 12th annual SAG awards.

Getty
Weisz wore a gold Donna Karan gown the night she won a Golden Globe for her role in 'The Constant Gardener'

Getty
The actress glowed in an embellished golden gown at the 2007 Vanity Fair Oscars party.

Getty
Weisz wore a printed dress at the CFDA awards with designer Jason Wu.

Getty
The actress looked radiant in a fuchsia satin gown at the Met Gala.

Getty
Weisz posed with then-husband Darren Aronofsky at the premiere of 'Black Swan' in a graphic black & white ensemble.

Getty
The actress looked angelic in a tiered white dress by Nina Ricci.

Getty
Weisz was the picture of old-school Hollywood glamour, when she posed with husband Daniel Craig at the 2013 Golden Globes.

Getty
Weisz wore a silver Chanel gown on the Met Gala red carpet.

Getty
The actress looked sleek in a tailored Narisco Rodriguez jumpsuit at Cannes.

Getty
Weisz tried her hand at menswear in a chic polka dot suit.

Getty
At the premiere of 'The Lobster,' Weisz wore an elegant Alexander McQueen floral gown.

Getty
At the 68th annual Cannes festival, the actress looked elegant in a subtle floral frock.

Getty
At the premiere of 'Youth,' Weisz wore a billowing aquamarine confection.

Getty
At the Toronto International Film festival, Weisz wore a fantastical floral creation by Valentino.

Getty
Weisz wore statement earrings and a chic cropped trousers at the premiere of 'Complete Unknown' in New York in 2016

Getty
The actress was radiant in an ethereal Alexander McQueen dress in 2016.

Getty