In a Fashion Week Surprise, Raf Simons Is Pivoting to Womenswear
Ahead of his highly anticipated debut at Prada, Simons announced his label's first foray away from men's.
---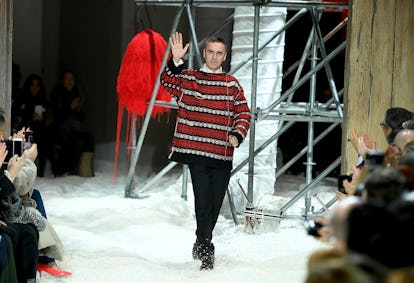 Angela Weiss/Getty Images
When Prada announced that Raf Simons would be joining Miuccia Prada as co-creative director in late February, the pandemic was just about to kick into high gear. At the time, the pair had yet to actually start working on their first joint collection, set to debut on the final day of this month's Milan Fashion Week. And yet, somehow, they pulled it off: While it won't be a traditional runway show, Prada will present its spring 2021 collection in one form or another next week.
Perhaps more impressive, though, is that Simons has not only delivered on his promise to maintain his namesake menswear label on the side; he's also secretly worked to make its show one of his most exciting yet. On Thursday, the Belgian designer announced that for the first time ever, his upcoming menswear show on October 23 will also feature a separate collection, womenswear.
This will not, of course, be the first time we've seen Simons's take on womenswear. His women's designs were a key element of the success of his tenures at Jil Sanders, Dior, and Calvin Klein. (He also occasionally casts models, like longtime muse Julia Nobis, in his label's shows, and major retailers have occasionally marketed some pieces as womenswear.) But for Rafaelites, his designs for the Raf Simons label have always been Raf at his most pure. (It certainly allows more room for creativity than major corporate houses like Calvin Klein.)
But Simons's other reason for departing Dior and Calvin Klein make the news something of a surprise. Simons repeatedly demanded how the high production demands stifled his creativity, and yet within a matter of months, he's now made two major additions to his plate. In any case, he's continuing to do things his own way, pivoting to women's as more and more industry names are opting for genderless.
Related: An Illustrated Guide to Why Raf Simons x Prada Makes Sense