Everlasting Love
Ralph Lauren's newest fragrance comes straight from his heart
---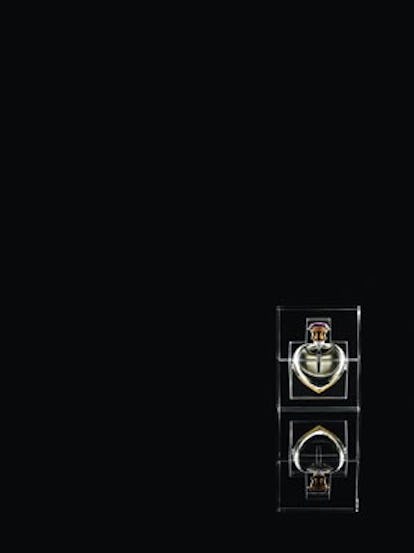 Who says love don't cost a thing? Not designer Ralph Lauren, who has put a $2,200 price tag on it. At least that's how much he'll charge for the luxury edition of his new perfume, Love, Ralph Lauren, when it goes on sale at Neiman Marcus and Saks Fifth Avenue's New York flagship in November. Perched atop the 15-milliliter glass bottle—heart-shaped, of course—is a 47-carat amethyst, mined in northern Brazil and hand-cut in Jaipur, India. It is then encased in a protective Lucite box with Lauren's name handpainted in gold along one edge.
"How does one define love? Love is a symbol of romance and spirit throughout your life," explains Lauren, of his olfactory tribute to his customers. (Note, if you will, the comma placement in Love, Ralph Lauren.) "I wanted this to be something a woman could feel was forever."
Wearing a dapper navy blue suit in his chic, mahogany-walled office, Lauren believes his new perfume, his 28th in 30 years, contains the purest oils a scent has ever had. Indeed, Givaudan, the Swiss perfume house that created Love, as well as nine others in the Ralph Lauren collection, including Safari and Ralph Lauren Blue, used a number of its "orpurs," a term that applies only to its superior notes. The delicate ingredient list features sandalwood, patchouli and Bulgarian rose, to name a few. Amber provides the sensuous dominant note.
"What I most wanted was for the fragrance to have quality," Lauren adds. "I wanted it to have some longevity; for the experts to say, 'This is really special.' I wanted something that was not this year's fragrance or the luxury of the moment. It had to be a timeless moment, because when you do smell a fragrance that has that luxury to it, the experience is very beautiful."
Because love makes the world go round, as the old adage goes, Lauren is also offering four more accessible variations: a $600 15-milliliter parfum with a crystal clear stopper instead of the more exclusive amethyst, and three sizes of eau de parfum spray (for $75, $90 and $135) topped with garnet-colored caps. "There is the woman who will say, 'This is the most beautiful fragrance I've ever smelled. I want the best, and I'm going to keep it forever, and I want to hand [the bottle] down to my daughter because it's very special,'" the designer says. That woman will buy the limited edition. Lauren insists, however, that "I wanted it to be rare, but I also wanted it to be available."
The attention to detail is nothing new for Lauren, but he says that Love is his most intimate fragrance experience yet. He compares it to Notorious, his oriental floral scent that launched in September. "Notorious is fashion, and it's sexy, and it's one aspect in a woman's life, but it's changeable. It's like passing by a [store] window and saying, 'I want that,'" he explains. "Love should be a little bit more like, 'Oh. Wow.' It's the essence of most people's souls, so it's got to hit a note within you."