Ralph Lauren Will Hopefully Spill All of His Business Secrets in Upcoming Memoir
Ralph Lauren has signed a deal to write his memoirs. They'll be released next year to coincide with the 50th anniversary​ of his unrivaled company.
---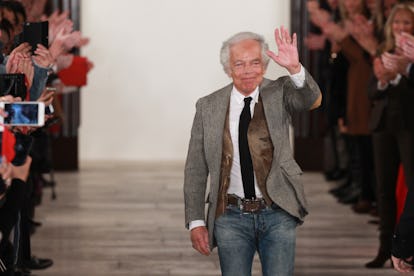 FilmMagic
You can fill your wardrobe with Ralph Lauren clothes, and we mean everything from gym shorts to evening gowns, and you can smell of Romance of Ralph Lauren Perfume. You can dry yourself off after your morning shower with Ralph Lauren towels (after using Ralph Lauren shower gel, of course). You can buy a Ralph Lauren bed and line it with Ralph Lauren sheets. You can even paint the walls of that bedroom in Ralph Lauren paints.
Next year you'll be able to buy a book by Ralph Lauren, the man himself. Which, of course, you can store in your Ralph Lauren Home collection bookshelf.
The iconic designer, now 76, has signed a deal with Simon & Schuster to deliver his memoir to readers in September 2017. The date will coincide with the 50th anniversary of Lauren's Polo brand.
Of course, when you think of Ralph Lauren's life you doesn't necessarily think of juicy stories. Unlike what we'd hope from many other designers tell-alls, we're not exactly expecting a page-turning tome full of sex, drugs, and illicit stories.
The man, America's wealthiest fashion designer, has been happily married to the same woman for 52 years and has raised three children who have gone on to be successful in their own rights. The biggest personal scandal associated with Lauren might be the fact he didn't tell his parents that his bride, Ricky Anne Loew-Beer, was only half Jewish by ethnic background.
Instead, it seems like the memoir will be the story of how he built a modern fashion and lifestyle empire perhaps only rivaled by Giorgio Armani.
"How Ralph Lauren's business became the epitome of American style is one of the great cultural stories of our time," said Simon & Schuster publisher Jonathan Karp in a statement released to The Associated Press.
Born in the Bronx to immigrant parents from Belarus, Lauren started the Polo line, originally consisting merely of men's ties, out of a drawer in his office at the Empire State building. Orders from stores like Neiman Marcus followed as did men's suiting, that famous polo shirt, and eventually women's wear.
Today the Lauren brand is so powerful that he can literally shut down an entire street in New York in order to show his latest collection.
It's no wonder that aspiring brand builder Kanye West recently told us that Lauren is one of his biggest inspirations in fashion. Lauren's businesses have a product for almost every aspect of your life that might require a dash of style.
So while other designers might have memoirs that could prove a bit juicier, only Ralph can produce a book that you read while curled up in pajamas, a throw blanket, ​and an arm chair that all have his name on it.
View W magazine's most popular videos.