Ranjana Khan: Khan Artist
Jeweler Ranjana Khan plays by her own stylish set of rules.
---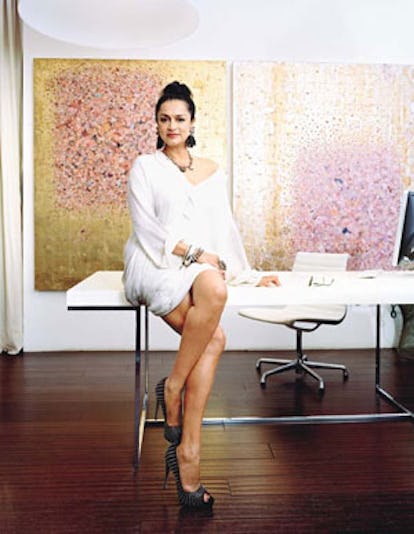 Even in the fashion world, it's not every day that you walk into a career woman's office and find her in short shorts, a backless top and platforms fit for someone named Bambi. To see that woman not just pull off such a getup but, at 54, look downright hot in it is even less likely. Then again jewelry designer Ranjana Khan isn't the everyday type.
"What I wear on New Year's Eve is what I'll wear to work," says the Indian-born, New York–based beauty, who cycles through three outfits—a backless Jean Paul Gaultier top and harem pants, a cloud of a Lanvin minidress, another backless silk halter and trousers—all piled with her own jewelry, for today's portrait. "Sometimes I'm so overdressed for work, in a full-on beaded skirt and things in my hair. But my people are used to it. Coco Chanel said when you're going out, take one thing off. I add one thing on."
Necklaces and earrings from Khan's spring collection.
Such a fearless approach suits Khan, in terms of not only her wardrobe but also her work, which includes two costume jewelry collections—the high-end line Ranjana Khan and the lower-priced RK for HSN—as well as a handful of ready-to-wear pieces, most significant of which is a signature dress in a range of colors. It was all launched 16 months ago after she shuttered Phoenix Hand Embroidery, her tony company that counted such elite houses as Stella McCartney, Jean Paul Gaultier and Lanvin (for which she worked on those sensational tulle-covered pearls) as clients. After a dozen years, she says, she was "burnt-out."
"Can you imagine feeling like, Oh, my God, I have to go to Paris again?" says Khan, ticking off a typical 10-times-a-year travel schedule: Florence, Milan, Rome, Paris and London to visit clients; and Bombay, where the factories she continues to use are based. "So I stopped. But I find it very hard to just do nothing."
Sitting still has never been Khan's style. Born into a privileged family, she modeled as a teenager and young adult before fleeing to New York at age 24 to escape an arranged marriage. Within weeks, she met eveningwear designer Naeem Khan, her husband of 30 years, who grew up just blocks from her. "That's how Naeem remembered me," Khan recalls. "From billboards and advertisements in Bombay."
When the couple's two sons, now 24 and 22, were old enough for her to travel, Khan launched Phoenix out of the Khan factories (Naeem's family is well established in embroidery), developing hand-stitched fabric concepts that promised Indian craftsmanship without the ethnic look. "Girls are taught to cook and embroider in India," notes Khan, whose first account, Jil Sander, came rather seamlessly. "I called her, cold. I took the flight, and they loved what I had. It was instant." Things went so well that even French embroidery maestro François Lesage was curious. "He asked someone who knew me to have me come to his studio," says Khan, who was honored by the invitation. "He wanted to know, 'Who is this person who's taking my business?' He was a very charming man, flirting with me like crazy."
Now Khan's focus is her jewelry, which retails for $225 to $1,500, and plays elements such as robust hardware, pearls and stones against soft tulle for a refined artfulness. Neiman Marcus, Bergdorf Goodman and Harrods carry Khan's jewelry as well as her Athena dress, a slinky silk charmeuse style, or "the accessory to the necklace" to which it's attached. "It's tied here and here," she explains, touching the nape of her neck and the small of her back. "And if you open the tie, it falls to the floor in a second flat." According to the jeweler, the dress happened almost accidentally, when a buyer from Harrods, there to view Naeem's collection, saw a piece of silk that Ranjana had draped on a form. "She said, 'When can I buy this?'" says Khan. "And I said, 'Monday.' My wheels were already spinning." Not that Khan is competing with her husband. The couple share office space but try not to mingle their businesses. "That's how you ruin a marriage," she quips.
Once the luxury market rebounds, Khan would like to start an even pricier jewelry line, along with eyewear inspired by her own collection of kooky reading glasses: some 60-odd vintage sunglass frames—Pucci, Balenciaga, Emmanuelle Khanh—fitted with tinted prescription lenses to hide magnified eyes. "I've never had a pair of granny glasses," Khan says. "It's just vanity."