Rebel Wilson Wears Custom Couture Givenchy By Clare Waight Keller
"I think it's a really cool move that they're being inclusive."
---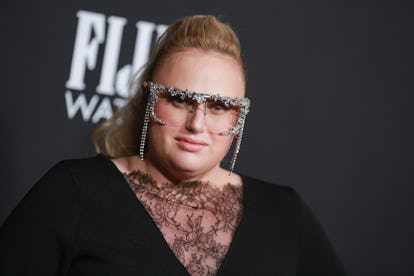 Rich Fury/Getty Images
Few are having a better 2018 than Clare Waight Keller, the design head of Givenchy who recently took over for Riccardo Tisci. Keller is making headlines once again for dressing Rebel Wilson, just a few months after dressing Meghan Markle on her wedding day in an elegant, minimal boatneck gown. Keller's creation for Wilson was, likewise, historical, although quite different stylistically.
When Wilson made a red carpet appearance in Los Angeles last night, she did so in a black sheath dress with lace inset, a pair of white and black pumps, and an elaborately decked-out pair of glasses. The look marked the fashion house's first couture plus-size ensemble, according to Wilson's stylist Elizabeth Stewart—a very cool move indeed. "I could be wrong, but Givenchy normally makes sample sizes, and obviously, I'm not sample-size," Wilson told People on the red carpet. "I don't know if they've ever made a plus-size couture dress before; they may have, but my stylist, Elizabeth Stewart, told me, 'This is a massive deal.' She's never heard of them doing something like this."
While Givenchy may not have an archive that includes other plus-size couture looks, the fashion house has formally dressed at least one other plus-size celebrity before: The Gossip frontwoman and fashion muse Beth Ditto. Ditto wore a look by Givenchy back in 2014 when she attended Tisci's Paris Fashion Week Fall/Winter show, though the look wasn't from the couture collection.
Wilson was honored to wear one of Keller's designs, no less the first high-profile couture one since her splashy royal moment in May. "I think the last big couture piece that [Givenchy artistic director] Clare Waight Keller did was Meghan Markle's wedding dress," Wilson said. "And now she's making me a dress, so that's kind of amazing just in and of itself. But then factor in the fact that it's Givenchy—an amazing Paris fashion house—I'm a bit shocked how it all happened but really grateful. I think it's a really cool move that they're being inclusive with someone like me." Hopefully, that inclusivity will soon continue with other fashion houses following in Keller's wake and catering to a more diverse clientele.
Related: Clare Waight Keller: Pretty, Cool