Reese Witherspoon Is Adapting Are You Sleeping Into a TV Series Starring Octavia Spencer
She's teaming with Octavia Spencer for Apple's "Are You Sleeping."
---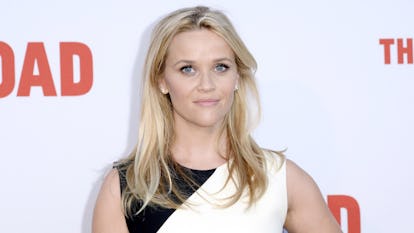 Kevork Djansezian/Getty Images
Perhaps more than anyone in Hollywood right now, Reese Witherspoon has a knack for turning buzzy books into the kind of hit movies and television shows you can't stop talking about. It started in 2012 when her production company partnered with 20th Century Fox to buy up the rights to Gillian Flynn's Gone Girl. Witherspoon didn't even appear in the film, but she helped shepherd the project through production and brought mega-director David Fincher on board. The result: a critical and commercial success. More recently, she partnered with Nicole Kidman to turn Liane Moriarty's novel Big Little Lies, which some might have dismissed a mere beach read, into a critically acclaimed miniseries. Her movie Wild was based on a memoir. Her upcoming TV project with Jennifer Aniston is based on a nonfiction book about morning TV. She also holds the rights to another Moriarty novel, Truly Madly Guilty, and is developing a movie based on the novel Luckiest Girl Alive.
So it's no surprise she's the producer behind another just-announced page-to-screen project. She's teamed with Apple's upcoming television service to turn Kathleen Barber's novel Are You Sleeping into a series starring Octavia Spencer.
The novel centers on the story of Josie Buhrman, a woman who has tried to put her horrific past behind her (her father was murdered, her mother joined a cult, and her twin sister betrayed her). Finally leading a somewhat normal life, her past explodes when the circumstance of her father's murder is explored in a true crime podcast that goes viral. Nichelle Tramble Spellman, a veteran of The Good Wife and Justified, created the project and will pen the script.
Witherspoon's morning television show with Aniston was also bought by Apple, and, now, suddenly, Witherspoon is the service's most prolific and important producer, even if it is yet to exist, and no one is quite sure what form it will take (will it just be another Netflix or Hulu alternative, or will it be something more? You never know with Apple).
It also means that if you want to keep an eye out for what Hollywood's next biggest project is, you should follow Witherspoon's @ReesesBookClubxHelloSunshine Instagram account. Witherspoon first assigned Are You Sleeping to her followers back in August, and it's far from the first selection in the club (which originally started on Witherspoon's main account) that the actress-producer ultimately optioned.
Most of Witherspoon's book-to-screen adaptation also have another thing in common: they feature strong, complicated, multifaceted women. Are You Sleeping is no exception in that department either.