Reese Witherspoon's New Project with Kerry Washington Proves She Needs To Start Her Own Book Imprint Already
There's one step left for the multi-hyphenate mogul: start her own publishing imprint.
---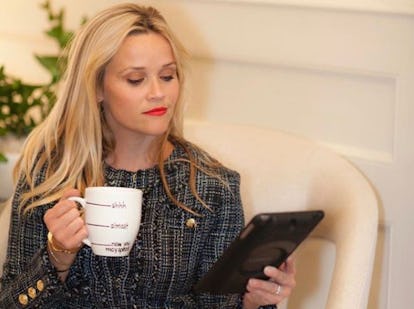 Somehow Reese Witherspoon has joined up with yet another superstar peer (in this case Kerry Washington) to coproduce and costar in yet another limited television series based on an acclaimed book from a female author, and instead of asking when Witherspoon plans to find time to sleep over the next few years, we're left asking why hasn't Reese Witherspoon started her own book publishing imprint yet?
The rate at which Reese Witherspoon has been signing on to produce projects left and right would give any one else whiplash, especially after bringing bestselling literary projects to life, some of which she has also starred in and for many of which she has received copious accolades and nominations.
Witherspoon brought the novels Wild and Gone Girl to the big screen, and can also be credited with bringing Liane Moriarty's novel Big Little Lies to HBO, not to mention her Untitled Aniston/Witherspoon TV Project, based on Brian Stelter's Top of the Morning, which Apple has given a straight-to-series two season order before the show has even premiered.
And just when you think her plate couldn't possibly be more full, Deadline recently announced that Witherspoon will team up with Washington to executive produce a limited series based on the 2017 bestseller Little Fires Everywhere by Celeste Ng, with the novelist on staff as a producer. (Liane Moriarty, author of Big Little Lies also served as a producer on the HBO adaptation of her novel). The Little Fires Everywhere adaptation has yet to find a network home, but Witherspoon's Hello Sunshine production company is reportedly shopping it around.
It's clear that Witherspoon has an eye for selecting the right books to transform into cult film and television phenomena, but she wouldn't be the first celebrity to capitalize on her literary ambitions. Gwyneth Paltrow has GOOP Press, Oprah is the obvious mastermind behind An Oprah Book, and Sarah Jessica Parker recently launched her own fiction imprint called SJP for Hogarth, under the Crown Publishing Group, so if Carrie Bradshaw can take her literary turn, so can Madeline Martha Mackenzie. The only step left for a producer-actor-designer like Witherspoon at this point would be to fully monopolize on her successful track record and extensive filmography, and cover all the bases by just creating her own imprint of curated books to spin into television series or films.
Under Hello Sunshine, Witherspoon is producing another season of Big Little Lies, the aforementioned Jennifer Aniston collaboration, a comedy series with Kristen Wiig inspired by the upcoming Curtis Sittenfeld short story anthology You Think It, I'll Say It, and a drama series called Are You Sleeping with Octavia Spencer based on the novel of the same name, yet she somehow still finds the time to read and suggest books on her book club's Instagram account every month while churning out new looks for her lifestyle brand Draper James. Is there anything Reese Witherspoon can't do?
Related: Reese Witherspoon's Love of Reading Is the Secret to Her Success as a Producer