Reese Witherspoon's Love of Reading Is the Secret to Her Success as a Producer
The Oscar-winner is an avid reader.
---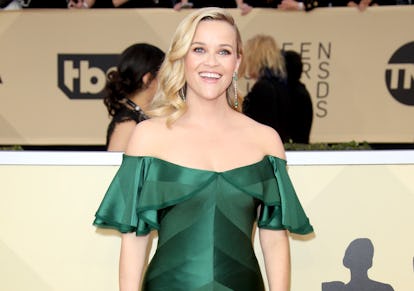 Photo by Dan MacMedan/Getty Images
In recent yearsReese Witherspoon has transformed from an in-demand leading lady to a triple-threat mogul: actress, producer, lifestyle retailer behind her brand Draper James. But it's her love of reading that opened up new doors for her once she started seeing fewer interesting scripts coming her way. In a new profile in the New York Times, Witherspoon revealed that it was a conversation with her husband, CAA agent Jim Toth, about her reading habits that got her into the producing game.
"I talked to my husband around that time, when the movies weren't working for me," she said, referring to the period after she turned 40 and wasn't being offered the caliber of work she was used to. "And he said, 'Are these movies you want to be making?' And I said, 'No, I'm waiting for the scripts to come in.' And he said: 'You don't seem like the kind of person who sits around and waits for the phone to ring. You read more books than anybody I know, so why don't you start making them into your own material?'"
That led to Witherspoon producing and starring in an adaptation of Cheryl Strayed's memoir Wild, earning her an Oscar nomination and kicking off a string of adaptations, like Liane Moriarty's Big Little Lies, recently greenlit for a Meryl Streep-starring season 2 at HBO, and the upcoming series from Apple based on Brian Stelter's Top of the Morning, in which Witherspoon and Jennifer Aniston play warring morning talk show hosts.
Witherspoon reads so much, according to the profile, that it takes others in Hollywood by surprise. Colleen McGuinness, "the show runner for the planned series based on a short-story collection by Curtis Sittenfeld," was shocked that Reese had read the book before their first meeting , since "most people don't." Witherspoon's office also features a "floor-to-ceiling bookshelf" crammed with, we can only imagine, material that will soon be adapted to sweep the Golden Globes.
Her production company, Hello Sunshine, even keeps its own Instagram-based book club, in case you want to follow along with what Witherspoon and her coworkers are reading now:
Related: Reese Witherspoon Is Adapting Are You Sleeping Into a TV Series Starring Octavia Spencer