Reese Witherspoon Gives Heartfelt Speech While Presenting Nicole Kidman With the Actress Tribute Gotham Award
"That is the kind of woman I want to be."
---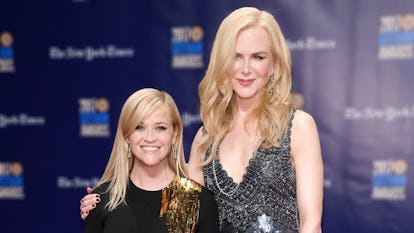 Dimitrios Kambouris/Getty Images
In a post-Big Little Lies world, after the show has already swept the Emmys, it's hard to remember a time when Reese Witherspoon and Nicole Kidman — who obtained the rights to Liane Moriarty's novel and shopped the miniseries around together before costarring in the award-winning show — were not close friends and collaborators. But in fact, BLL was the pair's first ever collaboration and, for Witherspoon at least, a decades-old dream come true.
While presenting Kidman with the Actress Tribute at the Gotham Independent Film Awards on Monday in New York City, Witherspoon not only heaped praise on her pal, but also described how she's been scheming to work with Kidman since the 1980s. "I've been one of her biggest fans since I saw one of her very first movies, Dead Calm," Witherspoon said, according to People, adding that Kidman was "simultaneously so vulnerable and so bada**" in the 1989 film. "I saw this movie when I was a girl and I thought, 'That is my hero, that is the kind of woman I want to be,'" she said.
"So last year, I was really lucky, I got the chance to work with her, finally," Witherspoon continued. "She became this woman, Celeste Wright, who was the mother of two, the wife to a wealthy man, who seemingly has it all together, but she holds a secret in her heart, a dark secret." Witherspoon added, "This powerful performance showed the intricacies of what so many women are going through in abusive relationships, and I truly believe this helped open up the conversation that so many people are having now about people who are facing the same struggle with abuse and harassment in their own lives. I truly believe that."
Once Kidman took the stage to accept the award, she and Witherspoon shared a sweet hug. "To know you is to love you, baby, so thank you," she said.
The dynamic duo walked the red carpet together before and after the ceremony and posed, hand-in-hand, for pictures together. Witherspoon, 41, wore a black elbow-length sheath dress with gold accents down one side, matching gold pumps, and simple matching jewelry. Kidman, 50, also, apparently, received the metallic memo, opting for a tea-length dress covered in blue-gray sequins, strappy black heels, and a long, double-strand necklace.
Kidman and Witherspoon also celebrated their friendship in their acceptance speech after BLL won the Primetime Emmy for Outstanding Limited Series in September. "This is a friendship that then created opportunities. It created opportunities out of a frustration, because we weren't getting offered great roles," Kidman said at the time. "So now, more great roles for women, please."
Related: Nicole Kidman Attempts to Navigate Work–Life Balance By Moving to New York
At 49, Actress Nicole Kidman Is Still Quite Impressionable