Nicole Kidman Attempts to Navigate Work–Life Balance By Moving to New York
Kidman and Keith Urban have reportedly bought an Upper East Side brownstone so she can pursue her Broadway dreams.
---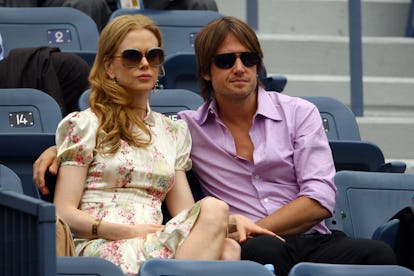 Julian Finney
Update, 12/5: Nicole Kidman told Access Hollywood Keith Urban did not, in fact, buy her a New York townhouse; however, the couple did list their 36-acre home just outside Nashville earlier in the week.
At the corner of 74th St. and 5th Ave., bordering on Central Park, is a townhouse that once belonged to Michael Jackson (and Nate Archibald, according to Gossip Girl). Now, that townhouse belongs to Nicole Kidman and her husband, the country musician Keith Urban. Over the weekend, the Australian tabloid Woman's Day reported Urban had purchased his wife the six-storey Upper East Side home (complete with a private roof deck and backyard patio) for $52 million.
The brownstone was first listed earlier in the month, when its previous owner, hedge fund manager Marc Lasry, put it on the market for $39 million. The building, which was constructed beginning in 1898, includes no fewer than seven bedrooms, 10 fireplaces, and eight bathrooms, not to mention two more powder rooms and a "staff bathroom," as well as an in-home gym, according to its floor plan. But despite reports that the Kidman-Urbans will soon be putting down roots in New York, according to the New York Post's "industry sources," no deal has yet been finalized; the building is still listed on the Modlin Group realtors website.
Two years ago, Kidman starred in the West End debut of Photograph 51, a one-act play about the discovery of the DNA double helix in which she played Rosalind Franklin, one of the scientists responsible for the breakthrough. It earned her a nomination for Best Actress at the 2016 Olivier Awards (the same year Denise Gough came home with the prize for People, Places, and Things). Kidman had previously expressed interest in bringing the play back to New York (it had run Off-Broadway in 2010) and to her home country of Australia, but she ended up apparently opting out because of family obligations. (In addition to her two adult children with ex-husband Tom Cruise, Kidman has two young daughters, ages six and eight, with Urban.)
"I put the plan to my girls and they said nope," Kidman told the Daily Mail. The West End run had been challenging enough: "It was hard, I wasn't there for bedtimes, I wasn't there for dinner and this is where a balance between work and family is impossible," she added. (Plus, she reports her daughters are her most essential fashion critics, so she needs to keep them close for any and all red carpet duties.) "You have to make a choice and it will always be them." Even Oscar winner Nicole Kidman isn't immune to the high expectations of the work–life balance imposed on women.
Of course, most Broadway stars opt for theater-district high rises or Upper West Side brownstones; for Kidman, crossing Central Park from the Upper East Side to get to Times Square during a show's run will be quite the commute. But it beats the crowds at Times Square.
Nicole Kidman's favorite birthday featured a sexy fireworks display: