Renzo Rosso: Rags to Riches
The jeans business has made Diesel's president exceedingly wealthy. So what is this hard-partying, trash-talking billionaire bad boy doing with arty, cerebral brands like Margiela, Marni, and Viktor & Rolf?
---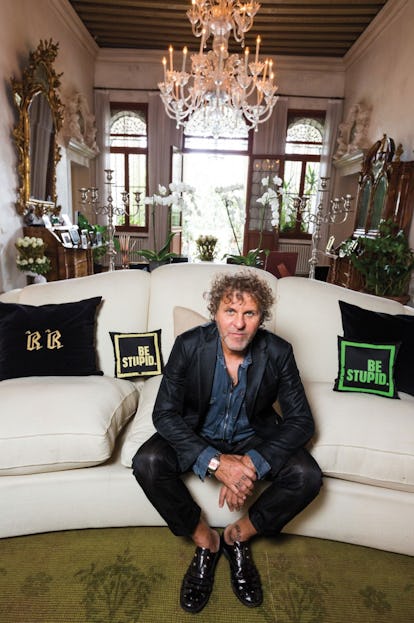 Photography by Lauren Greenfield
The fashion-world corollary to chaos theory: A box of rice pudding eaten by a boy in Italy can trigger a worldwide avalanche of $300 jeans. Allow Renzo Rosso to explain. Rosso, the 57-year-old president of OTB—the holding group that controls Diesel, Viktor & Rolf, Maison Martin Margiela, and, most recently, Marni—is sitting in the cafeteria of his company's buzzing new headquarters in the countryside north of Venice. A son of the region, Rosso was born on a farm in Brugine, a town that at the time boasted one car and two televisions. The American Army maintained a base nearby. "When I was 5 years old, we had nothing in the village," Rosso recalls. "One day, in front of my house, some soldiers in a big Cadillac started to do a picnic. I looked at them like they were coming from the moon. I remember they gave me a box of rice pudding—that, for me, was the American Dream."
Rosso graduated to jukeboxes and James Dean, and it was his mania for all things americane that encouraged him to found the denim company Diesel with the apparel manufacturer Adriano Goldschmied in 1978. In 1985, Rosso bought Goldschmied's stake for $500,000. Thinking he'd rather fail big than flounder along, Rosso permitted himself to experiment with some far-fetched schemes. Why don't we make some jeans that look used? he thought. "Distressing" ensued and, with it, the basis of his fortune, which is now estimated at $3 billion, making him a new entry, this year, on the Forbes list of billionaires.
Rosso bought Margiela in 2002. In 2012, OTB—which also owns Staff International, a producer and distributor of designer collections like Dsquared2 and Vivienne Westwood—earned $1.8 billion. After acquiring a majority stake in Marni in December, Rosso announced in April that he had hired Nicola Formichetti, Lady Gaga's former stylist, to serve as Diesel's first artistic director. Once considered too mass market for the world of luxury goods, Rosso has morphed in the past decade into one of its highest rollers. The city of Venice—to which Rosso recently pledged $6.5 million, to repair the crumbling Rialto Bridge—may want to thank the GIs of Brugine for remembering to pack dessert.
OTB stands for Only the Brave, which Rosso says is his motto. The company is increasingly referred to as an Italian LVMH, but unlike the French conglomerate, which is publicly traded, OTB is owned entirely by Rosso and his family. (Rosso has six children by two marriages: Andrea, 36, is the creative director of 55DSL, Diesel's urban-streetwear label; Stefano, 34, was recently appointed OTB's co-CEO; Alessia, 27, works in the film business in New York; twins Asia and Luna are 16; India is 11.) If LVMH cultivates an aristocratic air, OTB is proudly unpretentious. The new headquarters, which opened in 2010, boasts a gym, a kindergarten, and a bar, and nurtures a culture that is far from corporate. "It's so cool," Formichetti said. "You go to the office, and everyone's in sunglasses, all fucked-up. There's this punk-rock attitude—where in other companies, you'd get fired."
Rosso is a flamboyant paterfamilias, who prefers provocation to political correctness. One day he confided, giggling, "I want to be gay in my next life! Women have destroyed me." He said this as he nuzzled his head into the shoulder of his girlfriend, Arianna Alessi, a 37-year-old jewelry designer. When we ate lunch in the OTB cafeteria, I asked him about the role of women in the company. He replied, joking, "I think women, they are born for making children—and sex!" In fact, Only the Brave's CEO, Marina Tosin, is a woman, as was former Diesel's CEO, Daniella Riccardi. And Rosso has several highly placed female executives throughout his organization. Spearing spinach as if he were forking hay, Rosso denounced the snobbishness of some of his peers in the fashion industry: "Me, I hate this thing, the people who are going around with bodyguards, just because they think it looks cool. I vomit against that."
Rosso was wearing a pair of black jeans with a sequined tuxedo stripe, and his Creeper-style shoes were decorated with illustrations of flowers and beetles. He is partial to necklaces with charms strung on leather cords. His hair brings to mind a clown's wig. A few years back, at the Cannes Film Festival, he was photographed welcoming some models for lunch on the deck of his yacht—a 101-foot restored motorboat called Lady May—wearing sunglasses, a ski cap, a muscle shirt, and what were either gym shorts or hot pants. He got his first tattoo when he was 50. Now he has six: a Mohican head (left shoulder), an Only the Brave logo (left ankle), the words enjoy, xxx (inner left wrist), a facsimile of the Margiela four-stitch label (back), and the initials rr (on the middle and ring fingers of his right hand, forming a sort of body-art knuckle-duster).
Rosso put his fork down and zeroed in on a middle-aged woman who was sitting alone at a table across the cafeteria. In a sea of leather and denim, she was wearing a tunic with a blue-and-white floral pattern. "Who is this lady?" Rosso asked, an edge of annoyance in his voice. "She doesn't fit in with us." He continued to scan the room, spotting Formichetti at a table near a window with a view onto a courtyard where boulders had been arranged to form the constellation Virgo, Rosso's birth sign. Rosso grabbed a sugar packet and lobbed it across the room. "Buon appetito!" he called out, as it hurtled toward Formichetti's head.
When Goldschmied met Rosso for the first time, he told me, "he was really looking like a guy from the country." A recent graduate of the Istituto Marconi, a technical college in Padua, where Rosso had enrolled after hearing it was easy, he had come to ­Goldschmied—the owner of several clothing lines at the time—in the mid-'70s looking for employment. Goldschmied thought Rosso was "probably a bullshitter" but decided to hire him anyway as a production technician at his factory. Rosso had no idea what he was doing. One evening Goldschmied invited him to his house for dinner. "I like you, and you definitely have what it takes, but you don't want to work hard," Goldschmied told him. "You're fired." Rosso persuaded Goldschmied to let him stay on. By the next week, he had doubled production.
Rosso may have been undisciplined, but he has never lacked hustle. He describes his father, Vittorio, a farmer, as "stern and correct"; his mother, Fortunata, as "warm and loving." He has an older brother, Giuseppe (now a farmer), and a younger sister, Gianna (who manages two Diesel stores in Padua). When Rosso was 10, a classmate gave him a female rabbit. Rosso bought some chicken wire and plastic bottles. Soon, he was in business as a rabbit breeder, selling the animals to neighbors. He began to dabble in fashion as a teenager, when a friend scored several meters of American denim. Rosso borrowed his mother's sewing machine and produced his first item of clothing, a skintight pair of bell-bottoms with a 17-inch flare. There was only one problem, as Rosso recalls in Be Stupid, his 2011 business advice book: "I had neglected to sew a strip of fabric behind the zipper, so every time I zipped them up, I went into a cold sweat, dreading the possibility of a painful accident."
Clearly, he was not a designer, but he had a sense for what could sell. Goldschmied conceived of Diesel in the late '70s, less as a revolution than as a means to an end, a low-priced line that could use up leftover fabric from his other, more prestigious brands. But Rosso, who by that point had worked his way up from the factory floor to become a partner, sensed that it had greater potential. After he bought out Goldschmied, in 1985, he began to produce vintage-looking jeans in high quantities. Revenue grew from $2.8 million to $10.8 million in the first year. Diesel now has 15 lines, 12 licenses, 19 subsidiaries, and 400 stand-alone stores in 80 countries. It employs 6,000 people and generates $1.8 billion in sales each year. "Even when denim was still considered, like, the lower level of the fashion business, Renzo understood that it was possible to create an amazing company focused on denim," Goldschmied recalled.
Not only did Rosso know how to make jeans, he knew how to market them. From the beginning, Diesel's irreverent advertising has targeted a sophisticated customer. "It's easy to take a girl with big tits and a nice arse and make people pay attention," Rosso once said in an interview. "We assumed the customers were smart and that they'll buy what they like, not what the ads tell them to buy." The Diesel Be Stupid campaign, for example, instructed customers "how to smoke up to 145 [cigarettes] a day." In 2001, the company threw a series of parties around the world, variations on the theme Save Yourself, at which guests drank beer from taps ­designed to look like urinals. In 2010, British authorities banned Diesel billboards that featured a model flashing her breasts to a surveillance camera. Joeri Van den Bergh, the coauthor of the 2011 book How Cool Brands Stay Hot, which includes a case study of Diesel, told me, "The Diesel brand never gets boring, because Rosso challenges the industry, himself, and the customer every season."
As the 21st century dawned, the jeans, with their weird names (Viker, Gloovy, Dosh) and their distinctive diagonal stripe on the fifth pocket, had become as desperately crucial to the college students of the era as ­Jordache and Calvin Klein had been to their predecessors. To the parents who were often asked to pay for them, they were the Jackson Pollocks of casual wear—"Two hundred bucks? I could make that!"
Rosso made the transition from distressed denim to intellectual ready-to-wear when he bought a majority stake in Maison Martin Margiela. Impressed by Rosso's iconoclastic approach at Diesel, Margiela had come to him in search of cash and the logistical muscle that would allow his 14-year-old company to grow. "We are very, very happy with the way our collaboration with Renzo is building," Margiela wrote in an exchange of letters with the artist and impresario Malcolm McLaren published in T: The New York Times Style Magazine in 2005. Rosso helped Maison Martin Margiela open new stores and diversify its offerings, supplementing the avant-garde clothing with lucrative extras like sunglasses, bags, and perfume. He nearly quintupled the brand's revenues while continuing to invest in its expansion.
In 2009, however, Margiela announced that he was leaving his company. Many people interpreted the defection as the result of a fallout with Rosso—the shy purist crushed by the commercially minded vulgarian, who was rumored to have pressured Margiela to, among other sacrileges, sign his name to a line of tailored suits. (Until then, the label's collections were designated only by numbers.) Rosso claims that Margiela left for personal reasons. Whatever the case, his departure put Rosso in a precarious position, rendering the company he had bought both leaderless and, possibly, without a reason to exist. That Rosso managed to shepherd the house through the transition from auteurist atelier to major international brand without alienating its longtime devotees is a testament to the subtlety of his business sense. "He had to reinvent the company without reinventing the company," Goldschmied said.
In February, I joined Rosso at the Margiela fall 2013 women's show in Paris. Hundreds of impeccably dressed people milled around a former school gymnasium in the 11th arrondissement, drinking cheap red wine out of the sort of ridged plastic spit cups you get at the dentist's office—a tradition dating back to Margiela's earliest presentations. Rosso sat in the front row mugging with celebrities, including his frequent sidekick Kanye West. ("Kanye, he was in love with everything Margiela," Rosso said later, when I asked how the two got to know each other. "Even now, he asks to do something together—but I am very busy.") The music started blasting, and models clomped down the runway. The collection had a men's wear vibe: enormous cuffs, pinstripes, a shiny plastic jacket fit for a fireman. Many of the coats featured oversize hanging loops that doubled as ponytail holders.
A look from Diesel Fall 2013.|||
After the show, Rosso went backstage to bestow his congratulations upon dozens of white-coated staff members. (Rosso declined to replace Margiela; since 2009, a corps of anonymous designers has produced the house's collections.) Later, the party moved to a Moroccan restaurant around the corner. Tin lanterns hung from the ceiling, casting patterns on tables strewn with rose petals. Rosso sat in a dark corner, picking at pigeon pastillas. His helicopter pilot had forgotten to set an alarm clock that morning, and Rosso had arrived in Paris several hours behind schedule. He was clearly exhausted, but he hung around late. "He wants to have a glass of wine with everyone," Formichetti said. "That's as important as talking about fashion."
Rosso may disdain the hauteur of his competitors—"The world is full of companies; they are too pretentious. They think they are king of the world; they are so snob!" he told me—but he has his own affectations. When ­Diesel was named Advertiser of the Year in 1998 at the International Advertising Festival, in Cannes, Rosso and four of his employees accepted the award wearing specially commissioned masks bearing his likeness. (Within OTB, this parable is somehow presented as evidence of Rosso's respect for teamwork.) With his grandiose monographs (Chapter One of the book Fifty, Rosso's ode to himself on his half-centenary, is titled "An Insight Into the Life of a Visionary Man") and his over-the-top birthday celebrations (for his 55th, he threw a party featuring live performances by Wyclef Jean, Pharrell Williams, and the Italian rapper Jovanotti), Rosso is an inveterate self-mythologizer. Until I happened to overhear some current and former employees dissecting his personality, he had struck me as a bit of a paradox: He had repeatedly told me how "curious" he was about the world, but I had yet to hear him ask a question about anything. "Renzo's an intellectual," one of the employees said. "Well, he pretends to be an intellectual." Everyone laughed. "Yeah," someone else chimed in. "He's reading a comic strip behind his newspaper!"
Goldschmied told me that for many years Rosso "had always been feeling a sort of sense of inferiority because he was making denim." But in the world of high fashion, Rosso's insecurities may be an asset, in that they have rendered him deeply respectful of brands such as Marni and Viktor & Rolf, and, thus, loath to wreck them with change just for the sake of it. When I spoke to Gianni Castiglioni, Marni's cofounder and CEO (his wife, Consuelo, is the designer), he said that he and Rosso are both adamant about preserving Marni's cerebral identity, even as they expand the company's presence in Asia, the Middle East, and the United States. "We agree that maybe we focus a little more on accessories and the visibility of Marni, but we also feel that it has to remain as it is—a niche market," he said. "We will not change at all what Marni is and has been over the years." Rosso makes no secret of his disappointment at having missed the opportunity to buy Valentino, and Tosin recently issued what amounts to a standing order for luxury businesses: "We will scout brands and companies in line with our group philosophy, and complementary to our existing business," Tosin told Women's Wear Daily in March.
"Let's go on the dance floor!" Rosso yelled over the heavy bass of Tupac Shakur's "California Love." It was just before midnight in the basement of the Le Roi nightclub in Bassano del Grappa, Italy, a pretty medieval town of around 40,000. Bassano, which lies about 15 miles away from OTB's headquarters, is home to Rosso and to many of his staff. Rosso owns Bassano Vertus 55, the local soccer club (he added his birth year to the end of the team's name); residents can check their e-mail at a host of D-spots (free public WiFi provided by Diesel). On a warm Wednesday night in April, more than 1,000 Diesel employees from all around the world had descended upon the region for an annual series of meetings. To keep them entertained, Rosso had rented out Le Roi for the evening. He arrived on foot, dressed in furry boots, camouflage pants, and a paint-splattered windbreaker.
"Hey, journalist!" he barked, punching me on the shoulder. (Too hyperactive to absorb much in the way of names, he is forever shadowboxing and roughhousing.) Before I could flee, he had lifted me off my feet in a sort of flying bear-hug maneuver. He swung me around. A photographer took our picture in front of a backdrop, as though we were prom dates. Rosso led the way into the pulsating scrum. We made for an awkward foursome—Rosso, me, Arianna, Arianna's father—but Rosso was unfazed. Green and red lasers bisected his face as he cycled through a repertoire of moves: the Cell Phone, the Shampoo, the Billionaire Fashion Mogul Dancing to Rap Music With His (Not-Quite) Father-in-Law Who Is Roughly the Same Age He Is.
The next time I saw Rosso it was 6 a.m. He was lying on his back on a massage table in his well-appointed home gym, emitting little grunts as a trainer stretched his calves. The sun had just risen. "You must be tired," I said. (I knew I was.) "Not really!" Rosso replied. "We had a good time after the party. We went to the bar near the house and had bruschetta and a few beers." I was about to jot down what he had said, when his sneaker-clad foot flashed before me, kicking the pad out of my hand.
Ca' Priuli, Rosso's house, lies in the heart of Bassano and is hidden by high hedges just off the town's covered bridge. An 18th-century villa, it is decorated in a style one might call badass bourgeois. Lace doilies mingle with blocky contemporary sofas covered with throw pillows that say be stupid. After his workout, Rosso took an elevator upstairs to the family's living quarters. "When I was 31, I saw this house, and I thought, It might be nice to live here one day," Rosso told me as we ascended. "It was the most beautiful house in Bassano."
The bedrooms are arrayed around a long corridor. Rosso entered one of them and raised a pink tulle window shade, rousing his twin daughters from sleep. "Un bacio per paparino!" he exclaimed. He opened another door. "Hello, darling!" he said, jumping on a motionless lump in the bed. The form, which I had thought was another daughter, was Arianna. "Okay, girls, I see you at 7:30!" Rosso bellowed.
At the appointed hour, we sat down for breakfast at a long table set formally with china and linen. The scent of burning candles—36 of them, by my count—suffused the air. A male housekeeper offered fresh blood-orange juice, fried doughnuts, and a fruit plate as the morning news played on a television. Near a sideboard hung what appeared to be a large Jean-Michel Basquiat painting. "That was Arianna's gift to Renzo for his birthday," one of Rosso's staff members explained. "He really wanted to buy a Basquiat, but there are few available, so she had a fake one made."
"Andiamo!" Rosso ordered after a few minutes. We trooped through an underground garage—five motorcycles, six cars—and piled into a black Escalade. Rosso drove the five minutes to his youngest daughter's school. He pulled in, parked, and walked her up the stairs to class. On the way back home, we talked about his plans for the future. I wondered, since he had just appointed his son Stefano co-CEO of OTB, whether he hoped to slow down a bit. "I want to take time for myself, because all my life is ta-ta-ta-ta," Rosso said, growing uncharacteristically contemplative. "So I don't want nothing special, just to breathe. I'd like to work maybe a half day and then take my bicycle and go by the riverside."
Ali Hewson, the founder of the clothing line Edun, got to know Rosso because of their shared interest in Africa. In 2012, Hewson; her husband, the U2 frontman–turned-humanitarian Bono; and Rosso traveled to Mali (where Rosso, through his Only the Brave Foundation, sponsors development projects) and to Uganda (where Hewson helps cotton farmers build sustainable businesses). "We went to this tiny factory in Gulu, where the women who'd been through this horrific civil war were working away, and Renzo just kind of quietly sat down beside the sewing machine and started to sew," Hewson said. When they got back from the trip, Hewson and Rosso decided to collaborate on a project meant to encourage trade with Africa, called Diesel + Edun. She recalled, "There was one meeting where we were all around the table, talking about how a particular pair of pants should work. He was like, 'I know how to do that. Here's how we do it!' He literally almost took off his pants trying to show us how they should be made."
Rosso is a clothing man who does business as much as he is a businessman who does clothing. When he walks down the street, he doesn't see people wearing outfits; he sees fabrics and washes. "He's very tactile, in the sense of treatments or a hand feel or a color feel," said Andreas Melbostad, the creative director of Diesel Black Gold, the company's premium line. "He ­really goes into the technicality of it." One morning in April, the Diesel Black Gold design team was due to present the prototypes for the pre-spring 2014 collections to Rosso. In a large room packed with racks of clothes, employees smoothed wrinkles and straightened hangers.
When Rosso arrived, he immediately made a beeline for a white denim blazer that looked like it had been run over a washboard. "Che bello, mamma mia!" he cooed. Nearby hung a pair of pajamalike pants, the drawstrings of which terminated in blunt knots. "Why don't we have those metal stoppers there?" Rosso suggested. He was particularly pleased by a black denim suit. At the bottom of the leg holes, it had snaps that could easily accommodate a pair of high-tops—a sneaker-head's tuxedo. "These pants cost 190 euros?" Rosso said. "It can be higher." (He wanted to raise the price of several items—"I need money to survive, you know, to pay the trainer, to pay for the children," he joked at one point.) He grabbed a satiny hooded sweatshirt and tried it on. "This is very much my style," he said, stroking the sleeve.
Rosso acknowledges that, as OTB grows, he cannot inspect every rivet. And while sales have continued apace, he said, Diesels, in the era of Nudie and J Brand, are no longer synonymous with premium denim in the way they once were. When I asked him if Diesel had perhaps lost its way, he ­replied: "Not in terms of volume or product but in terms of communication—from the moment I started not to spend 100 percent of my time on Diesel. I am close to 60 now. Diesel is young in mind and needs someone young to reinvigorate it."
Rosso's courtship of Nicola Formichetti demonstrates his commitment to piecing together a team that will position OTB to extend to a second generation. Rosso first encountered Formichetti in March 2012, in ­Tokyo, when Formichetti was the creative director of Thierry Mugler. Rosso was immediately smitten, but he took care to cultivate a relationship before delving into business. He sent texts, and he messaged Formichetti on Facebook. Formichetti recalled, "We both happened to be in Japan. We had a meeting in the Diesel Café, and Renzo said, 'You remind me of when I was younger—you're fucking crazy, and I like that.' But it wasn't like a job offer." It wasn't until months later that Rosso approached ­Formichetti with the idea of becoming creative director.
"I think we lost the personal touch of what we used to do," Formichetti told me, diplomatically referring to Diesel's diminished cachet. His plan for Diesel was "to make it much more premium, in a way": better women's wear, sleek sports details, denim hoodies for the sort of artsy people who spend their lives on planes. Normally, said Formichetti, management tells designers to " 'tone it down,' but Renzo always says, 'Make it crazier.' I think a few people were like, Are those two going to get together and bomb the place?"
Sometimes Rosso's peripatetic existence resembles not so much a life as a series of captioned moments. A sampling of his recent tweets: "Happy Easter! Wishing everyone the very best, with love from Nepal." "At #ArtBasel #HongKong with the great #FernandoBotero." "Happy V Day, my love." (The accompanying photo confirms that he is a red-roses kind of guy.) "See you soon @KimKardashian. Mi casa es tu casa. Xoxo RR."
In April, I joined Rosso in Los Angeles. He arrived on a Wednesday night and went straight to the Chateau Marmont to attend a dinner for Viktor & Rolf. Thursday passed in a blur of scouting (Rosso seemed particularly interested in Nicholas Kirkwood at a showcase of designers put on by the British Fashion Council) and shopping ("Murakami Lookalike #1?" or "Murakami Lookalike #2?" he had tweeted, posting pictures of himself and some artwork that he had decided, on a whim, to purchase from the Blum & Poe gallery).
Friday morning dawned, clear and hot. Rosso, crunching on an apple, climbed into a waiting SUV with Alessi. The night before, jet-lagged, they had ventured out of the Chateau Marmont for burgers on the Sunset Strip. "We wake up at 2, and the music was boom boom boom, so we say, 'Let's go there!' And there were all these crazy people in the bar!" Rosso said, showing me a picture of himself and a drag queen in a leopard-print robe. Wearing a palm-tree sweater, with a messenger bag slung across his back, he brought to mind a kid who had been dressed by his hipster parents. He wanted to go to American Rag, a predominantly denim store, to check out the inventory. When we got there, it was closed.
"Let's get our nails done!" Alessi suggested. Rosso dashed across La Brea Avenue. Eventually, we all convened at a rundown salon, where Rosso opted for a pedicure, a manicure, and a neck massage. Alessi had gels applied. It was Rosso's treat. He took out a wad of cash and approached the register. "May I get the receipt?" he asked.
Less than two hours later, we were in Palm Springs, baking in the sun at a horse ranch lined with orange trees. Diesel + Edun were throwing an all-day party to showcase their denim line produced entirely in Uganda. There was a food truck serving filet mignon cubano sandwiches, a tote-bag-silk-screening station, a beer tent, and a margarita bar. By the pool, lounges were decorated with kente-cloth cushions.
A soccer goal had been set up on the lawn. Rosso kicked a ball around with some employees, running enthusiastically to fetch it after he kicked it over the goal. "I am ready to go!" he eventually declared. He and his posse loaded into SUVs and sped off for the Coachella music festival, which was taking place a few blocks away.
Passion Pit was playing when we arrived. Rosso and Alessi sat on the grass and listened for a while. At one point, Rosso decided to leave the VIP section and roam the grounds. Near the concession stand, he got out his camera and zoomed in on a young woman wearing a shredded crop top. "I take pictures of whatever I like that can inspire me in my collections," he said. Soon after, he returned to the VIP area. "I feel like I'm the old man here," he said. When a joint came around, he inhaled, smiled, and dropped the roach, stubbing it out with his heel.
That night, Rosso and Bono hosted a party at the ranch. The performer Solange Knowles mingled with the model Liberty Ross and the musician John Legend. Bono joined the Congolese bandleader Baloji for a poolside set. At one point, the police showed up, claiming that things had gotten too loud. "What's the problem?" Rosso asked, when he heard the celebration was being shut down. "Where's the police? I could speak with them!" He paused and continued: "No—but in Italy, I could arrange that." And then he got in one of his cars, rode straight to the airport, and made it home in time for lunch.