Medicis Man
Feng shui–loving CEO Jonah Shacknai's groundbreaking drug company is changing the way we age.
---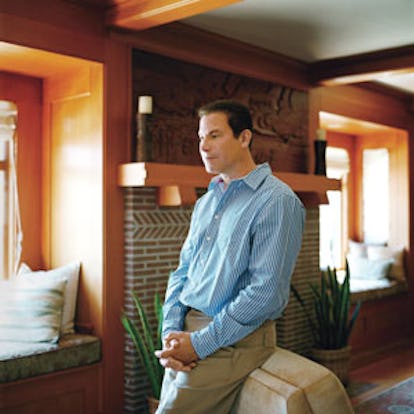 Every so often, before he started the $465 million pharmaceutical company Medicis, Jonah Shacknai would observe the curious habits of women at department store cosmetics counters. "I used to watch the way they would look in the mirror," says the buzz-cut, 51-year-old founder, chairman and chief executive officer, sitting in a faux-homey conference room in Medicis's new Scottsdale, Arizona, headquarters. "Their habits were fascinating to me; the way they interacted with and trusted the consultants." Today, though women still flock to see white-coated salesgirls, they're just as likely to seek solutions from syringe-wielding doctors, a shift that can be credited in large part to Medicis's revolutionary face fillers Restylane and Perlane.
An advertisement for Restylane.
Since the Eighties, people have gotten shots of collagen or their own fat to maintain a youthful visage. But nothing shook up the filler front like the 2003 FDA approval of Restylane, a hyaluronic acid gel that plumps safely, lasts for months and is now used by doctors for everything from wrinkles and lips to nonsurgical browlifts. "There were two products that really changed how we do things cosmetically," says Jeannette Graf, a dermatologist in Great Neck, New York. "Botox and Restylane." (While the former temporarily eliminates wrinkles by immobilizing muscles, the latter actually fills lines with material, hence the term "filler.") Manhattan plastic surgeon Michael Kane adds, "Restylane didn't just take market share from collagen, it grew the market by a factor of five." (Both Graf and Kane have worked as consultants for Medicis and other drug companies; Kane is currently involved in clinical trials for the firm.) Medicis's follow-up product, Perlane, which was approved in 2007, is a more robust, longer-lasting version of Restylane and made for deeper wrinkles and folds; Kane even prefers it to implants for adding volume to cheeks and chins. In the coming years, Medicis, a 20-year-old company whose profits still stem largely from acne drugs like Solodyn and Ziana, will release new technologies—including the first Botox competitor—that could once again reshape the way we think about a little nip and tuck.
"They're building an aesthetic portfolio," says New York plastic surgery consultant Wendy Lewis, who has written for the company's Web site and conducted workshops for it. "They have the cash to do it, mainly because they've done so well with Restylane. And it gave them entrée into plastic surgery."
Medicis's first official foray into that arena came this past June, when it announced the acquisition of LipoSonix, a Bothell, Washington, company with an ultrasound fat-reduction device that could give new meaning to the term "noninvasive." A sleek wand emitting ultra­sonic energy is guided along the abdomen (the hips, butt and thighs are also being studied as possible target areas) for about an hour to obliterate fat cells, which, LipoSonix claims, are then gradually eliminated through the lymphatic system. There are no needles, not even pinpricks, involved. "Who doesn't want that?" Lewis says. "The question to me is how good are the results going to be, and that remains to be seen." Clinical trials are expected to begin soon in the U.S., and the jury is out on exactly how many inches can be lost and which areas of the body can best benefit from the machine. It's already being used in Europe, where the procedure costs about $4,000. Lewis adds that because of its wide appeal and relative ease of operation, it's the type of service that has the potential to one day be available in strip malls and medi-spas.
The $150 million LipoSonix purchase is the most recent in a string of what appears to be high-profile coups for Medicis. In 2006 the company spent $90.1 million to acquire the U.S., Canadian and Japanese rights to Paris-based Ipsen's Reloxin, a botulinum toxin type A injectable already used aesthetically in 23 countries. Launched in the UK in 1991 to treat muscle spasms, it is expected to rival the muscle-freezing wonders of Botox, which contains a strikingly similar form of the toxin. The two strains were researched at chemistry labs run by the British and U.S. governments, respectively. Lending a royal air to his offering, which is expected to be available in the U.S. in 2009, Shacknai says, "Botox comes from the U.S.; Reloxin comes from Her Majesty."
And last December the company invested $20 million in Revance Therapeutics, a Mountain View, California, firm working on a topical form of botulinum toxin type A. "They've got a way to deliver really large molecules through the skin [without a needle]," says Kane. While a cosmetic application may be the first way the technology is employed, Kane and some of his peers fantasize that the technology could also be used to administer vaccines, insulin and other medications currently delivered via shots.
How did a relatively small pharmaceutical company (small, that is, in comparison with the industry's multibillion-dollar giants like Johnson & Johnson and Pfizer) become a leader in one of the most innovative fields in medicine? As Shacknai tells it, major drug companies have long been disinterested in dermatology, a category that he says has a revenue stream comparable to the earnings for a single cancer or diabetes drug. After working in health-care policy in Washington, D.C., and as a lawyer and consultant for companies like Key Pharmaceuticals, he saw an opening in the market in the late Eighties. Shacknai built an initial portfolio of what he says were "mundane products" developed both in and out of house for hyperpigmentation, rosacea, dermatitis and acne. Mitchell S. Wortzman, Medicis's executive vice president and chief scientific officer, says that the company has always valued compelling science above all else, and that, unlike "big pharma," it has no qualms about taking on products it did not invent or will not own outright. "We work on things that we think are important," Wortzman says. "It's not based on intellectual ownership of an idea." To wit: Medicis holds only the North American rights to its most visible product, Restylane, which comes courtesy of the Swedish company Q-Med.
This open-minded approach lets Medicis move quickly, a significant advantage in such a rapidly changing environment. It's part of what has allowed the company to compete so fiercely with a much bigger fish, Allergan, an outfit several times its size with a much broader product portfolio (its aesthetic holdings include Botox, the Restylane competitor Juvéderm and Natrelle silicone gel breast implants) and $4 billion in revenue last year. "As we did with Restylane, our idea is really to shift the paradigm and to open up the imagination to different kinds of therapy that hadn't been taken seriously or haven't been conceived at all. But if there are signals that a product isn't what we thought it was, we have the discipline to bail," says Shacknai, an affable executive whose work attire on the day we meet consists of unremarkable blue jeans and a short-sleeve button-down shirt. The casual dress is just the first sign that Shacknai is not your typical CEO: He calls thousands of doctors a year on their birthdays, attends all the dermatological and, now, plastic surgery meetings, and personally interviews each and every sales rep before he or she is hired. "He's extremely popular among doctors, and he's extremely visible, which is not true with all of his competitors," says Wendy Lewis. "And he's the only person I allow to call me Wendela."
The challenge for Shacknai and Medicis in the coming years will be to keep the same ear-to-the-ground edge that's clued them in to what patients and doctors want, especially as Medicis begins to expand globally (LipoSonix will be the first product it will market and sell internationally) and develop more technologies locally. In the future, Medicis will shift its focus below the neck: "We have very good solutions in the facial aesthetic cate­gory," says Shacknai, who is not only the Medicis chairman but also a client—his creaseless face comes courtesy of regular Restylane injections (he has tried Reloxin outside of the U.S.). "But there's the rest of the body to deal with." To that end, his team is looking into more fat-reduction devices as well as "drugs or substances" that could help "contour the body." Other areas of interest he hints at are implants and injectables for the breasts and the butt. One that might soon be in the pipeline is Macrolane, a hyaluronic acid injectable made expressly for the body by Q-Med.
After mastering the face and the body, will the spirit be next? Shacknai, who exercises daily and doesn't eat meat, owns up to a fascination with feng shui. He enlisted feng shui practitioner Brayden Zeviar to help with Medicis's new, 150,000-square-foot headquarters, which sits on the western edge of the Salt River Pima-Maricopa Indian Community reservation. Zeviar did everything from surveying the land for the new office space (and placing replicas of ancient Chinese coins in the foundation to promote wealth) to installing streams, an aquarium and statues of Asian wise men around the property. "This was greeted with great skepticism when I first introduced it," says Shacknai. "But now almost every employee has feng shui elements in their particular workstations."
As we walk out of the conference room, we run into Zeviar, who has come by to place a vase imbued with prayers and blessings in the boss's office. Although Shacknai believes in shifting the energy of his environment, he knows that aesthetic alterations can take you only so far. As he says, "You can't change character with a scalpel or needle." What you can change, however, he's willing to explore.
Photo: Courtesy of Medicis aesthetics