Exclusive: Riccardo Tisci's New Nike Collection Is for an Imaginary Basketball Team, the Victorious Minotaurs
Riccardo Tisci recruited his dream team to model the collection.
---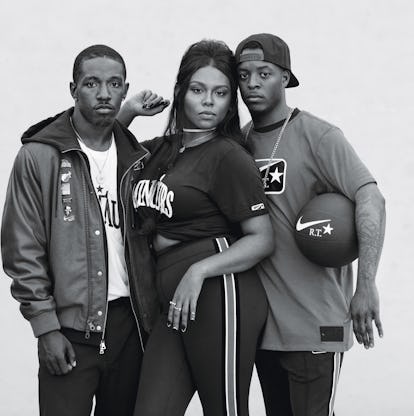 Photographs by Ethan James Green, Styled by Emilie Kareh
Riccardo Tisci is never without family around him. There's his flesh and blood family—the mother and eight sisters who were his emotional bedrock growing up in Como, Italy, and who provided his earliest exposure to fashion. (Because there was very little money, Tisci had to wear his sisters' modified hand-me-downs; now they wear his clothes.) And then there is the extended family Tisci pulled into his orbit over his years as the creative director of Givenchy: Madonna, Kanye West, the artist Marina Abramovic, and the model Mariacarla Boscono among them. When Tisci parted ways with the French house at the beginning of the year, suddenly he appeared to be flying solo, but it became quickly apparent that there was another family ready to embrace him—and his talents—with open arms: Nike. "You can feel when people want only your name," Tisci says, speaking from experience. "With Nike, you feel they really believe in you."
Tisci already had a working relationship with the sports megabrand. He had put his spin on several Nike classics, including the Air Force 1 and the Air Max, and last summer he designed a collection of flamboyantly edgy performance gear for the Rio Olympics dubbed NikeLab x RT: Training Redefined. Oh, and that racy, crystal-studded Nike LBD that Maria Sharapova wore at this year's US Open? That was a Tisci collab, too.
But in many ways, his latest Nike collection, a full wardrobe designed for an imaginary basketball team, the Victorious Minotaurs, takes that relationship to a new level. "When I decided to change my life, before I made it public, I told a few people, and I told Nike," Tisci recalls. "They said, 'You are family for us. It doesn't matter. We feel that you are going to stay with us for a long time.' They waited for the gossip and craziness to pass, and then they called me to say, 'We want to meet you to talk about something.' When they asked me to do a collection that would be presented with the NBA season, I was almost in tears. It was the first time they had seen the emotional part of me. They always perceived me as being strong."
Basketball has long been an obsession for Tisci. In his collections for Givenchy, he often inserted a number, or a bit of mesh—a reference to a team or a gang. "I always had sportswear in my blood, because I come from the street," he explains. "I come from a very simple family, a council flat, basically. At school I got scouted for the basketball team. I was a big promise because I was very tall and very fast. Basketball for me was my freedom—and my revenge. In the yard, there was no difference between sexuality, between class—that is the beauty of sport, any sport."
The Minotaur uniform, which celebrates Nike's global partnership with the NBA, features a varsity jacket, track pants, a pair of sleeves, a skirt that takes its cues from the mesh shorts the pros wear (technically, it's a women's item, but gentlemen, don't let that stop you). "Over the years, sports have become very fashion-driven, so I decided to go back to the roots," Tisci says. "I wanted to make it more exciting, to make it a little bit more luxury." As for the baby blue oxford shirt? "I always dreamed to have a Nike oxford shirt. It's very strange, but it's something very cool, I think. I can't wait to wear it."
So who else is gearing up for the Minotaurs? There's Blessin Giraldo, the fiery and determined Baltimore teen at the center of the Sundance Special Jury Award–winning documentary Step (just released on DVD); Steph Turner and Khalid Vaughn, who are using basketball as a platform to give back to their Harlem community through the burgeoning youth hoops movement known as Jelly Fam; the Detroit rapper DeJ Loaf, whose first mix tape was titled "Just Do It," and who has a Nike swoosh tattooed on her hip (her first album, Liberated, drops later this year); the artist Hugo McCloud, whose athletic build is due in great part to the physical labor that goes into making his paintings (tarring, sanding, hammering, torching); models ­Youssouf Bamba and Duckie Thot, as well as Halima Aden, who was born in a refugee camp in Kenya and has walked the runway for brands like Max Mara, always in a hijab or head scarf. The Minotaurs even has not one but two point guards: NBA star D'Angelo Russell, newly transplanted from L.A. to Brooklyn, where he promises to bring the Nets some much-needed heat (his middle name is Dante); and WNBA No. 1 draft pick Kelsey Plum, who plays for the San Antonio Stars. It is a dream team, after all.
"I believe very much in the binding of energy," Tisci says. "You need different heads, different energy. Some people think they are successful alone. I know I'm not. My success in my life has always been my team."
Meet the Victorious Minotaurs: D'Angelo Russell, Halima Aden, Hugo McCloud, Duckie Thot and More Stars of Riccardo Tisci's Dream Team
From left: Youssouf Bamba wears a NikeLab x RT sweater, shirt, and skirt; J.J. Hat Center hat. Duckie Thot wears a NikeLab x RT jacket; David Yurman necklace; Secrets in Lace bra.

Photographs by Ethan James Green, Styled by Emilie Kareh
Riccardo Tisci wears a NikeLab x RT shirt; his own T-shirt.

Photographs by Ethan James Green, Styled by Emilie Kareh
Halima Aden wears a NikeLab x RT shirt; Nike Pro hijab.

Photographs by Ethan James Green, Styled by Emilie Kareh
DeJ Loaf wears a NikeLab x RT skirt; Mikoh bodysuit; David Yurman ring; her own hair jewelry and rings.

Photographs by Ethan James Green, Styled by Emilie Kareh
From left: Kelsey Plum wears a NikeLab x RT jacket, shirt, pants, and shoes; Fleur Du Mal top; stylist's own earrings. D'Angelo Russell wears a NikeLab x RT shirt, pants, and shoes; American Apparel socks; his own tank, bandanna, necklaces, bracelets, and watch.

Photographs by Ethan James Green, Styled by Emilie Kareh
From left: Steph Turner wears a NikeLab x RT jacket, hoodie, shirt, and pants; his own necklace. Blessin Giraldo wears a NikeLab x RT shirt and pants; (rings, from left) Azlee, Catbird; her own necklaces. Khalid Vaughn wears a NikeLab x RT shirt, pants, hat, and basketball; his own necklace.

Photographs by Ethan James Green, Styled by Emilie Kareh
Hugo McCloud wears NikeLab x RT pants and hat; David Yurman bracelet.

Photographs by Ethan James Green, Styled by Emilie Kareh; Hair by Cyndia Harvey for Tigi at Streeters; makeup by Kanako Takase for Tom Ford at Streeters; manicures by Eri Handa for Dior at MAM-NYC. Set design by Julia Wagner at CLM. Models: Duckie Thot at NY Model Management, Youssouf Bamba at Red model Management, Halima Aden at IMG models; produced by Spencer Morgan Raylor at Harbinger; retouching by DTOUCH NYC; Photography Assistants: Henry Lopez, Dean Podmore; fashion assistant: Roberto Johnson; production coordinator: Serie Yoon at Harbinger; Production assistants: Smij McBee, Mike WAxer, Ankur Maniar;
D'Angelo Russell wears a NikeLab x RT shirt, pants, and shoes; American Apparel socks; his own bandanna, necklaces, bracelets, and watch.

Photograph by Ethan James Green; Styled by Emilie Kareh
Watch: Riccardo Tisci Partied in Ibiza on His 40th Birthday