American Idol
40 years into his career, Richard Gere is still turning heads. Lynn Hirschberg catches up with the Arbitrage star.
---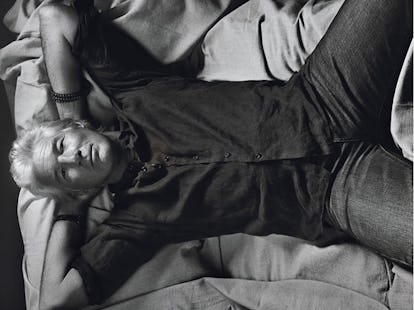 In the past four decades, Richard Gere has, remarkably, evoked the man of the moment in film after film. By keying in to a combination of his own passions and demons, Gere has consistently captured that most American of archetypes: the handsome outsider who plays by his own rules and usually wins. From his earliest movies, like Looking for Mr. Goodbar, in 1977, where he was a sexy gambler, to American Gigolo, in 1980, in which he played a poetic hustler, to Pretty Woman, in 1990, where he was a cold tycoon, and Chicago, in 2002, in which he sleazed and tap-danced his way to victory, Gere—who, it must be said, seems to get better-looking with each passing decade—has made even the chilliest, most despicable characters provocative and seductive.
Richard Gere
In Arbitrage, his most recent work, Gere is as timely as usual. He plays Robert Miller, a self-made titan of high finance, whose artfully balanced house of cards is about to collapse: His business, which is for sale, is over-leveraged; his wife is obsessed with expensive charities; his mistress is demanding his attention; and his adoring daughter wants to follow in his footsteps. "Arbitrage is about New York now," Gere told me when we met in late August. "My character is an alpha personality in the world of finance, which is the business of New York and, really, America. You could go whole-hog and make him a very dark character, or you could say, 'He's a real asshole, but I kind of like him.' And that's the way people are in the real world: We're all kind of assholes, but we kind of like each other anyhow."
Gere smiled as he said this. He was in Manhattan for the day and was heading back to his summer house in the Hamptons, where he vacations with his wife, Carey Lowell, and their son. He was in his usual uniform of jeans, a faded work shirt, and ­a ­perfectly tailored blazer. His knack for wearing beautiful clothes effortlessly has mirrored huge generational shifts in men's style. For instance, through Gere, American Gigolo introduced Giorgio Armani to America. "At that point," the actor said, "I didn't even know how to wear a suit or tie a tie. But I learned—the character in American Gigolo presented himself through that boyish essence. And it was sexy stuff."
In a similarly alluring but more diabolical way, what fuels Arbitrage is the quest for millions, and all that that represents. It is the first film about the financial crisis that is human rather than preachy or educational. "I didn't know anything about that world," Gere said. "I read the newspapers, but I had to do a lot of research. I was impressed by how skillful my character was at juggling so many different things. That balancing act—that's how we all live." Gere sounded impressed. "I don't think we have to like everyone in our lives," he continued. "But it's important to recognize people's humanity when you're telling a story. I have to see something in my characters that I see in myself—if I like the character, I want you to root for me to succeed. That's part of the trick." He smiled. "And that's why I'm still working."
Grooming by Birgitte for René Funterer.