How Richardson, a Late-90s Erotica Magazine, is Still Relevant With Everyone From Rihanna to Kate Moss
With fans ranging from Rihanna to emerging models like Slick Woods, Richardson founder Andrew Richardson has managed to keep his brand under-the-radar yet relevant since 1998.
---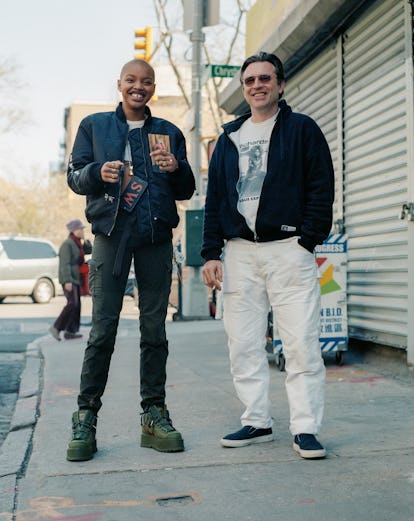 Visual Editor: Biel Parklee.
Most brands, celebrities, and even the president would be thrilled at the prospect of being featured in a viral meme, no matter the slant. But not Andrew Richardson, the independent-minded founder of the high-end erotica magazine Richardson and, now, the streetwear label of the same name.
Last summer, his "Richardson Hardware" tee, which they couldn't keep restocked fast enough, was featured in an "'I May or May Not Be An Artist' starter pack" meme that received almost 1,000 likes. But Richardson saw it as a nail in the coffin.
"We had to stop making because it was overkill," said Richardson last week in the back room of his Lower East Side boutique. He wore Richardson x Forfex slip-ons, Richardson's moleskin work pants, a new Richardson tee, and a zip-up hoodie. "When you get to that saturation point, you've got to stop it and do something else. Otherwise, you'll just live and die by that thing. It's important to know when to shut the tap off. I mean, I don't really know, to be honest. I just go on some kind instinct based on not really knowing."
Richardson actually might know a thing or two about the strange alchemy that results in the anointment of cool. At the age of 19, he was already managing the Kenzo men's store in London after dropping out of high school. In the late-1980s, he moved to New York City, getting an education in styling and photography from the best of the best: Brana Wolf and Steven Meisel. He would then go on to do styling for Calvin Klein and linked up with Meisel later for Madonna's 1992 book, Sex, which would inspire the subject matter of his own magazine.
In 1998, with the help of the Japanese publisher Little More, the first issue of Richardson was published. Amongst its pages were photos of the adult film star Jenna Jameson—before she became a mainstream celebrity—as well as a spread by the artist Richard Prince called "Spiritual America," which featured an 11-year-old Brooke Shields in a bathtub. Since its launch, the magazine has published eight issues, amassing around 4,000 subscribers and big-name contributors like Terry Richardson, Kara Walker, and Bob Mizer. (As well as its fair share of criticism for X-rated, boundary-pushing content.)
For the most recent cover of Richardson, (September 2015), Steven Klein photographed a nearly-nude Blac Chyna, who at the time was a former Miami gentleman's club dancer and video vixen. Now, she's a business owner and mother of a Kardashian—another example of how, cognizant or not, Richardson has his finger on the pulse.
Following a successful collaboration with Supreme in 2003, Richardson finally decided to launch an in-house streetwear label in 2014, which catered to its casual downtown customer with hoodies, sweats, work pants with zippers—"So that you don't lose your keys when you're drunk," Richardson clarified—and of course, T-shirts.
If you didn't know about Richardson before, which was very possible given its purposefully-niche community, now you might, as everyone from Rihanna to Kate Moss, and even the K-Pop star G-Dragon, has been spotted in the brand's merch. The brand has also cultivated a crew of young New York cool kids, like models Lexi Boling, Diana Veras, Alexis Jae, and Slick Woods, whose Instagram influence combined with the popular #WearRichardson hashtag has led more and more curious customers into the store. According to a 2016 Wall Street Journal article, Richardson's sales have increased 400-percent since launching its logo-heavy apparel and accessories, and last year they opened a second store in Los Angeles.
In 2017 though, there's perhaps nothing less cool than the word "influence," which begs the question: How does a small, underground brand—and an erotic one, no less—remain simultaneously under-the-radar and relevant in a world where Donald Trump is president and companies are at the mercy of Instagram and Facebook policies? It's a delicate balancing act, but Andrew Richardson seems to have figured it out—and apparently without even trying. Well, maybe a little bit.
"Social media has been something for us where we came up with a formula based on the system of photographing people that we knew that were cool downtown," said Richardson. Adding "Or whatever," for some on-brand flippancy. "I think it coincided with a time when the fashion and beauty industries were looking for ways to reinvent themselves."
In other words, Instagram made it all about discovery from the ground-up, and according to Richardson, brands like Calvin Klein started turning to the brand's Instagram to see who to cast in their campaigns—not the other way around.
"But now we sort of feel that strategy has run its course in a way, and so we need to change how we structure our social media communication," Richardson continued. "We're going to move away from the person in the clothes, and that being the narrative of the picture, and instead start doing a slightly more editorialized narrative, that maybe I had done before in my more mainstream fashion career."
After having the @RichardsonWorld account shut down once for content that violated Instagram's policies (a woman's bare bottom, how scandalous!), Richardson had to get a little more creative with the brand's posts, most of which he approves to this day. For example, a recent slideshow post featuring "Untitled Nudes" by Conrad Godly, which is available for purchase at the store, uses keychains and pins to cover up any body parts that might get them into trouble.
"I think boundaries are quite good, because if you've got boundaries then it's something to push up against," said Richardson of nudity policies. "It kind of makes you think differently."
Of course, Richardson magazine couldn't exist without boundaries, as it was born out of a desire to go beyond them; to freak out Richardson's "inner liberal," as he calls it, to see what he and others could tolerate. But today, in addition to the ethical boundaries of social media, as well as the physical boundaries of creating images for small phone screens, Richardson now feels the brand also has to tackle politics.
"Being provocative in 2017 is definitely more political than it was in 2016," he said. "It certainly feels a bit trivial to do a magazine about sexuality when there's so much chaos around us right now."
At the same time though, sexuality and politics are still so entangled, and as boundaries continue to be put up, torn down, and put up again, it goes without saying that publications like Richardson are just as necessary as they ever were.
"It's not about, 'F— you, Donald Trump,' because that just ends the conversation. It's more about being patient and focused in how you react to what's going on," said Richardson. "It's about collectivism rather than individual expression. It's about seeing what the target is and then engaging with it. Whether it's direct or indirect, we're more about resistance."
But don't get him wrong—just because they're making T-shirts that benefit the American Civil Liberties Union and are perhaps getting more political with their future content, Richardson has no interest in becoming a "trendy activist brand."
"It's the same in the way that I dealt with sex," Richardson concluded. "We're not putting it all on a plate where it's easy to digest. We'll be provoking thought again—in a punk way."
As for Instagram, they're still waiting to get verified.
Slick Woods Drops By Richardson's East Village Store
Photo by Joshua Woods, Visual Editor: Biel Parklee.
Photo by Joshua Woods, Visual Editor: Biel Parklee.
Photo by Joshua Woods, Visual Editor: Biel Parklee.
Photo by Joshua Woods, Visual Editor: Biel Parklee.
Photo by Joshua Woods, Visual Editor: Biel Parklee.
Photo by Joshua Woods, Visual Editor: Biel Parklee.
Photo by Joshua Woods, Visual Editor: Biel Parklee.
Photo by Joshua Woods, Visual Editor: Biel Parklee.
Photo by Joshua Woods, Visual Editor: Biel Parklee.
Photographers "Always Ask" Kate Moss to Take Her Clothes Off