Rick Owens' Furniture Is Like Couture: Precious, Handmade and Wildly Expensive
For his new exhibition at MOCA in L.A., the designer's furniture design focuses on immortality. Or, maybe, it's just a phallic obsession.
---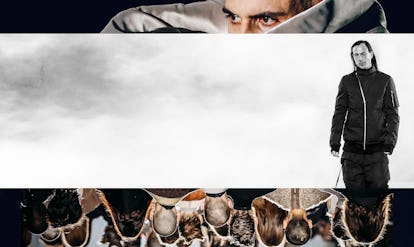 2014 AFP
Searching for a fashion-friendly analogy to articulate his primal furniture art, on view in a new exhibition through April at the Museum of Contemporary Art, Los Angeles, the designer Rick Owens settled on the rarefied world of couture.
"I'm not the type to make ball gowns or do hand-beading," the California native said from his Paris headquarters. "So my furniture is my couture. I'm using rare materials and artisans with specialized skills to create unique, one-of-a-kind objects."
It's a forbidding design ethos worlds away from the plush furnishings typically trotted out by fashion designers. Rooted in artistry rather than lifestyle, with an emphasis on sculpture over comfort, the massive monuments aren't assembled so much as carved out of heavy rock — marble, basalt, crystal, and other elements Owens deems "biblical" — with nary a nap in sight, save for a bit of camel-fur upholstery. In addition to millennia-in-the-making materials, the show includes works in cast concrete, plywood, and foam.
"I love the contrast of big, cheap foam models next to a wildly expensive rare crystal rock," he said.
Most of the pieces in the show are new, while others have already traveled the international art circuit. Yet the collection as a whole has strayed little from Owens' original vision when he first started crafting furniture in 2007. "Back then, I had in mind the fur on a rock next to a fire in a cave. That's how the boulder became our signature."
That troglodytic block has since morphed into a chair, a bench, a daybed — each more monolithic than the last. The latest incarnation, as seen at MOCA, borrows its shape from the concrete German bunkers that popped up on the coast of Normandy during World War II.
"They look like futuristic temples," Owens said, recalling a trip he took to inspect them first-hand. "They're low with narrow slits and doorways, and very square with weird rounded corners. They have no ornamentation, but some of them have these almost cathedral-like buttresses. To me they're the birth of brutalism."
While Owens has imbued the rigorously reductivist Brutalist aesthetic into everything he produces, he credits his wife and creative partner Michèle Lamy with the furniture's existence.
Their respectful division of roles goes something like this: He draws his ideas on paper, and the two do some small-scale prototyping at home "with a kitchen knife and really loving hands." Then, a dealer sources the elements from all over the world — rock crystal from Pakistan, alabaster from Spain — and Lamy, 70-something, springs into action.
"Every morning," said Owens, letting out a chuckle, "she jumps in the van and heads to the ébénisterie or marbrerie in the outskirts of Paris." There, she oversees every step of the heroic production effort.
Colossal stone slabs, which easily weigh a ton or two, undergo large-scale laser-carving and other industrial processes. "It's all very organized," Owens stressed. "It's not like we're dragging stuff back and polishing it ourselves."
The idea for the exhibition came about while Owens was planning to relocate his New York store. "The Hudson Street location satisfied my appetite for austerity, so we decided to move to Howard. I told Michèle we should be completely reckless and do the opposite of austerity. I said, 'Let's tear this up.' And who better to tear things up than Michèle?" he said. "She's a free spirit who hates to be tamed or controlled. I said, 'Why don't you use the space to experiment with new shapes, new materials, new proportions that we can take to MOCA. Let's exaggerate, distort, and reinterpret' — and that's what she did."
So instrumental is Lamy that she alone is charged with installing the exhibition at MOCA Pacific Design Center, while Owens sits out the entire process, opening and all. "Why not?" he said. "She's having a blast. I don't know if I can ever drag her back."
Not that their delicate balancing act has always led to domestic bliss. When I asked about a rock-crystal toilet he once told me he wanted to make, he adopted an almost sheepish tone. "I don't think Michèle was into that. I'd keep nagging her and she'd snap at me and shut me up about it. It was a little point of contention. Finally I got an apartment in Venice, where I spend each summer, and I knew I could do whatever I wanted there. I thought I'd finally make the rock-crystal toilet," he recalled. "But I only did a black Italian marble version because I just couldn't bring myself to do it in rock crystal. It felt unfaithful."
Laughing, he continued, "If Michèle didn't want to do it with me then I didn't feel right doing it with somebody else."
Owens holds plenty of critical notions about the origins of his modern-primitive furniture: cultural evolution, ecological transition, societal decline and how to approach it bravely and gracefully. Mostly, he decided, it's a quest for immortality. Elevated theories, to be sure, yet he isn't above wondering if, in the end, it all boils down to phallic devotion.
"Where I live, I don't have paintings or art on the wall, but I'm drawn to totems. I have a Horst-Egon Kalinowski totem in my office. I like a room with something sticking up in it," he said. "So this might all be a phallic thing, appreciation of a big dick, a room with a boner."
Whatever the case may be, there seems to be a healthy market for Owens' monumental expressions. He's cultivated a group of collectors who snap them up from galleries and art fairs around Europe, like Art Basel in Switzerland. But as with many artists, he balks when the conversation turns to price; he only wants to know they're not losing money.
So, are we talking hundreds of thousands of dollars? "That's what it costs," he said. "It's expensive to produce. We're not doing this as a complete indulgence."
Inside Rick Owens: Furniture at MOCA Pacific Design Center
Michèle Lamy with furniture by Rick Owens.

Courtesy of Owenscorp
Rick Owens Brought a Bit of Levity to His Paris Fashion Week Spring 2017 Menswear Show
Agnes Lloyd-Platt Takes a Theatrical Approach to Fall 2016 Fashion
Lee Carter is a regular contributor and the editor in chief of Hint.