Ricky Kenig, King of Halloween, Talks Trump – Costumes, That Is
The man behind beauty emporium Ricky's NYC on Halloween costumes, men's grooming, and the one product he can't live without.
---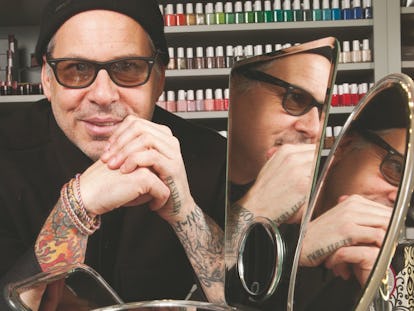 "Personally, I never cared about Halloween," says Ricky Kenig, the Ricky of beauty emporium Ricky's NYC. His "meh" opinion notwithstanding, Ricky's has become the go-to spot for Halloween makeup, hair, masks and costumes since Kenig opened his first store in 1989. There are now 27. We asked the man behind a thousand face paints and hair colors about his favorite memories of the holiday.
How did Ricky's NYC get into the Halloween biz? When I opened my first store, Halloween was not a big segment in the retail world. But we saw Halloween as an opportunity to expand our brand, so a few years later, around 1991, we started catering to the holiday. In my opinion, Halloween was a spin off of Gay Pride day, which I had felt was a stronger influence in New York City back then. I believe we did well because we catered to everyone–straight, gay, transgender. Being at store level (i.e. on the floor) helped me jump on every trend and react to it immediately. You have to remember, this was pre-internet and still in the beeper stage of technology.
What are your best sellers? They're fairly consistent every year: vampires, witches etc. Wigs, makeup, glitter, eyelashes for women and drag queens. But this year, the 'tweens will do characters from "Stranger Things" and of course, we're ready for the onslaught of Trump requests. But we're also used to reacting to things that are very current. For example, last year, we managed to put together a Bernie Madoff costume three weeks before Halloween. And then there are the hard core fanatics who work on their costumes all year. They're often "Game of Thrones" characters.
Will you go in costume? Do you usually? I don't always. I've been Mr. T, one of the Cash Money crew. I'm not sure if I will this year. My girlfriend will probably want me to do something with our son.
Aside from Trump, or his accusers, any others you're predicting? I'm anxious to see what's going to happen with clowns, what with all the recent negative press.
Any favorite celeb costume shopping stories? So many have visited us at one time or another, but my favorite memory was when Alice Cooper came to the store and asked me if I had any Alice Cooper costumes. Also, Lil Jon's manager contacted me to see if I could help them do a mask for Lil Jon. Of course I did it, and he became a good friend. If Instagram had been around back then, I would have millions of followers by now.
Okay, time for the non-Halloween questions! What's your first grooming/shaving memory? I saw Harrison Ford shaving in a movie using an old-school badger shaving brush and double-sided razor. I thought it looked so cool, so I tried it. I scratched my face up so badly, it looked like I'd been attacked by a cat. The cuts lasted a week.
What was your first cologne experience? Davidoff Cool Water. My family was in the fragrance business so I had access to everything. When we first started selling this fragrance, it was summer. So between the marketing and clean fresh scent and it being the late Eighties, when the men's market was dominated by Aramis, Cool Water was a great antidote.
If we opened your medicine cabinet, what would we find? Comme des Garcons Wonderwood (I have three bottles at all times), Ban invisible unscented stick deodorant, Davines matte hair wax, a Mason Pearson military boar brush, a silver Janeke comb, Babyliss hair trimmer, Rusk swivel scissors, Listerine, Rubis tweezers, Q-tips and Yu-be hand lotion.
If we pulled back your shower curtain, what would we find? Joico Color Balance shampoo, Unite Blonda Conditioner, Dove soap (liquid and solid bar), WET brush (I use it as a massage brush in the shower). Is there one product you can't live without? Wonderwood spray cologne. What's currently in your dopp kit? It's a Zip-loc bag, but it's basically everything in my medicine cabinet but in small sizes. I keep it very simple. I know what I like.
Is there a woman's fragrance that melts you? Opium. My mother wore this almost her entire life. She tried almost every fragrance ever made, but she always went back to Opium. Maybe that's where I get the Wonderwood loyalty. Where do you get your hair cut? Land of Barbers on Graham Street in Williamsburg. What I love about this place is that I don't feel I need to make a standing appointment. It's owned by a fashionable Italian stylist who trained his staff to cut and style the same way he does, so no matter who's there when I go, I'm always happy with the service.
Which male celebrity do you think has the best hair? George Clooney. What beauty look on women do you love? I just think Jennifer Lawrence always looks so clean and fresh.
If you were given a spa day gift certificate, how would you spend it? I'd give it to my girlfriend, then trade it in for her to scratch my scalp for half the amount of time she was at the spa.