Rihanna's 30th Birthday Party Included Leonardo DiCaprio, Paris Hilton, and Toni Braxton
Sliding into your DMs like.
---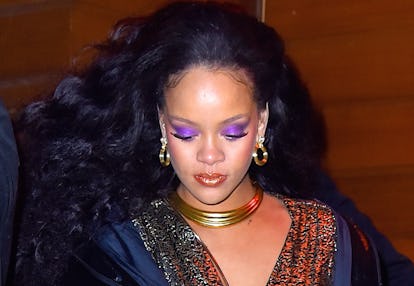 Robert Kamau/GC Images
As history has shown, no one parties quite like Rihanna. That was even more so the case on the singer's 30th birthday yesterday, when she gathered her closest friends for a celebration at New York City restaurant The Grill and, later, Landmark Rooms that included "hundreds of bottles of champagne," per Page Six. Among those in attendance? Paris Hilton, Toni Braxton, who performed for the group, and Leonardo DiCaprio who reportedly "snuck into the after party through a side door," as a source said. While the image of the actor sneaking into Rihanna's birthday party is at once hilarious and salacious, it seems to be more innocent than anything else as Rihanna apparently cuddled up to her billionaire boyfriend Hassan Jameel all night.
This isn't the first birthday party Rihanna has invited DiCaprio to, either. Back in 2015, rumors swirled of a budding romance after a source told E! that the two had been "kissing, touching and dancing" at her 27th birthday party. This led DiCaprio's publicist to issue a statement to the Los Angeles Times that the actor had been single "for some time." Plus, when asked "How does Rihanna DiCaprio sound?" in 2015, the singer said, per Daily Mail, "It sounds to me like you should stay away from the blogs because they will screw you every time…I'm so busy right now that I just don't have a lot of time to offer to a man so it wouldn't even be fair to be thinking of pulling somebody else into this life."
Fast forward and, now, it truly does seem as though the pair are just friends. Maybe they've been friends all along as a source revealed to Page Six that they first bonded after Rihanna dated one of his friends in 2015. Another source added that RiRi seems "really into her boyfriend Hassan. They seemed to be really close all night."
Outside of cozying up to Jameel, Rihanna also partied with Roc Nation executives Shawn Pecas and OG Juan Perez, who just celebrated his own birthday on Sunday when Jay Z took him out and dropped over $100,000 — including leaving an $11,000 tip — on a night out. While the HOV racked up a $91,135 check for 40 bottles of his own champagne, Rihanna popped at least 30 magnums no less of his Armand de Brignac Rosé and Blanc de Blancs, as a rep confirmed to W. We'd expect nothing less from the singer behind "B*tch Better Have My Money" and "Pour It Up."
Related: Rihanna Owned 2017 (Without Even Releasing an Album)
A Photographic Guide to Everyone Rihanna Has Reportedly Dated
Rihanna began her tumultuous relationship with Chris Brown when she was just 17 years-old, when the two met at the 2005 Vibe Awards. Here, the couple are pictured at the 2007 MTV Video Music Awards.

Getty
In 2008, the pair claimed to be just friends, despite getting close for a performance at Z100's Jingle Ball in 2008 (and plenty of paparazzi photos pointing otherwise).

Getty
Four years after the domestic violence case heard around the world, Rihanna and Chris Brown reunited at the 2013 Grammy Awards before splitting for good.

Getty
In 2007, Rihanna was rumored to be seen out and about with actor Josh Hartnett—a relationship she later denied. The two were photographed together that year, albeit during an appearance on TRL.

Getty
One of Rihanna's few confirmed relationships was with Matt Kemp, outfielder for the Los Angeles Dodgers. The pair dated for just under a year in 2011.

Getty
If the Internet were to have their way, Rihanna would have settled down with Drake long ago. The pair have long been connected, since performing together at the 2011 NBA All-Star game.

Getty
Three years later, the pair were spotted on a rumored date at a Los Angeles Lakers basketball game in April 2014.

Getty
Soon after, Rihanna and Drake got up close and personal for a performance at the 2011 Grammy Awards.

Getty
The duo reunited for a performance of their song "Work" at the BRIT Awards 2016 at The O2 Arena on February 24, 2016 in London, England.

Getty
A few months later, Drake would present the singer with the Michael Jackson Video Vanguard Award at the 2016 MTV Video Music Awards, where he would announce he's been in love with her for many years.

Getty
Rihanna was spotted with race-car driver Lewis Hamilton at several events, including the the 2014 British Fashion Awards, but Hamilton claimed the two were just friends.

David M. Benett
Drake isn't her only co-performer that Rihanna's been rumored to also have a romantic tie with. Following their own performance at the Video Music Awards in 2012, it was thought that the singer was dating A$AP Rocky.

Getty
Another rumored, never confirmed conquest of Rihanna? Justin Timberlake. The two were seen together at the 2014 amfAR LA Inspiration Gala honoring Tom Ford, where they both attended as a guest of the designer.

Getty
Rihanna reportedly spent a good deal of 2015 dating Travis Scott. The two were spotted with mutual friend Kanye West at the Vogue 95th Anniversary Party in October of that year.

Getty
And just the day before, the pair took in the French Ligue 1 match between Paris Saint-Germain FC and Olympique de Marseille at Parc des Princes stadium.

Getty
Just last year, Rihanna was thought to be dating none other than Leonardo DiCaprio, as they were spotted together at Coachella.

Getty