Rihanna Owned 2017 (Without Even Releasing an Album)
All the ways in which Rihanna mastered 2017 without even trying.
---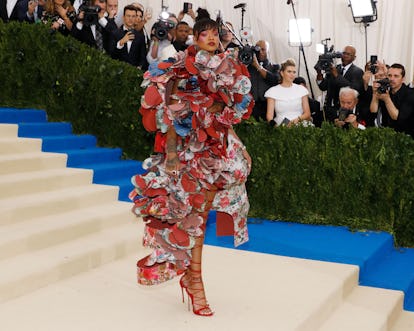 Taylor Hill/Getty Images
It's a bold assertion to make that Rihanna had the best year of any pop star in 2017 considering Rihanna didn't do much related to the actual vocation of pop stardom. She didn't tour. She didn't release an album. There wasn't even a single and there's no hint that we should expect one anytime soon. She's far removed from the days where she was releasing records at an almost annual rate. Yet, while other stars increasingly take time between album cycles to enter some sort of fame-hibernation, Rihanna has kept herself both in the public eye and busy with other projects. More often than not, with winning results.
Perhaps it's because out of any of her contemporaries, the status of international icon seems to suit Rihanna the best. She doesn't retreat from the spotlight only to return to vent about the drawbacks that come with the fame. She doesn't protest too much about the media. She's still happy to give regular interviews. She can quickly dispense of any online troll with her near mastery of shade, yet she doesn't seem to dwell on it either. Though, she doesn't seem to have some high school drama club president desperation for constant adoration either. This isn't to shade any other pop star. The demands of fame are tough, and it's no wonder why some would find aspects of it bothersome. However, the fact is that Rihanna remains completely unbothered at all times. She simply handles the rigors of stardom as gracefully as she walks over subways grates in high heels.
Let's look back at just some of a few of Rihanna's many accomplishments this year, shal wee?
She Casually Broke a Few Billboard Records
Billboard's Dance Club Songs chart (which might as well all but officially be known as the gayest chart) dates back to 1976, but this year Rihanna became the first act in the chart's history to have five different songs reach the top spot in the same year. Four Anti tracks ("Love on the Brain," "Sex With Me," "Pose," and "Desperado) climbed to the summit as did DJ Khaled collaboration "Wild Thoughts." Rihanna, by the way, previously tied for the record. She had four records reach the top spot in 2016, 2011, 2010 and 2006. Earlier in the year, she joined Madonna and The Beatles as the only artist to have more than 30 songs in the top ten of the main Billboard Hot 100 chart thanks to "Love on the Brain." Billboard also named her the ultimate champion of the last 25 years of their pop charts.
The Harvard Foundation Named her Humanitarian of the Year
She was honored with the award thanks to her work with her Clara Lionel Foundation Global Scholarship Program. She showed up on Harvard's campus to accept the award with a moving speech: "All you need to do is help one person, expecting nothing in return," she said. "To me, that is a humanitarian."
She Was On So Many Magazine Covers
[#Instagram: https://www.instagram.com/p/BavLB5zj1gq/?taken-by=badgalriri]
This month alone, she's on four different covers of Dazed and three different covers of French Vogue. She also appeared on four country's worth of Elle magazines, and still found time to cover Harper's Bazaar, Paper and Vogue Arabia. Heck, she racked up more covers this year than some pop stars who actually released records.
She Wore Some of the Hottest Items of the Year First Off The Runway
Everyone was talking about those crystal boots Anthony Vaccarello did for Saint Laurent's Fall/Winter 2017 collection. Yeah, Rihanna was the first spotted in them. The rest of us had to sign up for the wait list.
The crystal mesh bodysuit Gucci debuted at its F/W 2017 show was an equally gasp-inducing runway moment. Rihanna wore decided to casually wear it to Coachella. Complete with the face mask, mind you.
[#instagram:https://www.instagram.com/p/BS9PS0ODWDy/?taken-by=badgalriri]
She Continued to Master Shade
She had a lot of deliciously catty moments this year, but none was better than Diplo accidentally owned himself. In an interview, he said he once palyed a track he was working on it for Ri who quickly dismissed it as a "reggae song at an airport."
She Brought Education Issues to The Attention of World Leaders
Literally, one night Rihanna just started tweeting at various world leaders to ask them if they planned to commit to fully funding education. She later met with French President Emmanuel Macron (the guy whose election stemmed the tide of a total wannabe-fascist takeover of Western politics) to discuss the issue. She's kept up the activist streak lately by bringing renewed attention to the case of Cyntoia Brown.
She Made a Run at Song of the Summer Without Even Really Trying
DJ Khaled said Rihanna was one of his last remaining dream collaborators. It finally happened this year, but you'd think he would have brought a beat that stronger than just a remix of an old Santana song form the '90s. It shouldn't have worked, but somehow it did. Mostly thanks to Rihanna. Wearing Balenciaga in Miami's Little Haiti neighborhood for the video certainly helped. "Wild Thoughts" wound up number four on Billboard's ultimate Song of the Summer 2017 chart.
She Was the One Thing Almost Every Critic Thought Was Great About Valerian
Valerian and the City of a Thousand Planets was one of the year's oddest cinema stories. Director Luc Besson's passion project was said to be the most expensive European movie of all time, but it sort of flopped at the box office and critics were deeply mixed (sometimes even within their own reviews). Though, most of them agreed that Rihanna's cameo appearance as Bubble, a shapeshifting cabaret performance was a standout moment.
Ummm, She Ruled the Met Gala Red Carpet
This year's Met Gala honored avant-garde Japanese designer Rei Kawakubo and her Comme des Garçons label. Some people call her work "unwearable," and few celebrities chose to actually wear it on the red carpet (to be fair, a lot of celebs show up as guests of other designers and are expected to wear their designs). Rihanna, however, took the theme seriously and showed up in a floral Comme look that may very well stand as 2017's most epic red carpet fashion statement.
And, Of Course, Fenty Beauty
Rihanna's Fenty Beauty wasn't just one of the most successful celebrity cosmetic launches of all time, it proved an important point: inclusion is key. Rihanna launched the line with 40 different foundation shades that suit women (and men) of literally all shades, some of whom have a hard time finding options otherwise. Immediately, it was a smashing success, and Time recently named it one of the inventions of the year.
We're sure we're missing at least a dozen other things worthy of inclusion (we didn't even get to her new hot but top secret maybe-boyfriend), but here's to whatever it is Rihanna decides to do in 2018. We're sure it will be fantastic. Even if she doesn't release an album.
Related: Rihanna Put Her Most Iconic Looks on Socks, So Now You Too Can (Maybe) Pull Off Her Toughest Ensembles
Rihanna at Crop Over Festival: See Her Most Feathered, Glittery, and Skin-Baring Ensembles Over the Years
Rihanna attends the Kadooment Parade at the Crop Over Festival in Barbados in August 2013.

Instagram
Rihanna attends the Kadooment Parade at the Crop Over Festival in Barbados in August 2013.

Instagram
Rihanna attends the Kadooment Parade at the Crop Over Festival in Barbados in August 2013.

Instagram
Rihanna attends the Kadooment Parade at the Crop Over Festival in Barbados in August 2013.

Instagram
Rihanna attends the Kadooment Parade at the Crop Over Festival in Barbados in August 2013.

Instagram
Rihanna attends the Kadooment Parade at the Crop Over Festival in Barbados in August 2013.

Instagram
Rihanna attends the Kadooment Parade at the Crop Over Festival in Barbados in August 2013.

Instagram
Rihanna attends the Kadooment Parade at the Crop Over Festival in Barbados in August 2013.

Instagram
Rihanna attends the Kadooment Parade at the Crop Over Festival in Barbados in August 2013.

Instagram
Rihanna attends the Kadooment Parade at the Crop Over Festival in Barbados in August 2013.

Instagram
Rihanna attends the Kadooment Parade at the Crop Over Festival in Barbados in August 2015.

Instagram
Rihanna attends the Kadooment Parade at the Crop Over Festival in Barbados in August 2015.

Instagram
Rihanna attends the Kadooment Parade at the Crop Over Festival in Barbados in August 2015.

Instagram
Rihanna attends the Kadooment Parade at the Crop Over Festival in Barbados in August 2015.

Instagram
Rihanna attends the Kadooment Parade at the Crop Over Festival in Barbados in August 2015.

Instagram
Rihanna attends the Kadooment Parade at the Crop Over Festival in Barbados in August 2015.

Instagram
Rihanna attends the Kadooment Parade at the Crop Over Festival in Barbados in August 2015.

Instagram
Rihanna attends the Kadooment Parade at the Crop Over Festival in Barbados in August 2015.

Instagram
Rihanna attends the Kadooment Parade at the Crop Over Festival in Barbados in August 2015.

Instagram
Rihanna attends the Kadooment Parade at the Crop Over Festival in Barbados in August 2015.

Instagram
Rihanna attends the Kadooment Parade at the Crop Over Festival in Barbados in August 2015.

Instagram
Rihanna attends the Kadooment Parade at the Crop Over Festival in Barbados in August 2015.

Instagram
Rihanna attends the Kadooment Parade at the Crop Over Festival in Barbados in August 2017.

Getty
Rihanna attends the Kadooment Parade at the Crop Over Festival in Barbados in August 2017.

Getty