Rihanna's Tweeting at World Leaders Asking Them to Fund Education
She's passionate about this cause.
---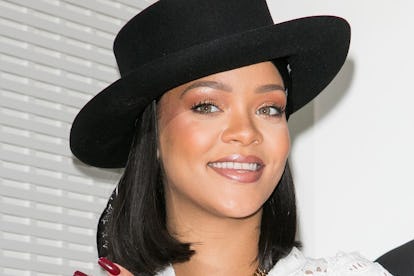 Getty Images
When she's not maintaining a fashion empire or dishing out excellent advice to fans, Rihanna's a fierce education activist. Last year, she started a scholarship for international students to attend college in the U.S. In January, she went to Malawi to teach kids math and raise money for the Global Partnership for Education, where she serves as an ambassador. The following month, Harvard named her Humanitarian of the Year. Her most recent humanitarian act? Urging world leaders to commit to funding education in developing countries at July's G20 Summit.
Over the past few days, she's tweeted at Argentina's President Mauricio Macri, Canada's Prime Minister Justin Trudeau, France's President Emmanuel Macron, and Germany's spokesman for the Federal Government Steffen Seibert to ask them to "#FundEducation," Buzzfeed reports.
Two of them responded that they've got her back.
121 million children and teens around the world are currently without an education, according to the Global Partnership for Education. To fix this, Rihanna's hoping to get G20 leaders to commit $3.1 billion in total to the organization.
Related: Rihanna Turns DJ Khaled's "Wild Thoughts" Video into a Fashion Spread
See What's Trending in W Video: