Rihanna Responds to Memes of Her Arguing with Her Boyfriend By Trolling Us with World Cup Joke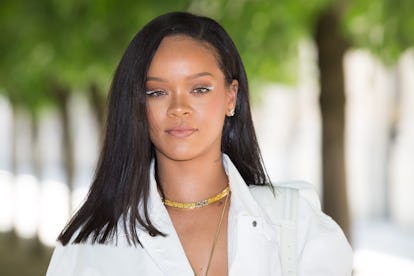 Stephane Cardinale – Corbis/Corbis via Getty Images
The internet should know by now, Rihanna is its reigning queen. That's especially the case with memes, as many circulated within the past 24 hours centered around a series of photos of Rihanna and her boyfriend Hassan Jameel engaged in what many assumed was a fight. The joke's on everyone else, though, because Rihanna responded by trolling us all.
BadGalRiRi posted a photo on Instagram of a female lion roaring a male lion into submission in a corner, a winking nod to the photos of her raising her hand while talking to Jameel as he leaned away from her. The caption? "When u think u know more bout soccer ??? #worldcup2018."
Whether or not Rihanna and Jameel were arguing about soccer, Rihanna is an undisputed World Cup connoisseur. The last one, in 2014, she cheered on Germany from the sidelines in Brazil, in between hanging out with the team, flashing her bra when they beat Argentina, and actually holding the team's trophy, which, no, is not a thing that normal celebrities get to do.
Rihanna actually broke FIFIA protocol by holding the trophy—not to mention kissing it and taking selfies with it—as only the winners and heads of state are allowed to hold them, according to Pulse. But, because she's Rihanna, no consequences ever materialized. She wasn't the only one who did, though, as The Daily Mail also published pictures of Sami Khedira's girlfriend Lena Gercke hugging it.
As for her relationship with Jameel, Rihanna confirmed that she was in a relationship back in May, telling Vogue, "I used to feel guilty about taking personal time, but I also think I never met someone who was worth it before." While she didn't confirm her boyfriend's identity, she has been linked to Jameel since June of 2017. That month they were spotted kissing in Ibiza, where they were later photographed on a subsequent date. Last month, though, it was rumored that they had broken up because Rihanna "gets tired of men sometimes."
True or not, Rihanna has admitted how exhausting relationships can be before, telling British Vogue in 2011, "I mean it is nice being single in one way, because a relationship can feel like a chore, and that's not good. That's not what I need." Rihanna needs all of the energy she can get right now, at least until this Sunday, when the final World Cup game between France and Croatia airs.