Rihanna Teases Fenty Beauty Gloss Bomb
To help you Kiss It Better, of course.
---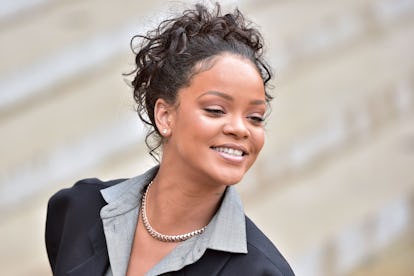 CHRISTOPHE ARCHAMBAULT/Getty Images
In just two days, Rihanna will unleash her Fenty Beauty collection on the world, her debut cosmetics line that's poised to be one of the most exciting drops of the year. She's ramped up to the event with several grabbing teasers and, today, she gave fans yet another look at the mysterious line. RiRi took to Twitter to tease the collection's crown jewel, a sparkly lip gloss accurately dubbed "GLOSS BOMB." Like the other products she's shared glimpses of thus far — the Highlight Duo and Match Stix, for instance — it comes with its own video trailer that is a pure adrenaline rush.
In the 16-second clip, you can get a sense of the shimmery gloss, which comes packaged in a five-sided tube topped with a copper lid that's embossed with "FB." It's in the same bronze vein as the other teasers she's released thus far and similarly is soundtracked by RL Grime's bouncy club anthem "Core."
Like the Match Stix and Highlight Duo, with shades named "Ginger Binge" and "Moscow Mule," the coordinated Gloss Bomb will be available September 8.
Although, according to Rihanna's Twitter account, there will be a special live Facebook event tomorrow that details more information and possibly more looks at the whole collection. "Follow @fentybeauty on Facebook to watch our launch party LIVE at 7:15pm ET tomorrow! It's gon be lit, don't miss it!!!!!," Rihanna tweeted.
The pop artist turned designer and cosmetics mogul has been especially active on social media as of late, promoting Fenty Beauty. Just a few days ago she DM'd with a fan about the collection, which impressively includes 40 shades of foundation for people of all skin tones. "Gotta represent for my girls and we come in all shades!," she wrote. "Especially my brown sisters… been left out too many times in the makeup world!"
Rihanna has been promoting that same dedication to diversity in the trailers for her line as well, which feature models like Paloma Elsesser, Duckie Thot, Slick Woods, Halima Aden and Leomie Anderson, who has been especially vocal about the cosmetic industry's need to become a more diverse place. "Why is it that the black makeup artists are busy with blonde white girls and slaying their makeup and I have to supply my own foundation ?," she tweeted back in February.
Come September 8 that will no longer be a reality thanks to Fenty Beauty.