Rihanna's New York City Penthouse Is for Sale
Anyone have a cool $17 million lying around?
---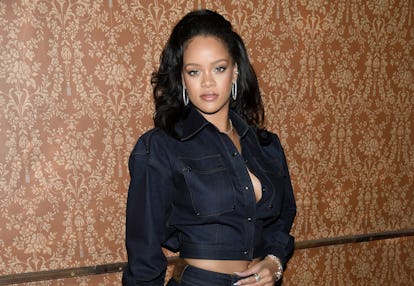 Photo by Dimitrios Kambouris/Getty Images
Anyone have 16.9 million lying around? That's the asking price for the gorgeous duplex penthouse in New York currently being rented by the one and only Rihanna.
It's owned by French fashion photographer Antoine Verglas, but the singer, actress, and fashion designer has been renting it for four years, ever since she moved from Los Angeles to New York City in 2013. While the price was originally $39,000 a month, she's now shelling out $50,000 a month for the pad. According the the New York Post, Rihanna may change her mind about leaving, in which case the sale would end. (C'mon, nobody kicks out Rihanna.)
The home is on the 11th and 12th floors of 129 Lafayette, situated on the border of Soho, Chinatown and Little Italy in Manhattan. The four-bedroom, three-bathroom, 4,660-square-foot apartment boasts a wraparound terrace, 13-foot ceilings, a wood burning fireplace, a chef's kitchen and a view of the Empire State Building, per The Daily Mail. According to the listing on Town Residential, "Penthouse A" is accessible via key-locked elevator, and its two floors are connected by a steel-and-wood floating staircase.
Verglas bought the unit for $6.1 million in 2005 and has listed it since 2009 at prices ranging from $18.75 million to $9.65 million, per the Mail. Past occupants of the building, which was built in 1911 and housed bookbinders and printing houses before its conversion into condominiums in 2004, include Rolling Stone Keith Richards and Patti Hansen's daughters Theodora and Alexandra Richards.
So, how much would you pay to live like a rock star?
Rihanna's other properties include her six-bedroom $6.5 million house in the Hollywood Hills, completed in 2015 and purchased this past August, and her $22 million mansion in Barbados at the One Sandy Lane luxury resort.
Related: Rihanna Skipped Drake's Childish Birthday Party, Deflates His Attempt to Become a Man
Everything You Missed at Rihanna's Delightful Fenty x Puma Fashion Show
Inside the Fenty X Puma show by Rihanna at the Park Avenue Armory on Sunday night during New York Fashion Week. Photo by Serichai Traipoom for W Magazine.

SERICHAI TRAIPOOM
Inside the Fenty X Puma show by Rihanna at the Park Avenue Armory on Sunday night during New York Fashion Week. Photo by Serichai Traipoom for W Magazine.

SERICHAI TRAIPOOM
Inside the Fenty X Puma show by Rihanna at the Park Avenue Armory on Sunday night during New York Fashion Week. Photo by Serichai Traipoom for W Magazine.

SERICHAI TRAIPOOM
Inside the Fenty X Puma show by Rihanna at the Park Avenue Armory on Sunday night during New York Fashion Week. Photo by Serichai Traipoom for W Magazine.

SERICHAI TRAIPOOM
Inside the Fenty X Puma show by Rihanna at the Park Avenue Armory on Sunday night during New York Fashion Week. Photo by Serichai Traipoom for W Magazine.

SERICHAI TRAIPOOM
Inside the Fenty X Puma show by Rihanna at the Park Avenue Armory on Sunday night during New York Fashion Week. Photo by Serichai Traipoom for W Magazine.

SERICHAI TRAIPOOM
Inside the Fenty X Puma show by Rihanna at the Park Avenue Armory on Sunday night during New York Fashion Week. Photo by Serichai Traipoom for W Magazine.

SERICHAI TRAIPOOM
Inside the Fenty X Puma show by Rihanna at the Park Avenue Armory on Sunday night during New York Fashion Week. Photo by Serichai Traipoom for W Magazine.

SERICHAI TRAIPOOM
Inside the Fenty X Puma show by Rihanna at the Park Avenue Armory on Sunday night during New York Fashion Week. Photo by Serichai Traipoom for W Magazine.

SERICHAI TRAIPOOM
Inside the Fenty X Puma show by Rihanna at the Park Avenue Armory on Sunday night during New York Fashion Week. Photo by Serichai Traipoom for W Magazine.

SERICHAI TRAIPOOM
Inside the Fenty X Puma show by Rihanna at the Park Avenue Armory on Sunday night during New York Fashion Week. Photo by Serichai Traipoom for W Magazine.

SERICHAI TRAIPOOM
Inside the Fenty X Puma show by Rihanna at the Park Avenue Armory on Sunday night during New York Fashion Week. Photo by Serichai Traipoom for W Magazine.

SERICHAI TRAIPOOM
Inside the Fenty X Puma show by Rihanna at the Park Avenue Armory on Sunday night during New York Fashion Week. Photo by Serichai Traipoom for W Magazine.

SERICHAI TRAIPOOM
Inside the Fenty X Puma show by Rihanna at the Park Avenue Armory on Sunday night during New York Fashion Week. Photo by Serichai Traipoom for W Magazine.

SERICHAI TRAIPOOM
Inside the Fenty X Puma show by Rihanna at the Park Avenue Armory on Sunday night during New York Fashion Week. Photo by Serichai Traipoom for W Magazine.

SERICHAI TRAIPOOM
Inside the Fenty X Puma show by Rihanna at the Park Avenue Armory on Sunday night during New York Fashion Week. Photo by Serichai Traipoom for W Magazine.

SERICHAI TRAIPOOM
Inside the Fenty X Puma show by Rihanna at the Park Avenue Armory on Sunday night during New York Fashion Week. Photo by Serichai Traipoom for W Magazine.

SERICHAI TRAIPOOM
Inside the Fenty X Puma show by Rihanna at the Park Avenue Armory on Sunday night during New York Fashion Week. Photo by Serichai Traipoom for W Magazine.

SERICHAI TRAIPOOM
Inside the Fenty X Puma show by Rihanna at the Park Avenue Armory on Sunday night during New York Fashion Week. Photo by Serichai Traipoom for W Magazine.

SERICHAI TRAIPOOM