Rihanna Partners With Bike-Sharing Company to Provide Scholarships and Bikes to Young Girls in Malawi
The initiative will help girls get to school faster and more safely.
---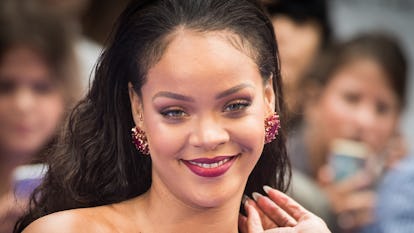 Samir Hussein/WireImage/Getty Images
Rihanna is determined to give as many girls as possible the opportunity to get an education—and not only via scholarships (although she funds plenty of those as well). On Tuesday, the star announced that her Clara Lionel Foundation, which she founded in 2012 and named after her grandparents, has teamed up with Ofo, a Beijing-based bike-share initiative, to provide bikes to young girls in Malawi to help them get to school quickly and safely.
"I'm so happy about the Clara Lionel Foundation's new partnership with ofo because it will help so many young people around the world receive a quality education, and also help the young girls of Malawi get to school safely, cutting down those very long walks they make to and from school all alone," Rihanna said in a statement.
The five-year "1 KM Action" partnership, which has already sent the first batch of bikes to Malawi, will also fund scholarships for these young women through Rihanna's charity's Global Scholarship Program. The statement notes that although 4.6 million children attend primary school in the Southeast African nation, only eight percent end up completing secondary school, with more girls than boys forced to drop out due to transportation and other issues.
"We are delighted to work with Rihanna and the Clara Lionel Foundation on this innovative initiative as we are keen to help improve education accessibility for students living in poverty," Ofo founder and CEO Dai Wei said in the press release. "We believe in unlocking every corner in the world with equal access to education as well as with our bike-sharing scheme." The Clara Lionel Foundation and Ofo have previously joined forces to provide scholarship funding to students from China, Brazil, Barbados, Cuba, Haiti, Grenada, Guyana, and Jamaica planning to attend college in the United States.
Rihanna, an ambassador for the Global Partnership for Education, visited Malawi earlier this year with the GPE "to spend time with educators, government officials, and students to identify ways to collaborate to build a better educational future for Malawians," according to the statement. The Anti singer previously released a video of her trip in which she meets with school administrators, visits classrooms, and joins in a "girls rule" chant. "It's such a pity that they have to drop out, because they are so smart," Rihanna said in the video. "Everybody's learning together and learning at the same pace, it seems. It's sad that has to end for some of them, because they could probably do so much if they had the resources to continue and complete."
Related: Rihanna Accepted Harvard Humanitarian of the Year Award With an Empowering Speech
See What's Trending in W Video: