Rihanna Was an Actual Ray of Sunshine at the Fenty Beauty Launch Party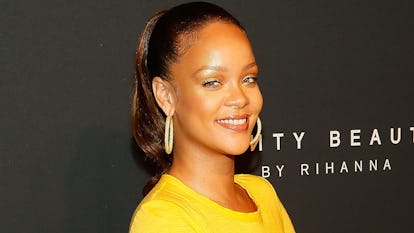 Paul Morigi/Getty Images
The launch party of Rihanna's Fenty Beauty line may technically have been all about beauty, but since this is red carpet queen Rihanna we're talking about, her dress pretty much stole the show.
Ri showed up at Thursday night's event in New York City looking like a modern day sun goddess. She wore a custom Oscar de la Renta gown featuring a long-sleeve yellow T-shirt (sans bra, because #freethenipple), which she tied at the waist, paired with a full skirt in the same golden hue. A thigh-high slit revealed a pair of lace-up stilettos that worked their way up her entire leg. She topped it all off with—obviously — yellow diamonds. The whole look gave off serious 2015 Met Gala vibes, minus the team of handlers who had to help her walk her gown up the Met Gala steps.
Ri took Thursday's golden glow head-to-toe with a positively radiant face, care of Fenty Beauty. According to a post on the brand's Instagram, she used a combination of the Killawatt Highlighter (in "Trophy Wife") and Match Stix (in "Blonde," "Ridic" and "Gloss Bomb.") to achieve the so-good-you-can't-look-away-level shine.
At the party, Rihanna and her flawless look took the opportunity to explain why creating the 40-shade Fenty Beauty line was a project close to her heart. "It was really important to me, every product, I was like, there needs to be something for a dark-skinned girl, there needs to be something for a really pale girl, there needs to be something in between," she said in a clip shared to Twitter. "There's so many different shades—there's red undertones, there's green undertones, there's blue undertones, there's pink undertones, there's yellow—and you just never know, so you want people to appreciate the product and not feel like 'Oh, that's cute, but it only looks good on her.'"
Fenty beauty—including all the products Ri used on herself—is available now online.
Related: Inside a New Exhibition of Guo Pei, the Chinese Couturier Whose Yellow Cape Rihanna Wore to the Met Gala
See What's Trending on W Magazine:
rending