Annabelle Neilson, British Socialite and Muse of Alexander McQueen, Has Died
The model-slash-aristocrat and Ladies of London star was reportedly found dead in her home on July 12 at 49 years old.
---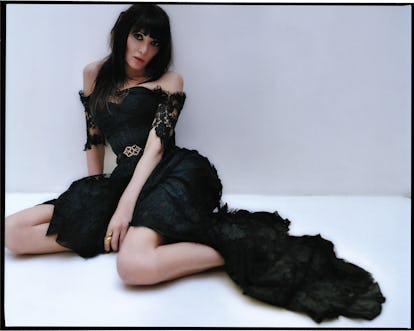 Tim Walker
Annabelle Neilson, a prominent British socialite and close friend of Alexander McQueen, passed away unexpectedly on July 12 at 49 years old.
Neilson was a model and socialite who became close friends with fellow models Naomi Campbell and Kate Moss, and she was a best friend and muse of McQueen, the late fashion designer. "He liked my wackiness—and the fact that when I went out, I made his outfits live," Neilson told W in 2012. The designer made sheer dresses just for the eccentric socialite in her partying days, and catsuits for her decision to race cars in the Himalayas in 2001. "One was white, with mcqueen stitched on the back in pink leather and pink piping down the side and a pink belt. I was in a zebra car. Honestly, they'd never seen anything like it," she said of McQueen's custom designs. Neilson was reportedly one of the last people to see the designer before he died of suicide in 2010.
The daughter of property adviser Max Neilson and interior designer Elizabeth Neilson, the socialite reportedly struggled with heroin addiction at the age of 16. But she later found sobriety and was married to notable financier and English aristocrat Nat Rothschild for three years in the mid-1990s before eventually joining the main cast of Ladies of London, Bravo's posh British answer to America's Real Housewives franchise. Neilson was also romantically involved for a time with Jefferson Hack, the magazine editor and father of Kate Moss's daughter, Lila.
The final photo of Neilson was taken on July 7, just days before her death, and it showed the model having fun with Kate Moss at Blenheim Palace, where Neilson's ex-boyfriend Lord Edward Spencer-Churchill, son of the Duke of Marlborough, married Kimberly Hammerstroem, a German photographer. Neilson was also distantly related to the royal family—her paternal grandmother was the Queen Mother's second cousin.
Strangely, it was reported by the Daily Mail that Neilson was found dead in her home on Thursday, July 12, but her Instagram showed a new photograph posted posthumously on Saturday, July 14. The mysteriously active Instagram account even led close friends of Neilson to believe her death had been a hoax, according to Page Six, which also reports that a family member scrubbed the socialite's feed of negative-seeming photographs and captions on Saturday.
Neilson's cause of death has been revealed as a cerebrovascular accident, or stroke, according to coroner reports from the Westminster Coroner's Court. Moss shared her tribute to Neilson on Instagram by posting an old photo of herself with the late socialite, with a heart-broken emoji caption.
Related: 14 Revelations from the New Alexander McQueen Documentary