RIP Jonathan Demme: A Director Who Turned Actors Into Icons
The director Jonathan Demme was a consummate music lover who, by all accounts, trusted his actors and cast an empathetic eye on even the most seemingly distasteful characters.
---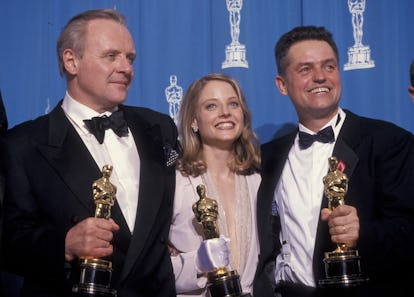 Ron Galella, Ltd./Getty Images
Director Jonathan Demme, the prolific auteur best known for films like The Silence of the Lambs and Philadelphia, died Wednesday at 73 of complications arising from esophageal cancer and heart disease.
Over the course of more than four decades working as a director and producer, Demme established himself as something of an actors' director, willing to take chances on established stars by offering them challenging, complex roles that were frequently at odds with their past work. And many of them turned out to be the most iconic in the actors' canons. Perhaps nowhere is that more evident than with Demme's 1991 breakout film, The Silence of the Lambs, which not only earned Demme his first (and only) Oscar for Best Director, but also swept four more prizes—including Best Actress and Best Actor for Jodie Foster and Anthony Hopkins, respectively. Silence was a watershed for both of its stars; though both had enjoyed successful careers up until the Demme-directed horror flick, their turns in Silence as a young FBI investigator and the sociopathic cannibal she recruits to help her track down a serial murderer remain the quintessential part for each actor.
It was also a turning point for Demme himself, who, until that point, had been known for his early indie films—"quirky social satires that led critics to compare him to Preston Sturges," as the New York Times wrote. If there's one thing that unifies Demme's work as much as his uncanny eye for actors reinventing themselves, it's his wide-ranging interests and ability to disappear into his subject that led him to make films that ranged from the stomach-churning horror of Silence to an adaptation of Toni Morrison's Beloved to even Ricki and the Flash, which stars Meryl Streep as a struggling rock star who returns home to reconnect with her family. Through his work, Demme demonstrated an innate understanding of the humanity even in seemingly inhuman characters.
But Silence wasn't the first time Demme had assisted in catalyzing a star's transformation. With Married to the Mob in 1988, Demme guided actress Michelle Pfeiffer—Scarface's Elvira—through her first attempt at carrying a major comedic film. In a Los Angeles Times interview at the time, Pfeiffer said she was convinced Demme didn't like her work—she had tried, on several occasions, to land parts in his films—until he cast her as the leading lady in Married to the Mob. "There are lots of directors—well, some directors—who just don't want to hear your opinions," she said. "But Jonathan isn't proprietary about his actors." In Pfeiffer's account, Demme set himself apart as a director because he trusted his cast and crew—thereby allowing them the creative freedom to try on parts and personalities they hadn't ever before.
Two years after Silence, Demme offered that opportunity to Tom Hanks, ushering in his evolution from child star and romantic lead (think Big and Sleepless in Seattle) to the capital-S serious actor he's now known as. In 1995's Philadelphia, Hanks plays Andrew Beckett, a promising young lawyer who contracts HIV; when his law firm finds out he's both gay and HIV-positive, it fires him. He seeks counsel to bring a lawsuit against the firm, finding representation in Joe Miller (Denzel Washington, who Demme would cast again in The Manchurian Candidate in 2004). The film earned Hanks an Oscar for Best Actor—and then, he won again the following year for the title role in Robert Zemeckis's Forrest Gump.
But Demme also had an uncommon ear for music—he recruited Bruce Springsteen to compose the opening theme for Philadelphia, "Streets of Philadelphia," which earned the musician his first and only Oscar to date. Neil Young wrote the theme "Philadelphia," which also received a nomination in the same category.
"Music was my first love, movies came second," Demme once famously told the Soho News, a New York newspaper that has since ceased publication. (Films like Ricki and the Flash, as well as documentaries on Bruce Springsteen, Neil Young, and Kenny Chesney, combined Demme's directorial and musical talents more explicitly on screen.)
With 2008's Rachel Getting Married, Demme again provided a vehicle for an actress to reinvent herself in the tough-to-swallow family drama. Rosemarie DeWitt plays the titular Rachel who gets married, but the film takes as its subject Anne Hathaway's Kym, a fresh-out-of-rehab narcissist who returns home for the wedding. Hathaway—until then, still eminently quotable and best remembered as the Princess Diaries' Mia and The Devil Wears Prada's Andy—earned her first Oscar nomination for the part; four years later, she'd win the Best Actress prize for Les Misérables. As Kym, Hathaway is at times cruel, ping-ponging between self-pity and utter self-absorption—yet, as critic A.O. Scott wrote in 2008, the film "is so persuasively forgiving of the flaws of its inhabitants."
With his death this week, Demme will be remembered in part for his innate trust of his leading stars regardless of their resumes and for his innate empathy for even his darkest heroes, whether an attention-grabbing burnout à la Rachel Getting Married or an actual, in-the-flesh serial murderer.
Jodie Foster thinks Sting is the perfect man: