Jordan Feldstein, Jonah Hill and Beanie Feldstein's Brother and Maroon 5's Manager, Has Died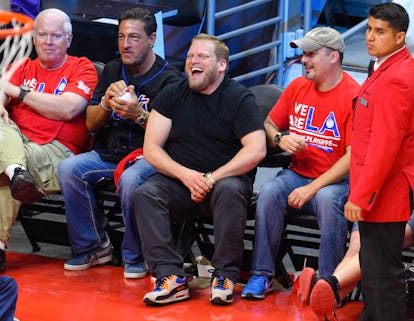 Photo by Noel Vasquez/GC Images
Jordan Feldstein, manager of pop-rock supergroup Maroon 5 and brother of actors Jonah Hill (The Wolf of Wall Street, Moneyball)and Beanie Feldstein (Lady Bird, Hello, Dolly! on Broadway), has died, per a report in Variety confirmed by the Los Angeles coroner. The cause of death has not been officially revealed, though Variety's source indicated it was a heart attack. He was 40.
In addition to managing Maroon 5, Feldstein "was integral in negotiating Adam Levine's role as a coach on The Voice. He and Levine he been friends since childhood. Some of the other artists managed by Jordan's company, Career Artist Management, include Iggy Azalea, Robin Thicke, and Miguel," according to JustJared. He started his career at ICM and Bill Leopold Management and was Maroon 5's manager from the band's beginning, helping build them into one of the biggest musical acts in the world, playing sold-out world tours and winning multiple Grammy Awards.
Feldstein was married twice, once was briefly to actress Francesca Eastwood, daughter of actor and director Clint Eastwood, and their marriage ended in annulment in 2013. He was the father of two children.
Tony Gervino, a VP at Tidal, shared the news on Twitter with the message, "Awful news. Jordan Feldstein was fiercely protective of his artists and their art and always delivered good or bad news personally. A mensch. RIP."
A statement from the Feldstein family to Variety reads as follows:
"Unfortunately, last night Jordan called 911 for shortness of breath, when paramedics arrived it was determined he went into full cardiac arrest and passed away shortly thereafter. His family asks for privacy during this difficult and unexpected time. In lieu of food and flowers, the family will announce a charity in the coming weeks where memorial donations can be made in Jordan's name."
Our thoughts go out to Jordan's family at this difficult time.
Related: Lady Bird's Beanie Feldstein Has Boundless Potential (and the Enthusiasm to Match)