Lady Bird's Beanie Feldstein Has Boundless Potential (and the Enthusiasm to Match)
The effusive 23-year-old rising star loves everyone on and everything about her new film.
---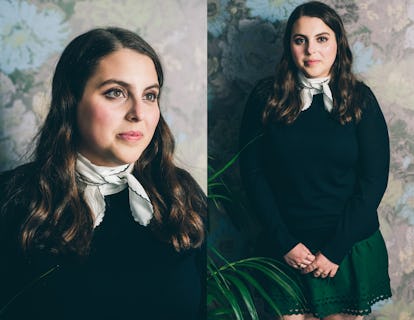 All photos by Caitlin Cronenberg.
By the week before their film premieres, most actors will have grown tired talking about whatever it is they've been promoting over the countless interviews and promo spots that have their every waking hour. Not so for Beanie Feldstein, star of Greta Gerwig's critically-acclaimed directorial debut, Lady Bird.
"I'm going to try not to get emotional, because [the movie] actually means so much to me," she said, sitting in a midtown Manhattan coffee shop last week, before Lady Bird opens November 3. "It would be my favorite movie if I wasn't in it. Am I allowed to say that?"
The project marks the second major film for the 24-year-old Feldstein, who is the younger sister of Jonah Hill. It follows on the heels of a standout supporting role in Neighbors 2, a gig she booked just over a month after her graduation from Wesleyan College. In Lady Bird, she plays Julie Steffan, the sweet, musical-theater loving best friend of Saoirse Ronan's titular Lady Bird.
"When I read, 'sweet, chubby, theater girl,' I was like, 'That's me!'" she said. "But in a lot of ways I think I am a lot like Lady Bird, at least when I was a teenager—just a little bit more brash. So at the beginning, I felt I was like Julie, but as we went along, I realize she's better and I owed it to her to get it right."
It helped, of course, that like Julie, Feldstein herself quickly bonded with Ronan, her onscreen best friend. "We're in love," she said. "She is just the most delicious woman. We instantly connected. She is endlessly funny and smart. I look up to her so much. I saw Brooklyn so many times."
That same admiration extends to Gerwig, whom Feldstein described as "a perfect person." "I am obsessed with her. I mean, I could go on and on," she said. "Frances Ha was so important to me and my best friends in college. We watched it all the time. It was my best friend's cover photo on Facebook. The way that she and Noah [Baumbach] wrote female friendship was so perfect. I was such a big fan."
The film was shot in California last fall, with a group of impressive young actors, including Odeya Rush, Lucas Hedges, and Timothée Chalamet, as well as Laurie Metcalf and Tracy Letts, rounding out the cast. "It was the most warm, safe set," said Felstein. "We all felt so protected. She is an actress, and she knows what it feels like. Greta is actually one of the most intelligent and brilliant women I have ever been around. She's read everything, she's seen everything. She's so knowledgeable. I literally kept a note on my phone of, 'Things Greta said today.'"
The actress spoke with unabashed enthusiasm for the film, which has already received early Oscar buzz, a sentiment she notes the whole cast shared. "One of my favorite memories from shooting was during the homecoming dance, and I was sitting with Lucas [Hedges] and it was sort of quiet, and he just said, 'We're in Greta Gerwig's first movie.'" she recalled. "You could feel how special this film would be." And when Feldstein finally saw the completed project earlier this summer? Forget it. "When I tell you I cried—I cried for like 45 minutes after I left," she said. "And I read the script ninety times; I know what happens."
Her mother also cried when seeing the movie, and her brother Jonah also gave his stamp of approval. "Him seeing the movie was super special, and I just think he is the best and has the best taste, so I was thrilled," she said. "We are best friends and we talk all the time about tons of stuff, so it would be forced to actively not talk about [acting]. We talk about it the way you would talk about your job with your best friend. We think the world of each other. "
Beyond Lady Bird being just a very good film, Feldstein also calls it "the most important thing that ever happened to me." She's not exaggerating that much—it helped to land her dream job: a stint on Broadway.
During the shooting of Lady Bird, producer Scott Rudin was casting for the unfilled role of Minnie Fay in the current revival of Hello, Dolly! starring Bette Midler. Feldstein, a self-professed musical theater fanatic (she's in a school musical in Lady Bird), was asked to send in an audition tape. She found out she booked the job that same day. "I was sitting in my childhood bedroom, fell to the floor, hysterically crying," she said. "I thought I was being Punk'd."
Related: Saoirse Ronan on the Time Susan Sarandon Tried to Get Her in Trouble With Prince Charles, and Her Girl Crush on Robin Wright
Greta Gerwig's 30th Birthday Featured Karaoke, Blackouts & Concussions