Meet Grace Van Patten, 20-Year-Old Star of The Meyerowitz Stories and the Next Great Indie Film Discovery
The star of Noah Baumbach's Netflix film 'The Meyerowitz Stories (New and Selected)' is poised for stardom.
---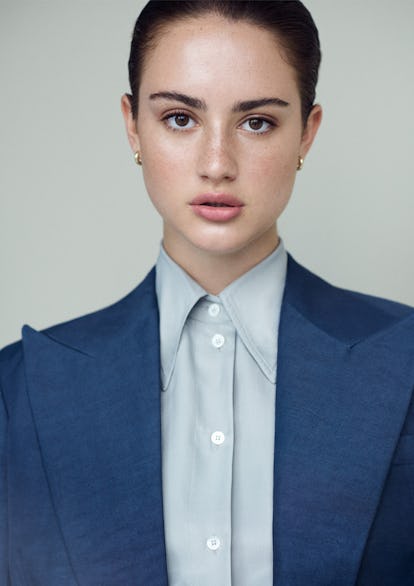 Photograph by Bruno Staub, Styled by Julian Jesus; hair by Thomas Dunkin at Bridge Artists; makeup by Stevie Huynh at Bryant Artists; digital technician: Jordan James; photography assistant: Evan Browning; fashion assistants: Join Chantisa, Kacey Fallon
Grace Van Patten may have had an inside track to her first role, at age eight, on The Sopranos—her father, Timothy Van Patten, was a longtime director on the series, and Van Patten spent her childhood bopping around set—but she booked the job on her own merits.
"My dad was like, 'I'll get you an audition, and then I'm out. I'm not going to do anything,' " the 20-year-old actress recalled. "He wasn't there when I auditioned, and I remember being really scared." (Her episode, in which she appears as the daughter of midlevel gangster Eugene Pontecorvo, remains the only one in the series she's seen to this day.) Still, despite those early nerves, she took to it immediately: "That was definitely my first vivid memory of acting and being like, 'I love this,'" she added.
But it would be more than a decade before Van Patten emerged as an indie-film darling with her performance as the freewheeling Ellie in the Netflix crime caper Tramps, which earned rapturous praise at last year's Toronto International Film Festival. She returned to the festival circuit again this year with Noah Baumbach's sprawling new family dramedy The Meyerowitz Stories (New and Selected). It was scooped up by Netflix for distribution even before its premiere at the Cannes Film Festival in May, and is out on the streaming platform and in theaters simultaneously Friday.
In Meyerowitz, Van Patten plays Eliza, a Bard film student and the youngest member of the Meyerowitz clan, an old-line Upper West Side family. "After I got the role," Van Patten said, "my agent was like, 'You know who's in it, right?'" He reeled off the cast list: Dustin Hoffman, Adam Sandler, Ben Stiller, Emma Thompson. "I was like, 'Oh, my god, you're kidding,'" she said.
Eliza is the daughter of Danny Meyerowitz, played by Sandler, complete with a mustache and a bum hip. He makes for an able sparring partner with Van Patten; their relationship is more that of bickering siblings, with the occasional outright row. They trade jabs and dry witticisms (and, occasionally, sing a duet of their own composition); towards the end of the film, when Eliza returns home from college accompanied by a new boyfriend, she screens one of her short films for her father, bedridden after a hip replacement. During her freshman year, she took to making sexually explicit shorts starring herself as a whole cast of different characters—and in her latest, she plays a fully nude Red Riding Hood who has energetic sex with a humanoid fox.
"I don't know that I've seen a sex scene shot quite like that before," Danny tells his daughter, not unenthusiastically.
"I don't want my parents to see it," Van Patten explained to me, "or my grandma." She and Baumbach filmed these movies-within-a-movie on a smaller camera and a more intimate set, alleviating some of the nerves that might come with performing "these wild, crazy, slightly pornographic, crazy little films," she said.
"I don't know if you're familiar with Bard film majors," she told me, "but it's a very specific type of…" She trailed off. "Which I was really excited to dive into," she added. (Though Van Patten herself opted not to go to college after deferring admission to the University of Southern California for a year and finding her film career beginning to take form, she has friends at Bard, so she knows the type.)
Van Patten's Eliza spends much of the film off at school, but she is still, in many ways, its anchor: Meyerowitz opens with Eliza sermonizing to her father about vegetarianism—"Do you realize eating meat is worse than driving an SUV for a year?"—while he attempts to park a car and ends with her digging out a sculpture by her artist grandfather, Harold (a gruff Dustin Hoffman), previously thought lost to the archives of the Whitney Museum of American Art.
While Meyerowitz premiered over in Cannes earlier this year, Van Patten was back in New York, about to step onto the stage for the opening night of Hamish Linklater's The Whirligig alongside Girls actress Zosia Mamet.
"I never got over the nerves," she said. "For, like, two-and-a-half months, I was just so shook before going on stage."
Though The Whirligig was Van Patten's Broadway debut, she is a New York native: She grew up in Tribeca and attended the Fiorello H. LaGuardia High School of Music & Art and Performing Arts—where her classmates included Ansel Elgort and Timothée Chalamet, both of whom are having their own indie-film moments right now—before her family moved to Cobble Hill a few years ago. Her father, the Sopranos director, has worked on numerous other projects, many of them for HBO, including Sex and the City, Game of Thrones, Rome, Boardwalk Empire, and The Wire. Her mother, the former model Wendy Rossmeyer Van Patten, is a Harley-Davidson heiress; Van Patten's grandfather, Bruce Rossmeyer, owned a string of dealerships, and when he died in 2009 Rossmeyer Van Patten and her siblings took the reins.
"I had a mini chopper when I was like, eight years old," Van Patten recalled fondly. "I really want one here, but it's kind of pointless in the city."
She might be short a motorcycle, but when she's not in the studio, Van Patten has found ways to occupy herself: She's an avid volleyball and basketball player, and has been taking philosophy and psychology classes. But she's also balancing an impressive slate of films, each with co-stars to rival that of Meyerowitz. There's Under the Silver Lake, the surreal new film by It Follows director David Robert Mitchell, with Andrew Garfield, Riley Keough, and Mamet, as well as the romantic comedy The Wilde Wedding with Glenn Close and John Malkovich. As the New York Times said of her in their review of Meyerowitz, "Van Patten is what they call a find."
And having played the leading lady in Tramps, the enigmatic "balloon girl" in Under the Silver Lake, and the bold film student in Meyerowitz, Van Patten has set her sights on her next challenge: "I would love to play some badass villain one day," she said, à la Angelina Jolie or Charlize Theron. "Just do some crazy action thing."
Margot Robbie is here to show you what vegemite sounds like: