Justin Bieber Wants To Act, So He Asked Adam Sandler and David Spade For Advice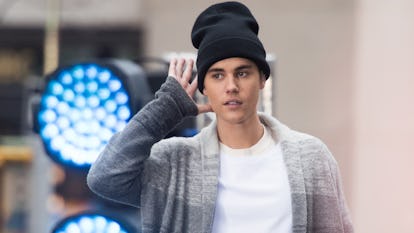 Noam Galai/Getty Images
If you're a mega-successful musician looking to break into acting, you might turn to accomplished actors like Meryl Streep, Tom Hanks, or Leo DiCaprio for advice. Not so for Justin Bieber, who has reportedly handpicked prolific comedians Adam Sandler and David Spade to be his mentors as he attempts to make the transition from troubled pop star to (hopefully) not-so-troubled actor.
An anonymous source recently shared this intel with Us Weekly. "Justin Bieber asked Adam Sandler and David Spade out to dinner to pick their brains about breaking into the film industry," the insider said. "They had a great time! Justin had a lot of questions for them about the movie world." The source added, "He is trying to educate himself about the industry and learn more about it. He wants to break into acting and directing/producing." The dinner reportedly took place at the upscale Morton's The Steakhouse in Woodland Hills on September 12, after the trio had all participated in the Hand in Hand telethon for hurricane relief at the Universal Studios lot in Los Angeles.
Apparently, Bieber, who is currently taking a break from music in order to "rededicate his life to Christ," is no longer content to play himself onscreen, as he did in his Never Say Never and Believe documentaries, Zoolander 2, and the direct-to-DVD Killing Hasselhoff, nor will he settle for the bit roles he took on in CSI, Men in Black 3, and Behaving Badly. In seeking the guidance of Sandler and Spade, the 23-year-old could be angling for a spot in the Saturday Night Live cast or, perhaps, a Razzie Award–winning role in a sequel to Sandler and Spade's much-maligned 2011 film Jack and Jill.
The "Purpose" singer has previously spoken about his theatrical ambitions. "I'm still young. I still have so many personal and professional goals I want to achieve. I want to keep creating music for my fans," Bieber said in a January 2015 interview with Karl Lagerfeld for V magazine. "One day I hope to make strides into movies and fashion as well. I want to share my creativity with the world." If he can belieb it, he can achieve it.
Related: Justin Bieber's Spiritual Journey Off to a Rocky Start After Paparazzi Accident
Watch Gigi Hadid, karaoke star, take on "Baby" by Justin Bieber:
A Photographic Guide to All the Famous Women Justin Bieber Has Been Spotted Out with Over the Years
Circa 2010, Bieber was rumored to be dating musician Jessica Jarrell, whom he was touring with at the time. The pair were seen embracing on the red carpet at a Hollywood event that year.

Jason Merritt/WireImage
Bieber made his relationship with Selena Gomez public in 2011, when the pair arrived hand-in-hand to the 2011 Vanity Fair Party wearing coordinating ensembles.

Kevin Mazur/VF11/WireImage
The pair stayed together on-and-off for five years, frequently appearing at awards shows and basketball games together, before breaking up (for good?) in 2016.

Noel Vasquez
During one of those breaks with Gomez, Bieber performed at the 2012 Victoria's Secret Fashion Show, where he was spotted flirting with models Barbara Palvin and Miranda Kerr.

Kevin Kane/FilmMagic
The singer was also spotted around town with YouTube and Instagram star Chantel Jeffries, including at a 2014 Ciroc party hosted by Diddy.

Prince Williams/FilmMagic
Bieber has been linked to both Kendall and Kylie Jenner countless times; both sisters made an appearance at the "Justin Bieber: Never Say Never" Los Angeles premiere in 2011.

Todd Williamson/WireImage
Shanina Shaik and the singer were linked together in 2015 when they attended a party in Las Vegas together, as well as Coachella just days later.

Mindy Small/FilmMagic
Of all the rumors of Kendall and Kylie, the one that ended up being most persistent was their older half-sister, Kourtney. The mother of three was often spotted out with the singer in 2015, including at his Comedy Central Roast.

Jeff Kravitz/FilmMagic
At the taping of the show, Bieber was seen coming over to greet Kardashian, who was attending alongside Kendall.

Jeff Kravitz/FilmMagic
A few years before being romantically linked to Bieber, Hailey Baldwin attended the New York premiere of Justin Bieber: Never Say Never back in 2011.

Michael Loccisano/Getty Images
Four years later, the pair were often spotted out and about together. It was rumored that the two dated seriously circa 2016.

JMA/Star Max/GC Images
Last year, Bieber was spotted out with another famous scion: Sofia Richie, daughter of Lionel Richie and half-sister of Nicole Richie.

BG003/Bauer-Griffin/GC Images
The pair were spotted shopping in Tokyo by paparazzi, but would soon break up just weeks later.

Jun Sato/GC Images