Justin Bieber Told Marilyn Manson He Made Him Relevant Again With an Unauthorized T-Shirt
File under things one should never say to a man who is "Bigger than Satan."
---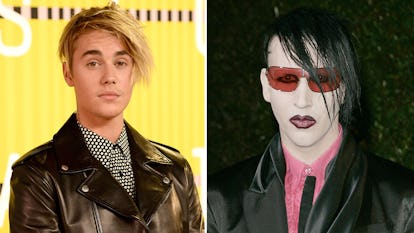 Frazer Harrison/Getty Images; J. Merritt/FilmMagic/Getty Images
Of all the celebrity feuds that will go down in infamy—Bette Davis v. Joan Crawford, Madonna v. Patti LuPone, Lena Dunham v. a dog shelter in Brooklyn—this one has to be the most ill-advised: Justin Bieber has thrown down the gauntlet with one Marilyn Manson. It appears as though the Little Lord Fauntleroy of pop used an unauthorized image of the Prince of Darkness on a t-shirt, and then proceeded to tell Manson he had made him "relevant again."
Poor choice of words to someone who is allegedly "bigger than Satan," at least according to the back of the shirt in question.
According to a Manson interview with Consequence of Sound, the events transpired as such: Last summer, Bieber took a page out of the Jenner progeny's book by besmirching a vintage Manson tee (he added "Bieber" below Manson's signature "Bigger Than Satan" tagline) and then flipping it for $195 at Barneys. The shirt's designer—street label Fear of God—insisted that Manson had signed off on this sartorial atrocity.
Manson, naturally, begged to differ. He told Consequence of Sound that when the two met, Bieber was wearing the tee in question. "He said to me, 'I made you relevant again,'" the goth rocker said. "Bad mistake to say to me."
"He was a real piece of s— in the way he had the arrogance to say that," Manson continued. "He was a real touchy-feely guy, too, like, 'yo yo bro!' and touches you when he's talking. I'm like, you need to stand down, you're d— height on me, ok? Alright? So stand down, son."
Rather than dine upon the 23-year-old pop singer's ventricles or use him for a virgin sacrifice, Manson opted for a rather anticlimactic plot of revenge: "The next day I told him I'd be at his soundcheck at Staples Center to do 'Beautiful People,'" he recounted. "He believed that I'd show up, because he was that stupid."
The provocateur says Bieber eventually gave him all the proceeds from the sales of the shirt without a fight, but it appears as though he struck a nerve: Manson's new song, which debuted Monday, is entitled, "WE KNOW WHERE YOU F—ING LIVE." The lyrics? "We'll burn it down, burn it down/ They won't even recognize your corpse," and "We will sleep on the skin of his nightmares." Might be a good day for an address change, Justin.
Related: Justin Bieber Took A Quick Break From God To Celebrate White T-Shirts And Karlie Kloss's Birthday
Kendall Jenner and Gigi Hadid Dramatically Reading "Baby" By Justin Bieber Will Blow You Away: