Justin Bieber Took A Quick Break From God To Celebrate White T-Shirts And Karlie Kloss's Birthday
All of this week's party pictures that you may have missed.
---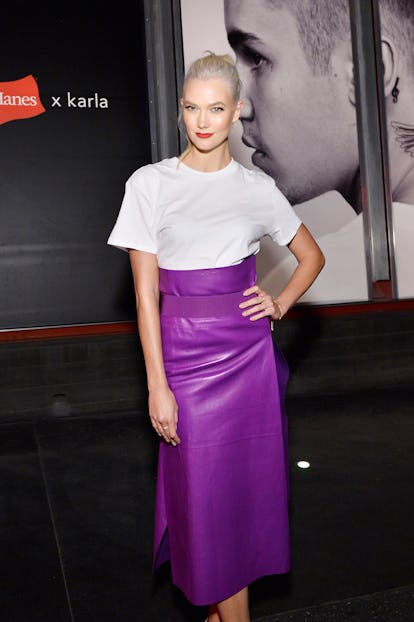 Stefanie Keenan
This week's most sought after party guest was also the most elusive one. On Thursday evening, Justin Bieber attended a party to celebrate his stylist Karla Welch's new collaboration with Hanes t-shirts. Or, so the press release said. Bieber, who has been making quite a few headlines this week thanks to his world tour cancellation and that whole accidentally hitting a paparazzi with his car, opted not to get his photo taken at the event, as is celebrities are wont to do at these kind of events. His presence still loomed over the event, also attended by birthday girl Karlie Kloss, as images from the campaign starring the singer hung from the walls. Also this week, the Hamptons continued to be popular as ever, as Jessica and Jerry Seinfeld attended the GOOD+ Foundation's Hamptons Summer Dinner, co-hosted by Net-A-Porter, and both Ashley Benson and Tiffany Trump attended an Assouline dinner held at the Surf Lodge. Here, a look at all of the party pictures that you may have missed this week.
Stylist Karla Welch feted her new clothing line, while Soko played DJ for the evening.
Also in attendance was Welch's always stylish client, Tracee Ellis Ross.
Zoe Saldana, along with husband Marco Perego, welcomed the end of summer at the Avant Garden Gala at Lotusland in Santa Barbara, presented by Valentino.
Sascha, Jessica, and Jerry Seinfeld made the GOOD+ Foundation's Hamptons Summer Dinner, co-hosted by Net-A-Porter a family affair.
Also in the Hamptons, Pretty Little Liars star Ashley Benson attended a dinner for Ibiza Bohemia far from Spain at the Surf Lodge.
Tiffany Trump also made an appearance at the dinner, held at Montauk hot spot, which frequent flunkie Andrew Warren reportedly fractured his arm in a self-described "botched act of heroism."
Back in New York, Broadway star Alex Sharp came out to celebrate the Filson Partnership with the United States Forest Service and National Forest Foundation, alongside Filson creative director Alex Carleton.
Katie Aselton, Toni Collette, Bridget Everett, and Molly Shannon celebrated their new film Fun Mom Dinner at a screening hosted by the Cinema Society & Svedka.
And Avengers co-stars Jeremy Renner and Elizabeth Olsen reunited for the premiere of their film Wind River.
Related: Did Justin Bieber Cancel His Tour to Dedicate Himself to God, or Just to "Ride Some Bikes"?
Marion Cotillard on Why the Justin Bieber Movie Made her Cry