Tracee Ellis Ross Returns to the City of Lights For Rodarte's Paris Debut
"It's really how you wear your soul on the outside of your body," the Black-ish actress said of her love for fashion.
---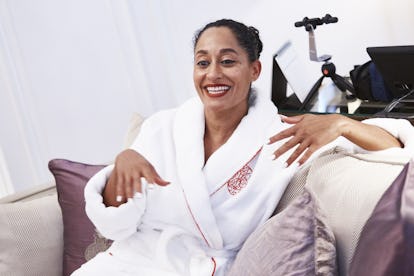 www.mollysjlowe.com
"The last time I was here, I was living here as a kid," said Tracee Ellis Ross, stationed in a Paris hotel room. The Los Angeles-based Black-ish star, straight off the plane from New Orleans, was speaking of the Plaza Athénée, her once temporary home as an 8th grader new to Paris some thirty years ago, and her hotel, for the first time in all these years, tonight. "Before our apartment was ready, we lived here for three months," said the actress. "It was amazing! When I arrived [today], the woman downstairs was like, 'The hotel's been renovated.' I was like, 'So have I.'"
Ellis Ross, the daughter of Diana Ross and music manager Bob Ellis Silberstien, was busy getting ready for Rodarte's Spring 2018 show in a lilac-shaded suite. Similarly, the designers Laura and Kate Mulleavy—"they're just lovely; and they're LA girls" —were showing for the first time during the July fashion circuit. "Fashion shows are very different now," mused the actress, who modeled in the early '90s and was a fashion editor for some time after. "[But] I've never been to couture. I think this might mirror a little bit more what it used to be. I think it's a little more intimate and more about the fashion as opposed to the front row hoopla. This is why I fell in love with fashion; it's really how you wear your soul on the outside of your body."
The actress was slowly putting on her own makeup. "It's very Hollywood to have a makeup artist," she explained as she applied a crimson Nars lip. "But I started in fashion, so my love of doing my own hair and makeup and styling myself and dressing myself; if I can, I do it."
The look of the day was a black-and-white Rodarte lace number, paired with a white leather jacket reading 'Rodarte Los Angeles' and a pair of white Louboutin pumps. "I had two faves," she said of the Rodarte samples on hand. "This one zipped right up. And I was going to wear the jacket no matter what I wore! I didn't even care if it worked. It made no difference to me."
She described her personal style as not extravagant or eccentric, but rather, "I like things that are ornate and that have statement to them." The actress also works with mega-stylist Karla Welch "for big stuff." As she explained, "I have a big personality, so I like clothing that also has a big personality."
This means looks by Valentino, Dries, Kenzo, and of course, Rodarte. "I have clothes that I still have from high school," she mused. "I've been wearing the same shapes since I was young: a wide-legged, high-waisted trouser, a blazer, a little bit- not military but utilitarian, with some extravagance mixed in. Katharine Hepburn, Nina Simone, my mom, Cher, and Bette Midler, those are my style icons. I get inspiration from so many different places and honestly, I'll get inspired by a flower in terms of getting dressed."
Post attending the Sunday afternoon show, Ellis Ross, exuberant and open, very much the charismatic daughter of her famed parents, was ready for the show and a few days of relaxation.
"I go back to work July 24. Twelve to fourteen hour days. Eight months out of the year," she said. "It's nuts. Oh it's crazy."
"So this is the end of my summer. And every year, right at the end, I go away with my girlfriends. I'm on my way to vacation in Italy," said Ellis Ross. "And this [show] is really special. The timing was perfect. Other than this? I'm not going to overdo it. I'm having dinner with my friend Samira Nasr. And I want to wander the streets."
Getting Ready With Tracee Ellis Ross Before Rodarte's Paris Show
Getting ready with Tracee Ellis Ross before the presentation of Rodarte's spring/summer 2018 collection, in Paris.

www.mollysjlowe.com
Getting ready with Tracee Ellis Ross before the presentation of Rodarte's spring/summer 2018 collection, in Paris.

www.mollysjlowe.com
Getting ready with Tracee Ellis Ross before the presentation of Rodarte's spring/summer 2018 collection, in Paris.

www.mollysjlowe.com
Getting ready with Tracee Ellis Ross before the presentation of Rodarte's spring/summer 2018 collection, in Paris.

www.mollysjlowe.com
Getting ready with Tracee Ellis Ross before the presentation of Rodarte's spring/summer 2018 collection, in Paris.

www.mollysjlowe.com
Getting ready with Tracee Ellis Ross before the presentation of Rodarte's spring/summer 2018 collection, in Paris.

www.mollysjlowe.com
Getting ready with Tracee Ellis Ross before the presentation of Rodarte's spring/summer 2018 collection, in Paris.

www.mollysjlowe.com
Getting ready with Tracee Ellis Ross before the presentation of Rodarte's spring/summer 2018 collection, in Paris.

www.mollysjlowe.com
Getting ready with Tracee Ellis Ross before the presentation of Rodarte's spring/summer 2018 collection, in Paris.

www.mollysjlowe.com
Getting ready with Tracee Ellis Ross before the presentation of Rodarte's spring/summer 2018 collection, in Paris.

www.mollysjlowe.com
Getting ready with Tracee Ellis Ross before the presentation of Rodarte's spring/summer 2018 collection, in Paris.

www.mollysjlowe.com
Getting ready with Tracee Ellis Ross before the presentation of Rodarte's spring/summer 2018 collection, in Paris.

www.mollysjlowe.com
Getting ready with Tracee Ellis Ross before the presentation of Rodarte's spring/summer 2018 collection, in Paris.

www.mollysjlowe.com
Getting ready with Tracee Ellis Ross before the presentation of Rodarte's spring/summer 2018 collection, in Paris.

www.mollysjlowe.com
Getting ready with Tracee Ellis Ross before the presentation of Rodarte's spring/summer 2018 collection, in Paris.

www.mollysjlowe.com
Getting ready with Tracee Ellis Ross before the presentation of Rodarte's spring/summer 2018 collection, in Paris.

www.mollysjlowe.com
Getting ready with Tracee Ellis Ross before the presentation of Rodarte's spring/summer 2018 collection, in Paris.

www.mollysjlowe.com
Getting ready with Tracee Ellis Ross before the presentation of Rodarte's spring/summer 2018 collection, in Paris.

www.mollysjlowe.com
Getting ready with Tracee Ellis Ross before the presentation of Rodarte's spring/summer 2018 collection, in Paris.

www.mollysjlowe.com
Getting ready with Tracee Ellis Ross before the presentation of Rodarte's spring/summer 2018 collection, in Paris.

www.mollysjlowe.com
Getting ready with Tracee Ellis Ross before the presentation of Rodarte's spring/summer 2018 collection, in Paris.

www.mollysjlowe.com
Getting ready with Tracee Ellis Ross before the presentation of Rodarte's spring/summer 2018 collection, in Paris.

www.mollysjlowe.com
Butterflies of Paris: How Street Style Stars Do Paris Fashion Week