Marilyn Manson is Great for Makeup Tutorials, and Other Takeaways From His Instagram Account
Surprise: It's super strange.
---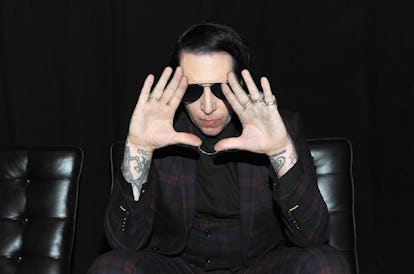 Donato Sardella
The hard rock provocateur Marilyn Manson is having a bit of a cultural moment these days, giving the music and fashion world something to agree on. He's making a comeback musically, with a world tour currently underway, and on Friday the first trailer for his upcoming film, Let Me Make You a Martyr hit the internet. With Manson wearing Vetements on magazine covers, Justin Bieber wearing his band tees, and designer Thom Browne finding inspiration in his pale makeup and dark lipstick for Fall 2017, the musician has re-entered mainstream consciousness, whether he likes it or not.
"He lives his life as a piece of art," Browne told W magazine backstage in February. And apparently, we're buying it again.
Everyone wants to be a rock star like Manson these days, and in April the "Soundcloud rock star" Lil Uzi Vert revealed on Instagram his new $100,000 black and white diamond chain necklace in the shape of Marilyn Manson. Then, shortly after, Drake posted a photo of his dad posing with Manson (the two crossed paths in Sydney, Australia), with the cheeky caption: "A rare picture of my dad with Lil Uzi's new chain."
This cultural collision of Manson with popular culture has made his Instagram page a cult favorite, with over 1 million followers. Upon closer inspection, it's clear that Manson approaches social media with the same attitude as fashion and music, captioning his selfies with existential questions and references to the devil. He's also got a sense of humor, but overall, his account is as hardcore as it gets. Here's what we learned.
He's devilishly good at selfies.
Follow for makeup tutorials.
And looks of the day.
He sees you, Justin Bieber.
Don't tell him how to use social media.
But what does it mean?!?!?
I'm scared.
Help!
Watch: How Street Style Stars Do Paris Fashion Week