Ansel Elgort, Your Baby Driver, is Now Your Baby JFK
After losing the role of young Han Solo, Ansel Elgort nabs the role of young JFK.
---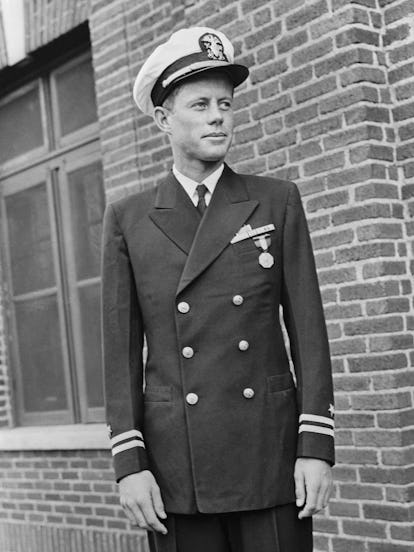 Bettmann
A day before the debut of the critically adored Baby Driver, Ansel Elgort has nabbed another hot role: baby John F. Kennedy. The 23-year-old has signed on to star and co-produce Mayday 109, a film that centers on the true story of what happened when a boat captained by the future president during his days in the Navy was sunk by a Japanese battleship in 1943.
"We could not be more excited about Ansel coming aboard," producer Basil Iwanyk told Deadline. "Not only is he a tremendous actor, he embodies the charisma, athleticism and looks of a young JFK. We love that this is not a biopic nor a film about politics. This is simply a riveting and unbelievable tale that very few people know—about a young man who was a hero long before becoming the iconic 35th President of the United States."
Indeed, the script dramatizes the well known tale of Kennedy's heroics during the episode. He gathered the survivors around the wreckage, and then, leveraging his background as a former Harvard swimmer, led his men on a three-mile swim to a nearby island. He also helped badly injured crew members reach land by clenching one of the man's lifejacket straps and carrying him along during the swim. Kennedy was the only American president who was ever awarded the Purple Heart.
Mayday 109 will become the first feature film made about the incident since 1963's PT 109, which, incidentally was the first time a movie about a president was released while the man was actually in office and was greeted by viewers at the time as something of a curiosity. It's about time the story got a proper update, and it's unlikely the current holder of the office, Donald Trump, will get a movie made about his bravery in combat or in any other arena.
As for Elgort, well, it's certainly another potentially high profile role for the young actor. Up until recently he was mostly known for starring in films directly aimed at teens: namely The Fault is in our Stars and the Divergent series. Edgar Wright's Baby Driver, which was an absolute critical smash when it debuted earlier this year at South by Southwest, should change that. It's highly stylized film about a getaway driver who tries to go clean that seems to leave everyone who seen it absolutely charmed by Elgort—a key quality to have when taking on the role of the famously slick JFK.
So Elgort, the titular "Baby" driver, is now your baby JFK (Jude Law, however, still has the monopoly on playing any character that is "young"). The fact Elgort quite publicly lost out on the role of Baby Han Solo in the Star Wars universe doesn't seem so bad anymore, especially considering all the drama that film is going through after its directors abruply left the project earlier this week.
Elgort has a couple of other projects on his schedule otherwise. Two films, Jonathan and Billionaire Boys Club, will pair him with actress Suki Waterhouse (apparently, all of the sudden, young millennials' version of Bogie and Bacall), while another, November Crimes, pairs him with Chloë Grace Moretz. Oh, right, he also has a music career.
Considering Jack Schlossberg, JFK's only grandson, does not seem to be pursuing an acting career, Elgort certainly seems like a fitting choice.
Related: Ansel Elgort Made a Music Video for People Who Really Love Ansel Elgort
Ansel Elgort, Mia Goth, Dane DeHaan, and Mia Wasikowska Reveal Their Plan B Careers: