Six More "Young" Roles For Jude Law, Young Pope and Now Young Dumbledore
Jude Law tackled Young Pope, now he'll play young Dumbledore. What other "young" roles can he handle?
---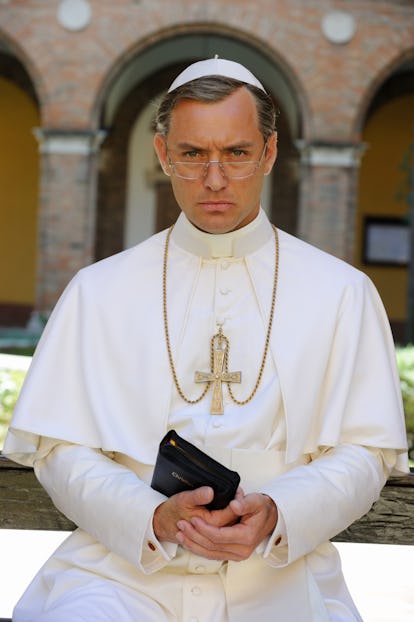 Gianni Fiorito/HBO
Fresh off playing the Young Pope, Jude Law will now play Young Dumbledore. Yes, Law has been cast as Professor Albus Dumbledore in the Harry Potter prequel franchise Fantastic Beasts and Where to Find Them. Who better than a man who just breathed new life into the the Pope, of all people, while turning convention on its head? We can only expect a fresh, edgier take on the beloved character, and hopefully one in which his sexuality is more than a mere postscript.
Not only is this exciting casting new, but perhaps this is the beginning of a great second era for Law's career, one in which he tackles roles (be it actual characters or just societal archetypes) usually associated with older actors, in the process wowing us all with his portrayal of them as, you know, younger.
It's sort of like that time in the '90s when every cartoon franchise has a spinoff where the characters were either babies or young children (Muppet Babies, Baby Looney Tunes, The Flintstones Kids). Except this time they're beloved near-retirement roles aged down a few decades, and every single one of them is played by Jude Law.
Oh, you don't think there's enough potential here? Listen, if Jude Law wanted to he could pad out the next 10 years of his IMDB page with "Young" roles. Just a sampling of ideas, below:
Young Secretary
A HBO series that bravely asks: "What if the Secretary of State was played by Jude Law … but young?"
Most Secretaries of State are veteran politicians who are crowning off a storied career, but what if there was one that was young? Perhaps, in a timely twist, a young alt-right Secretary of State who tries to overturn decades of American diplomatic doctrine in defiance of the Foggy Bottom career employees. Also, maybe he seduces the first lady of Indonesia or something. He's young. He has needs. It happens. The Emmys are basically waiting for this.
Co-starring Diane Keaton as Hillary Clinton, who coordinates the resistance with the Deep State.
Young Santa
A Freeform series that bravely asks, "What if Santa Clause was played by Jude Law … but young?"
Santa is always portrayed as an old man, but Santa himself had to have been young at some point. Which suggests that Santa spent his youth doing something other than bringing toys to all the boys and girls in the world. Perhaps something so dark that he wound up devoting the rest of his entire life bringing joy to the world in an attempt at karmic compensation.
Co-starring Diane Keaton as the Elf that finally sits Santa down and tells him it's time to get clean.
Young Magoo
A FX series that bravely asks, "What if Mr. Magoo was played by Jude Law … but young?"
Not all of Law's portrayals of "young" characters should come in the form of gritty, unflinching dramas. Some of them can be fun and light-hearted. But, listen, his take on Magoo absolutely has to dark. Not only does the character's creation have an odd backstory (his creators were ex-communists who originally envisioned him as a parody of Senator Joseph McCarthy), but the character himself has had to have had an odd coming-of-age. Why isn't he married? Why doesn't he even have friends? What did he do to amass the fortune he uses to adventure around the world? What was with the unexplained late-in-life drive to become an actor? What kind of regret and pain is in this man's past? Perhaps we learn that it took the loss of his eyesight for him to truly see the world for what it is.
Co-starring Diane Keaton as Mr. Magoo's mother who can see, but can not truly feel.
The Young Man and the Sea
A PBS series that bravely asks, "What if the central character of the Ernest Hemingway classic was played by Jude Law …but young?"
You may think aging is a central, irrepressible theme in The Old Man and the Sea. "Old" is the first word in the title after all, and Hemingway never includes a word unless it truly means something, right? But, just hear us out here, what if it was a young man in that boat trying to catch a marlin? Why can't it just be Jude Law in a pair of jorts out for a day of fishing with a cooler fool of cold brewskis? Isn't part of the point of the book that the old man used to be able to ree in giant marlins, no problem? Sounds like a necessary prequel to us.
Co-starring Diane Keaton as the voice of the now-talking marlin.
The Young Best Exotic Marigold Hotel
An Amazon Original movie that bravely asks, "What if an Exotic Marigold Hotelier was played by Jude Law … but young?"
Some might think that the The Best Exotic Marigold Hotel cinematic universe has run its course after two movies, but what if Jude Law moved in for a third movie?
Co-starring Diane Keaton as Judi Dench.
Young Brimley
An AMC series that bravely asks, "What if Wilford Brimley was played by Jude Law … but young?"
Actor Wilford Brimley's big breakthrough came in 1985's Cocoon, where he was already playing an inhabitant of a retirement home. Since then he's become one of America's favorite old guys, whether in movies or in his many memorable commercials, but biological science tells us that he had to be young at some point. What was going on then? Is there a story there? We don't know, but Jude Law is the only actor we would ever trust enough to find out.
Co-starring Diane Keaton as diabetes.
Related: Diane Keaton, 71, Is the Most Underrated Celebrity on Instagram
See What's Trending in W Video:
The Young Pope Tries Out 11 High Fashion Runway Looks
Victor Virgile / Alex Hodor-Lee
Catwalking / Alex Hodor-Lee
Victor VIRGILE / Alex Hodor-Lee
Victor Virgile / Alex Hodor-Lee
Heron Preston / Alex Hodor-Lee
Victor Virgile / Alex Hodor-Lee
Gosha Rubchinskiy / Alex Hodor-Lee
Victor Boyko / Alex Hodor-Lee
Peter White / Alex Hodor-Lee
Kay-Paris Fernandes / Alex Hodor-Lee