Watch Out, Drake—Ansel Elgort May Be Coming for the Sad Boy Music Crown
At the The Cinema Society & Avion hosted a screening of his new film Baby Driver, the actor teased new, message-driven music.
---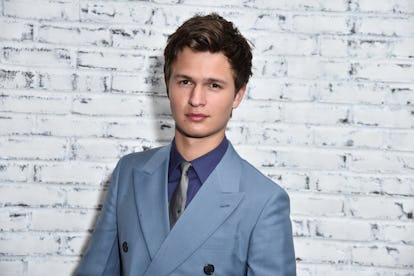 Jared Siskin
On Monday evening, Metrograph, the Lower East Side's coolest movie theater, was crowded with tatted-up millennials and bed-headed model-types; essentially, the hotspot's typical crowd.
But if you looked closer, these weren't just you're regular movie-goers. No, these were scions. There was Will Peltz, doing his best Kurt Cobain impression in a striped sweater and tinted glasses, arm-in-arm with girlfriend Kenya Kinski-Jones; Zosia Mamet scurrying to find her seat; Gabriel-Kane Day-Lewis in a decidedly weather-inappropriate skeleton-printed bomber jacket that looked to be sourced from Hot Topic.
It was a strong showing, particularly for a Monday evening, but they were here to celebrate one of their own: Ansel Elgort, son of famed photographer Arthur Elgort and star of the much-buzzed about new film, Baby Driver.
Elgort was the sole representative of the film's A-list cast—Kevin Spacey, Jon Hamm, Lily James, and Jamie Foxx co-star—for the New York screening, hosted by Cinema Society & Avion, but the 23 year-old took on the daunting task with a giant grin. Not only did he have a film to promote—he had some new material from Ansolo, his side-hustle as an EDM musician, to talk about.
Queue the plug. "[It's called] 'All I Think About Is You.' It's a song that is sort of simple and sort of has to do with when you make a mistake and you think you should be happy when everything in your life is going well and you are successful but you are missing the one person and that's all you think about," Elgort said. "My new music that's coming up is a little more complex, in terms of messaging and more lyrics. It's more word-heavy. It's great. It's good to write. I'm enjoying writing more than ever."
The new Ansolo was inevitably inspired in part by the film, and director Edgar Wright's penchant for fusing music with film—a trait that initially drew Elgort to the film.
"This was a very special experience from the very beginning," he said. "When I first got the script, I was like, 'I need to do this movie. It needs to happen.' I was really inspired on set and I wanted to write and make music. When you are hearing really great music all day, it certainly helps."
You can also potentially thank Wright for bringing some old-school funk to Instagram's favorite DJ's new music. "I didn't know the Jon Spencer Blues Explosion before. I didn't know the original 'Harlem Shuffle,'" said Elgort. "About fifty percent of the soundtrack I didn't really know."
To Elgort's professional credit, despite the music-driven nature of the film, the actor never once goaded Wright for a spot on the soundtrack. "I think he realized how intrinsic the songs were to the movie as I had written it," explained Wright. "But the fact that he performs and writes music and is a music fan is a big help to the movie."
After the screening, the crowd, which included Anne Hathaway, Suki Waterhouse, and Adrien Brody, migrated over to The Crown, the rooftop bar du jour at the newly opened Hotel 50 Bowery. It was there where Ansolo began to take over Actor Ansel. As old-school tracks blasted through the speakers, Elgort weaved through the crowd bopping his head to the beat.
As he entered the doorway to the outdoor terrace, he was confronted with the DJ booth where a stand-in spun the tracks—and paused. There, just for a fleeting moment, was that not a wistful look crossing over his face?
Ansel Elgort and 3 More Young Stars Share The Best Advice They've Ever Received
10 Reasons to Follow Goofy Heartthrob Ansel Elgort In 2017
His father is the famous fashion photographer, Arthur Elgort
He has a beautiful girlfriend named Violetta Komyshan, who is a dancer
He has friends like Jaden Smith and Joe Jonas
He loves basketball and you can often find him court-side
Or doing any physical activity, really
He rides the subway (incognito) just like us
He wears very small swim trunks
He has a very simple beauty routine
He knows how to make good use of a paparazzi photo