Rita Ora Channeled Lady Gaga in an Oversize Marc Jacobs Suit
While also speaking out about women being criticized for their appearance.
---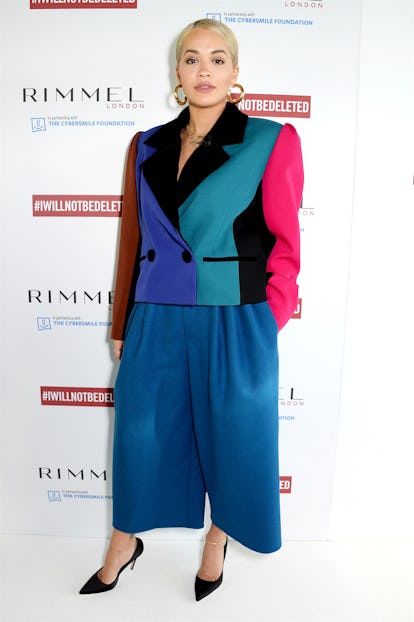 David M. Benett/Getty Images
Almost exactly a week after Lady Gaga wore an oversize Marc Jacobs suit to Elle's Women in Hollywood event, where she made a moving, headline-making speech about power and objectification, Rita Ora stepped out in an oversize Marc Jacobs suit of her own while also speaking out, taking a stand against cyberbullying.
Like Gaga, Ora also slicked back her blonde hair, but instead of wearing gray, she opted for a pink, blue, and black paneled blazer paired with matching blue baggy trousers, which she showed off alongside Cara Delevingne in London on Tuesday. The two have teamed up as the backers and faces of beauty brand Rimmel's campaign against cyberbullying, whose title, #IWillNotBeDeleted, refers to taking a stand against cyberbullies whose attacks on photos posted to social media ultimately leads their victims to delete them.
Rimmel, it turns out, made Ora herself such a target when it posted an unretouched image of her from its recent foundation campaign, promptly eliciting what Michael Bryce of Color Cosmetics at Coty described to WWD as "really harsh comments." "People were saying, 'Her skin is terrible. What's she doing? Why does she have so much acne?'" he continued. "Although we were already developing this campaign, we said to ourselves, 'This is something we really need to stand up against.'"
Ora herself also weighed in, adding: "I can't imagine what it's like for teenagers now. You get into a black hole. It's hard not to read every single comment. Nowadays in the entertainment industry, with everyone whom we have lost this year over anxiety and bullying, you just don't know what people are going through." She also made a point to stress Delevingne's past support at a time when she particularly identified with women who are cyberbullied about their looks. (According to Rimmel, that applies to one in four women, resulting in 46 percent of young women self-harming or developing issues with their eating and 115 million photos being deleted each year.)
"Back in 2012, our friendship was so public that we were known as RaRa," Ora continued. "The tabloids saw two girls who were basically inseparable because we were physically going through being in the limelight together and also witnessing cyberbullying. I'm really happy that I had a friend I could lean on and talk to about it."
While she didn't comment on her suit, her words echoed Gaga's in addressing the difficulties and harm that often result from the current expectations of women and their physical appearances. "We are not just objects to entertain the world. We are not simply images to bring smiles or grimaces to people's faces. We are not members of a giant beauty pageant meant to be pitted against one another for the pleasure of the public," Gaga said in her speech at Elle's Women in Hollywood event, explaining her motivation to, after trying on "10 or so dresses," go for the power suit she actually wanted to wear. "We have deep thoughts and ideas and beliefs and values about the world, and we have the power to speak and be heard and fight back when we are silenced."
Related: Lady Gaga Confirms She's Engaged to Christian Carino