That Riverdale Cameo on Sabrina Has Deep Implications For Both Shows' Mythologies
The dead don't stay dead long…
---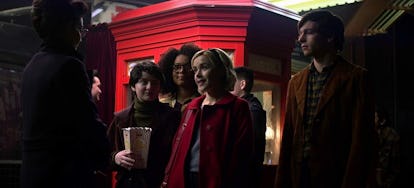 IMDb
Greendale and Riverdale are, canonically, next to each other. On Riverdale, which takes place, duh, in Riverdale, it's 2018. On Netflix's new series [The Chilling Adventures of Sabrina](https://www.wmagazine.com/topic/chilling-adventures-of-sabrina), which takes place in Greendale, it's the '60s. Or at least, it looks like the '60s. The technology suggests as much, and the comics it's based on back that up. But then how did a Riverdale character—a teenager no less—show up delivering a pizza in the seventh episode of Sabrina? Especially when you consider that this character, um, died on Riverdale?
For starters, this character, Ben Button, is not just some guy. Casual viewers may have first noticed him in Riverdale season 3, suddenly popping up at the movie theater, playing Dungeons and Dragons and (spoilers ahead) tossing himself out of a hospital window to, we assume, his death. But he was in town long before that. In season 1, we saw him working at the Twilight Drive-In, and in season 2, he was the guy kissing Miss Grundy (in Greendale!) just before she was murdered by the Black Hood. So he's, uh, around.
Roberto Aguirre-Sacasa, executive producer of both shows and writer of the Chilling Adventures comics, hinted at what this seemingly-minor character can tell us about the worlds of the various 'Dales. He told Entertainment Tonight, "[Ben] suggests a very deep, deep mythology where time and space bends. I love that kid. I'm sad that he keeps turning up and horrible things keep happening to him," adding that, "in Greendale, everyone pops up — the dead don't stay dead long in Greendale."
Maybe he was alive, and a teenager, for decades before that climactic hospital scene. Maybe there are many Ben Buttons, because of a curse! Or maybe he looks exactly like his dad and has the same name as his dad and he's just playing himself and his dad. Or maybe…maybe Riverdale takes place concurrently with Sabrina, and it's just that in one town, there are cell phones, and in the other, there aren't. It would explain why everyone in Riverdale has such funky cars. So many theories, so much to unravel. Your move, Westworld.
Here's the moment Ben (he even has a nametag!), played by Moses Thiessen, appeared onscreen, pizza in hand:
Looks good for a dead guy.
Related: Chilling New Chilling Adventures of Sabrina Trailer, Complete With Satanic Worship and Blood Ritual
Kaia Gerber Rocks the Ultimate Fall Mauve Lip at Movie Night With Karlie Kloss
Gerber rocks the ultimate natural glam fall beauty look with her polished waves, radiant skin and creamy, mauve lip.

@kaiagerber
Gerber takes on "Brigitte Bardot" inspired bangs that she pairs with a playful bandana headband and dewy skin for effortlessly casual look.

@kaiagerber
Gerber takes on a more polished approach to her signature look with side-swept voluminous curls and a dewy, bronzed skin.

@kaiagerber
Gerber proves that messy tousled waves and a bare lip are the best beauty accessory.

@kaiagerber
Gerber knowns how to do a monochromatic look, pairing her glossy, taupe lids with her sun-kissed cheekbones and a glossy lip.

@kaiagerber
Gerber takes her look from day to night, paring her tousled low pony with a neutral smokey eye and pale pink lip.

@kaiagerber