Riz Ahmed Follows in the Steps of Benedict Cumberbatch and Oscar Isaac As Your New Hamlet
The Night Of actor will star in a new adaptation of Hamlet, which may be coming soon to a Netflix near you.
---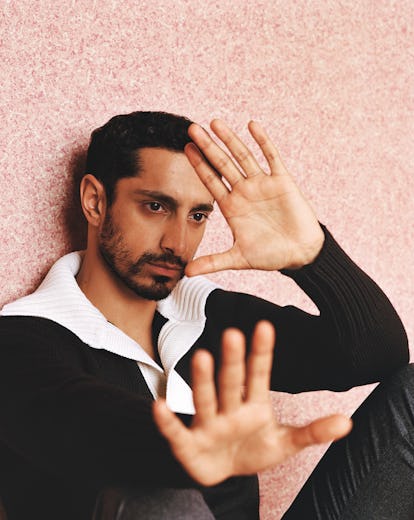 Photographs by Alasdair McLellan, Styled by Edward Enninful; Hair by Shay Ashual at Art Partner; makeup by Diane Kendal for Marc Jacobs Beauty at Julian Watson Agency; manicures by Casey Herman for Dior at the Wall Group. Set design by Stefan Beckman at Exposure NY.
There are just a handful of prerequisites to earning Internet's Boyfriend status. With a whole constellation of different species, the Internet's Boyfriend is more subjective than anything measurable, but one thing has become nonnegotiable: The Internet's Boyfriend, it seems, must play the titular role in a production of Shakespeare's Hamlet.
Oscar Isaac, who earned Internet Boyfriend status with his roles in Inside Llewyn Davis, Ex Machina, and the new Star Wars, played Hamlet in a new staging of the play at the Public Theater alongside G.L.O.W.'s Gayle Rankine over the summer, earning rapturous reviews in the process. And now, Riz Ahmed—star of HBO's The Night Of, for which he won an Emmy, and of Charli XCX's music video "Boys," itself essentially a primer on the genre—is reportedly in talks to bring a big-screen adaptation of the play, which he developed and plans to star in, to Netflix. There's not much good news these days, but we'll take our Hamlets where we can find them. (Even if the title Netflix's Hamlet itself is a bit questionable.) It will take place in contemporary London, a place of "economic and political uncertainty," Deadline reported—that is, basically real-life London, a place Ahmed, a native Londoner, knows quite well.
Hamlet makes sense as a rite of passage for boyfriends of the internet variety; the brooding, depressive title character would probably have been an early adopter of Myspace before migrating over to Tumblr. (Conveniently, that's also where the Internet's Boyfriend's most enthusiastic fans congregate.) He's basically a Shakespearean Benedict Cumberbatch.
Though Ahmed isn't quite as experienced a Shakespearean as some of his Internet Boyfriend peers—like Isaac and Cumberbatch, both of whom have played the part previously—it's a fitting role for him given that ye olde English chops are in vogue among the Internet's Boyfriends. (Ahmed did, of course, get his start on such illustrious platforms as his secondary-school plays, where he also had his first kiss in South Pacific around age 12, and last year, he performed a monologue from King Lear for a series by The Guardian last year.)
Plus, all this aside, Hamlet is his dream role! Give the man what he wants.
In addition to his starring role in The Night Of, a part that won him the Emmy for Best Actor in a Limited Series or Movie, Ahmed also appeared in Netflix's The OA starring Brit Marling and in HBO's Girls, where he played the surf-instructor summer fling of Lena Dunham's Hannah Horvath. He also played a role in the Star Wars spinoff prequel Rogue One—because the Internet's Boyfriend is also an outer-space fighter pilot. Just ask Oscar Isaac.
This post has been updated.
Riz Ahmed's first kiss was on stage in a production of 'South Pacific,' and he didn't know what he was doing: