Hamlet, Crown Prince of Denmark, Is the Internet's New Boyfriend
Oscar Isaac, earning rave reviews in the title role of the Shakespearean tragedy, isn't so easily usurped.
---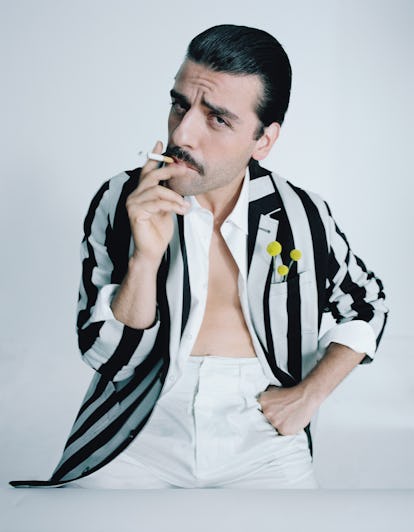 Photo by Tim Walker
With the debut of Spider-Man: Homecoming to largely positive reviews last weekend, it appeared that Tom Holland had consolidated his position as the Internet's (new) Boyfriend. (The Internet's Boyfriend, as defined by New York magazine, is "a paragon of enlightened masculinity"—earning the adulation of both critics and audiences, projecting "an aura of authenticity" while he does it.)
But with the opening of the Public Theater's new production of Hamlet, Oscar Isaac, playing the titular crown prince of Denmark, is back on top. No more is the Internet's Boyfriend the Star Wars fighter pilot Poe Dameron or the Yonkers mayor Nick Wasicsko (a prerequisite of Internet's Boyfriend-dom often being an HBO series) or the troubled Coen brothers' leading man. No, the Internet has a new boyfriend, and his name is Prince Hamlet of Denmark.
Isaac has received near-universal rave reviews since Hamlet's opening Thursday night. An accomplished Shakespearean (like fellow Internet Boyfriends Benedict Cumberbatch, who took a stab at Hamlet in 2015, and Tom Hiddleston, who has appeared in productions of Cymbeline, Coriolanus, and Othello), Isaac previously appeared alongside Lauren Ambrose in a 2007 production of Romeo & Juliet, a production that is still discussed among theater-goers with a kind of hushed reverence. (Ben Schnetzer, the 27-year-old star of Xavier Dolan's upcoming film and a contender for a future Internet's Boyfriend himself, recalled seeing the production at 17, thrilled at the sight of "an American dude killing it in Shakespeare," he told me earlier this year.) But Romeo was pre-Internet's Boyfriend; it was really only with the Inside Llewyn Davis-Ex Machina-Star Wars sequence that Isaac captured the Internet's affections.
A Complete Guide to Recognizing the Internet's Boyfriends in the Wild
Who: Tom Hiddleston, Benedict Cumberbatch, Matt Smith. Where: The BBC. Wearing: Burberry.

Getty Images
Who: Riz Ahmed, Kit Harington, Rami Malek. Where: HBO or adjacent. Wearing: Dior Homme.

Getty Images
Who: Jeff Goldblum, Kyle MacLachlan. Where: The hotly anticipated remake of the project that first made them famous. Wearing: A turtleneck; Balenciaga.

Getty Images
Who: Mahershala Ali, Oscar Isaac. Where: The playground, but also the Oscars. Wearing: Unfortunate hat choices. (Not pictured.)

Getty Images
Who: Chris Evans, Andrew Garfield. Where: In a cryochamber, until the corporate overlords permit them to talk about the new movie. Wearing: Lycra.

Getty Images
Who: Frank Ocean, Chance the Rapper. Where: The festival circuit; Tumblr. (Actually on the internet.) Wearing: Custom coveralls.

Getty Images
Who: Idris Elba, Tom Hardy, Jon Hamm Where: Playing the antihero on that show you never finished; vying to be the next James Bond. Wearing: Doesn't matter.

Getty Images
Who: Milo Ventimiglia, Adam Brody. Where: A network dramedy everyone says is great but no one watches; the walls of your teen bedroom. Wearing: Whatever's "in" among Brooklyn dads.

Getty Images
Who: Donald Glover, Harry Styles. Where: Your dreams. Wearing: Fashion with a capital F.

Getty Images
Who: John Boyega, Tom Holland. Where: This year's blockbusters. Wearing: Ask them in a couple months.

Getty Images
And while Romeo might be the classic romantic lead, it's Hamlet who evidences the hallmarks of an Internet Boyfriend—in fact, the Internet's Boyfriend is rarely actually the leading man. That would take all the vicarious pleasure out of envisioning the actor, or his character, as your very own romantic lead. The Prince of Denmark might pre-date the Internet's Boyfriend, and he might not traditionally be thought of as cult-y enough to play the part—Hamlet is perhaps the most well-worn work in the Shakespearean canon. But this production, with Isaac in the lead, casts a fresh gaze on the material. Isaac wears a shawl-collared sweater; supporting cast members wear sneakers and Adidas track pants. Actress Gayle Rankin, according to a Vanity Fair review, lends agency to her Ophelia, a character typically cast as the tragic victim of circumstances.
As always, Hamlet is dark and brooding. He's a bit of a troll—of the Internet variety—feigning a grief-stricken instability in order to avenge his murdered father, the late king of Denmark. Even the darkest moments of the tragedy are punctuated by wordplay and comic relief; in the Public's new production, Isaac darts about the stage in his skivvies in those scenes of faux-madness. If Hamlet existed in the contemporary, rather than the 17th century, he'd definitely be on Tumblr.
He'd probably be a poet if he didn't already speak in verse. The Internet's Boyfriend is always troubled—he demonstrates "some flaw or idealized vulnerability," according to last year's viral New York magazine essay, either on the part of the actor or his character. Hamlet's got flaws and idealized vulnerabilities in spades; it's what makes him such an empathetic antihero.
When Oscar Isaac's longtime girlfriend, the director Elvira Lind, gave birth in late April, it heralded the approach of the end of his tenure as the Internet's Boyfriend. (A crucial element of the fantasy is his perennial bachelor-hood; an Internet's Boyfriend with an offline relationship is more readily supplanted by upstarts like Tom Holland, who is not dating Zendaya.)
But Hamlet, whose ambiguous relationship with Ophelia contributes to her death, is only loosely attached; the character is Isaac's second coming as Internet's Boyfriend. (The Internet's Boyfriend fantasy requires we overlook some of the less savory elements of a character, like Hamlet's cruelty towards Ophelia throughout the play, somewhat blunted in this production. The Problematic Fave not-infrequently intersects with the Internet's Boyfriend.) Read the reviews. Everyone loves him. Again.
The Internet's Boyfriends on the rise might be superheroes and saviors of the galaxy à la Tom Holland and John Boyega, but Isaac proves the crown prince of Denmark won't be so easily usurped.
Oscar Isaac has a soft spot for Jessica Lange and movies on airplanes: