Zendaya and Tom Holland Deny They're Dating with Some Twitter Zingers
People magazine reported that Spider-man stars Zendaya and Tom Holland are dating, but the pair says that couldn't be further form the truth.
---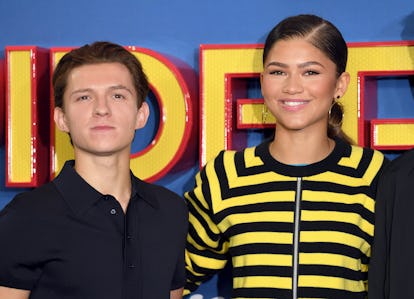 Karwai Tang
You're Zendaya and Tom Holland. You're two of Hollywood's brightest young things on the verge of possible superstardom. You're leads in one of the biggest movies of the summer and spent a whole lot of time together on set. You both happen to be single. What else are you going to do but date? It seems only natural.
Just ask Emma Stone and Andrew Garfield who were in that exact same situation five years ago.
In fact, in a breathless scoop this afternoon, People magazine claimed that Zendaya and Holland were a real life item.
"They started seeing each other while they were filming Spider-Man," said People's source. "They've been super careful to keep it private and out of the public eye but they've gone on vacations with each other and try and spend as much time as possible with one another."
"They're both really ambitious and they challenge each other — but, most importantly, they make each other crack up," added another. "They seem to have a really similar sense of humor and love joking around together. They have great banter back and forth."
The two young actors quickly took to Twitter to confirm that, yes, they do like to joke around and make each other crack up. However, they clarified that they aren't dating.
So, we're going to take that as a know. I guess they'll remain more Kirsten Dunst and Tobey Maguire than Garfield and Stone. At the very least, that bodes good things for the rest of their version of Spider-man.
Related: Exclusive: Stylist Law Roach Shares His Impromptu Parisian Photo Shoot With Zendaya
Zendaya Wishes She Had Michael Jackson's Dance Moves: