Robert De Niro Said "F*ck Trump" Twice at the Tony Awards, Receiving a Standing Ovation
The moment was censored on CBS's telecast.
---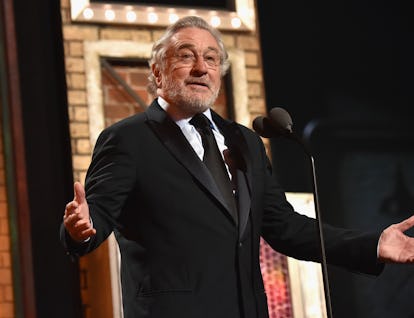 Kevin Mazur/Getty Images
It just wouldn't be an awards show these days without a few crowd-pleasing, expletive-laden political digs, and the Tony Awards on Sunday were no exception. While introducing Bruce Springsteen, Robert De Niro took the opportunity to give the audience not just one, but two iterations of "F*ck Trump." "I'm going to say one thing, F*ck Trump," he said, punctuating with a double fist-pump. "It's no longer down with Trump. It's f*ck Trump."
The remarks got a standing ovation. But quite obviously, CBS decided to censor the audio on the live telecast, according to Variety, although not before some viewers on Twitter captured the moment in all its un-bleeped glory. (It seems like the Australian simulcast was more amenable to the swearing.)
This isn't the first time De Niro has merrily unleashed a volley of four-letter words in relation to Donald Trump while giving an awards show speech. According to CNN, he did the same thing a mere five months ago, at the National Board of Review Annual Awards Gala in January.
This time, he also did it while introducing an industry luminary—in this case, it happened to be Meryl Streep, who famously took down the president herself during her Golden Globes speech, albeit with much less profanity.
"Our baby-in-chief — the j—off-in-chief, I call him — has put the press under siege, ridiculing it and trying to discredit it through outrageous attacks and lies," De Niro said at the time, according to CNN. "This f*cking idiot is the president. It's The Emperor's New Clothes — the guy is a f*cking fool … our baby-in-chief — the 'J—-off-in-chief' I call him."
But the actor was far from done. In March, De Niro used his airtime again to opine about the president. This time it was at a fundraiser for the Fulfillment Fund, an organization that seeks to help underprivileged youth get to college, so he eschewed the swears in favor of some inspiring words about education.
"A college education is important, but education without humanity is ignorance. Look at our president," De Niro said, according to The Hollywood Reporter. He made it through the University of Pennsylvania, so he was exposed to a quality education, but he's still an idiot. And he lacks any sense of humanity or compassion."
"Of course, he did have to overcome the curse of growing up rich and spoiled. And endure the heartbreak of bone spurs. Maybe that had an effect," the actor continued. "And it is especially appropriate tonight, Trump treats education as a con — a way to make a profit at the expense of the suckers. Anyone here planning to get their education at Trump University? To be silent in the face of such villainy is to be complicit."
Related: Robert De Niro Says America Now a "Tragic, Dumbass Comedy"