Robert Pattinson and Kristen Stewart Were Seen Hanging Out Again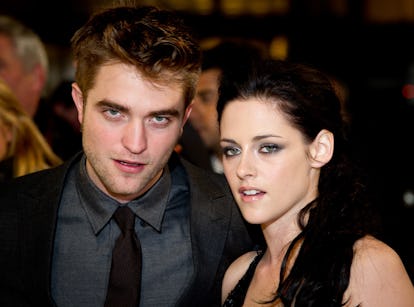 Ian Gavan/Getty Images
It's been 10 years since the first Twilight movie came out and six years since Robert Pattinson and Kristen Stewart broke up, and it seemed like they'd spend the better part of the rest of their lives avoiding each other and that time in their lives and careers all together. Yet, Stewart, 27, and Pattinson, 32, were reportedly spotted together at a party for Lily-Rose Depp at the Chateau Marmont, according to the Daily Mail (where you can see the particularly blurry photos for yourself). The two were seen outside in their trademark hip but low key off-duty outfits — Pattinson wore a graphic T-shirt, jeans, and a black jacket and hat, while Stewart wore an all-black ensemble.
The reported reunion comes after rumors that the two have "gotten together a few times" in 2018; in February, fans spotted the two hanging out on a low-key night. Though there have been sources commenting on reported "chemistry" and potential "reconciliations." Though, it is also more than possible for exes to be friends, as numerous exes in Hollywood are. Stewart has also recently been linked to model Stella Maxwell. The pair were at the Cannes Film Festival together and were seen in Los Angeles as recently as late May.
Stewart and Pattinson broke up in 2012 and just about everyone — including Donald Trump — had something to say about the relationship at the time, but the two former costars have always been notoriously private about their personal lives. "When I was dating Rob, the public were the enemy — and that is no way to live," Kristen said in 2017. She also said that she "didn't talk about my first relationships that went public because I wanted things that are mine to be mine. I hated it that details of my life were being turned into a commodity and peddled around the world." Hey, for all we know, Stewart and Pattinson have been friendly this whole time but just avoided making it public. It's hard to surmise much from blurry paparazzi photos after all.
Related: Robert Pattinson and Timothée Chalamet Cast in Battle for Heartthrob Crown
A Photographic Guide To Everyone Kristen Stewart Has Dated
Michael Angarano and Stewart first started dating in 2005 after meeting on the set of the film Speak when they were 17 and 15-years-old, respectively.

Getty
The pair broke up in 2009 after four years of dating, shortly after Stewart filmed the first Twilight film.

Getty
Stewart began dating Twilight co-star Robert Pattinson in 2009, shortly after the premiere of their first film together.

Getty
The couple dated for nearly four years, breaking up in 2013—a full two years after the final Twilight film.

Getty
Stewart and Pattinson's breakup came on the heels of paparazzi pictures that insinuated that Stewart was having an affair with her Snow White & The Huntsman director, Rupert Sanders.

Getty
In 2016, Stewart had a short-lived romance with the French singer and Gucci-muse Soko.

Paul Hubble
The pair were seen out and about together before splitting in the spring of the same year.

Getty
Stewart's first public relationship with a female was in 2014 with producer Alicia Cargile.

Getty
The pair dated for two years before splitting in October 2016.

Getty
After breaking up with Cargile, Stewart stepped out with singer St. Vincent at a CFDA/Vogue Fashion Fund Show.

Getty
St. Vincent, also known as Annie Clark, had just had a major break-up of her own, splitting with longtime girlfriend Cara Delevingne.

Getty
Late last year, Stewart was spotted out with Victoria's Secret model Stella Maxwell.

Getty Images
Maxwell, who previously dated Miley Cyrus, has been spotted visiting Stewart on set—including a recent night out where they crashed a wedding.

Getty